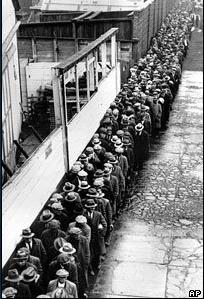 [Unemployment queues in the 1930s Depression in Australia, Source: AP]
Australia's immigration problem is the hundreds of thousands of economic migrants arriving at Sydney and Melbourne airports, not the few thousand asylum seekers arriving by boat.
If you want to know where the jobs, houses, hospital beds and education places have gone, look to the migrants taking them. This is the Immigration Stress created by too many foreigners granted the generosity of Australians. And look what has happened. Foreigners have got the benefits. 'Spot the Aussie' is now a rarity in Sydney, Melbourne and Brisbane. Australians have been displaced. Urban property prices have forced many to leave the suburbs they have grown up and flee to the Central Coast (NSW), Mornington Peninsula (VIC) and Sunshine Coast (QLD). Economic migrants are not paying their way. They are sapping our limited public resources to the detriment of indigenous, ancestral and birth Australians. Australia's tax revenue is insufficient to pay for all extra demands imposed by millions of new economic migrants.
Yet Australia could generously triple its asylum seeker intake with hardly any noticeable impact on Australia's quality of life or standards of living. However, the Australian Government needs to start realising that accepting asylum seekers remains with each asylum case until people are assimilated into Australian society and have achieved a financial level of self-reliance. Immigration does not end when the bureaucrat stamps the residency visa. It is inhumane for the Australia Government to abandon vulnerable asylum seekers to let them fend for themselves. Full integration into Australian society can take years and cost hundreds of thousands in public infrastructure.
But while Australia has 600,000 homeless people and more in housing stress and unemployment, all the economic migrants can damn well wait. In Australian and indeed in any country, indigenous and locals have a birth and ancestral right to come first in the poverty safety net. The million or so economic migrants that successive Australian LibLab governments have allowed in over the past decade need to be integrated into Australian society. The socio-economic cost must be in the billions.
But Australia's social priority is Australia's own. The hundreds of thousands of under-privileged Australians should come before exacerbating the social cost problems with more from overseas. Australians deserve an adequate public safety net, before any more economic migrants should be allowed entry. Else Australia will continue to see its downgrading in social living standards and worsening local poverty.
If it's skilled workers Australian industry clamours for, where's industry's investment in local skills training? Where the so-called 'education revolution aligned to industry needs? Skilled immigration is a shortsighted stop gap. Skilled immigration causes social stress. It is a form of social displacement and invasion.