Contents: Page 1 – Heritage Amendment Bill 2023; Victorian Departmental Restructure; Australian Architecture President Bells the Cat; Legislative Council Planning and Heritage Inquiry; Page 2 – Submissions Closing on World Heritage Management Plan for Royal Exhibition Building and Carlton Gardens; Speech to CROWAG, and April Forum; Level Crossing Removal FOI; War on Plastic – Clean Up Australia Day; Page 3 – South Australia's Planning Minister Flags Changed Approach; Maybe South Australia is Fine Just As It Is; Caulfield Racecourse Heritage Win; Jack Dyer Stand ; Regional Victorians Opposed to Duck Shooting; Page 4  - Surrey Hills and Mont Albert; Like Some Sort of Giant, Concrete Zombie; Pollution from Traffic More Dangerous than Road Toll; Wattle Park Follow Up; Page 5 – Planning Panel Victoria 42 St Phillip St Brunswick; Ratepayers Victoria Council Watch; Sunbury High Rise VCAT Case; Ryman Health Development at the old Reg Ansett Estate; Seniors and Disabled Shut Out by new Housing Developments; Western Port Biosphere Reserve; Page 6 – VicTrack and Vegetation; Kilmore Update; Maribyrnong River Flood Inquiry; Kingston Council Community panel; Moonee Valley Racecourse Residences Now Selling; Population Growth Driving High House Prices; Page 7 – The Australian Population Research Institute Survey; Facebook; Coming Events
Contents are also set out below the linked report in this page.
Click here for Report No. 23 in Pdf form.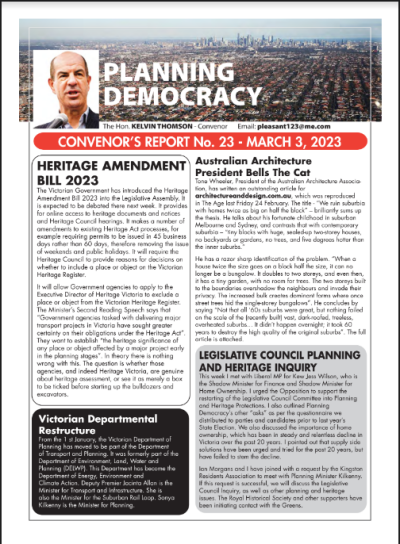 The contents are as follows – 
Page 1 – Heritage Amendment Bill 2023
Victorian Departmental Restructure
Australian Architecture President Bells the Cat
Legislative Council Planning and Heritage Inquiry
Page 2 – Submissions Closing on World Heritage Management Plan for Royal Exhibition Building and Carlton Gardens
Speech to CROWAG, and April Forum
Level Crossing Removal FOI
War on Plastic – Clean Up Australia Day
Page 3 – South Australia's Planning Minister Flags Changed Approach
Maybe South Australia is Fine Just As It Is
Caulfield Racecourse Heritage Win
Jack Dyer Stand
Regional Victorians Opposed to Duck Shooting
Page 4  - Surrey Hills and Mont Albert
Like Some Sort of Giant, Concrete Zombie
Pollution from Traffic More Dangerous than Road Toll
Wattle Park Follow Up
Page 5 – Planning Panel Victoria 42 St Phillip St Brunswick
Ratepayers Victoria Council Watch
Sunbury High Rise VCAT Case
Ryman Health Development at the old Reg Ansett Estate
Seniors and Disabled Shut Out by new Housing Developments
Western Port Biosphere Reserve
Page 6 – VicTrack and Vegetation
Kilmore Update
Maribyrnong River Flood Inquiry
Kingston Council Community panel
Moonee Valley Racecourse Residences Now Selling
Population Growth Driving High House Prices
Page 7 – The Australian Population Research Institute Survey