The following message about shocking proposals for a wall of multistorey appartments on the fragile banks of Frankston's much-loved Kananook Creek, was sent on 12 January 2023 to members and friends of The Port Phillip Conservation Council.
... You might be interested to read about one of the first planning and environmental issues PPCC will be supporting during 2023 – working with our Member group Frankston Beach Association and other community groups in opposing the 'Harbour Frankston' proposal  - a 14 storey apartment building proposed for the thin strip of land between Nepean Highway and Frankston's foreshore and beach adjacent to Kananook Creek.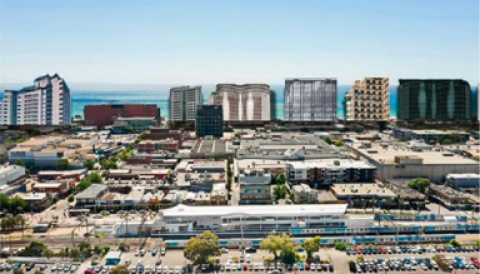 Despite vigorous community lobbying over quite some time, Frankston City Council has failed to introduce mandatory height controls in key locations, such as its coastal areas and along  Kananook Creek - a much loved local waterway which flows through the dune system from Carrum parallel to the coast and enters Port Phillip Bay at Frankston.
FCC's failure to introduce much needed height controls in these sensitive areas has allowed developers to propose multi storey apartment buildings of 14, 15, 16 storeys along Kananook Creek, adjacent to Frankston's foreshore, to create what has already been dubbed the Great Wall of Frankston along its historic beachfront. The attached flier shows an artist's impression of what could happen if this proposal and others nearby proceed. A growing line of multi storey concrete and steel along the coast would effectively cut the City of Frankston from its most valuable asset- it's wonderful natural beaches, foreshore and public open space. The community is mounting a vigorous challenge to this most unwelcome proposed development, and help is needed.
Frankston Beach Association and others are seeking support from community groups, organisations and individuals across Victoria in their petition to demand state and local government introduce mandatory height limits to thwart a beachfront wall of 14-plus storey buildings - an irreversible legacy of concrete, steel and glass bearing down over Frankston foreshore, beach, Kananook Creek and nearby residents.  Among those who have joined the fight are The Hon. Kelvin Thomson, Convenor of Planning Democracy, and RMIT Professor of Environment and Planning Michael Buxton, along with several other of PPCC's member groups, including Mornington Environment Association and Beaumaris Conservation Society.
The goal is to generate opposition to this beachfront folly across Victoria and make this known to the media, Parliamentarians and the Frankston City Councillors who approved this first high rise 'Harbour Frankston' on the slimmest of margins – a 5 to 4 vote in support. It only needs one Councillor to be brave enough to move a rescission motion to at least delay this first proposal until mandatory height limits can be introduced. Time is of the essence as two other taller proposals along the Frankston waterfront are waiting in the wings.
Here's how you can help:
Seek endorsement from your organisation to add your group's details to the growing list of groups and individuals appalled at the lack of height controls on the Frankston's foreshore. If your group agrees to endorse this campaign please send your contact details  - telephone number and email address so we can update you as the campaign progresses.**See below for contact details.
Sign the Change.org petition here: https://www.change.org/p/stop-the-great-wall-of-frankston Please note that any contribution made via the Change.org petition page goes to Change.org and not to the sponsoring groups. If you would like to donate to the campaign rather than Change.org  **See below for contact details.
Volunteer your time or provide a contribution to fight the 'Harbour Frankston' developers at VCAT. **See below for contact details
And, think about preparing yourselves for similar intrusions into your local areas, especially if your local Council does not have mandatory height limits along your local coastline or waterways. If this appalling development in Frankston and others already lined up are allowed to proceed it will set a dangerous and most unwelcome precedent for other parts of Port Phillip Bay's magnificent coastline, maybe somewhere near you that developers have an eye on. If your Council does not have mandatory height limits, start up a campaign to ensure it introduces them.
From the original Planning Application, I have attached the West elevation (from Kananook Creek view) of the proposed 'Harbour Frankston' development at 15 storeys. The developer has since suggested "without prejudice" a 14 storey version – which might not preclude reverting back to the original 15 storey proposal.  As you might agree, 14 storeys would be pretty much as bad as 15 storeys.  Either way, we want to ensure this proposal will not be the first of many such monstrosities along Frankston's coastline, and elsewhere.
Access to and interest from local and wider media is a challenge for all community groups who need our support more than ever, as more and more of our much loved local areas fall victim to growing population pressures and loss of irreplaceable open space and amenity to irreversible concrete and steel. So, please help spread the word and join us in this community based effort insisting on a shared vision to create an enviable coastal place to live, work and visit in Frankston - and right around  our wonderful Port Phillip Bay.
If you agree, please forward this message on to your contacts.
** Contact details: For more details on the proposal, donate to the campaign or any other questions you may have please contact the campaign co-ordinator Jennifer Young on Mobile 0409 854 954 or email  [email protected]