Video and Transcript inside: Federal Labor Member for Wills, Kelvin Thomson, spoke in Parliament against the signing of contracts and the construction of the East West Link Road Tunnel, also known as the Royal Park Freeway. Before the election the Liberals were in favour of independent cost benefit analysis for major projects, yet now in government, they are avoiding undertaking one for the East-West Link in Melbourne, the freeway through Royal Park. Mr Thomson wrote to the Minister for Infrastructure and Regional Development, and his Parliamentary Secretary on 27th August, to seek appropriate and publicly transparent economic modelling, environmental assessment and community consultation before tens of billions of dollars are spent on a tunnel that makes no economic sense, will damage our environment and which will hurt local communities. (23/9/14). Note that Kelvin will be publicly debating Victoria's population growth policy with Melbourne Mayor Robert Doyle on 13 October in Melbourne at Deakin Edge in Federation Square from 5.30-7pm.
[Candobetter.net editor is responsible for the insertion of all headings and emphases ]
It is deeply ironic in this debate on the Infrastructure Australia Amendment (Cost Benefit Analysis and Other Measures) Bill 2014 that we should get a lecture from government members opposite about the virtues of independent cost-benefit analysis for major projects when in my own area they are running a mile from undertaking one for the East West Link in Melbourne—that is, the freeway through Royal Park.
I wrote to the Minister for Infrastructure and Regional Development and his parliamentary secretary on 27 August seeking appropriate and publicly transparent economic modelling, environmental assessment and community consultation before we get tens of billions of dollars spent on a tunnel that makes no economic sense, will damage our environment and will hurt local communities.
The coalition government has spent $1.5 billion for both stage 1 and stage 2 of the East West Link project to connect the Eastern Freeway to CityLink with the idea of connecting the link to Melbourne's western ring road and western suburbs. Both these stages are reported to cost between $8 billion and $10 billion.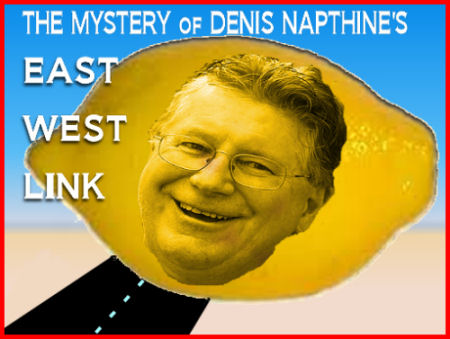 Huge, unjustified cost to taxpayers
These are huge sums of taxpayers' money that ought to be carefully considered in the context of the need for governments to live within their means. We often hear from those opposite about the need for government to live within its means. We constantly get lectured about fiscal responsibility. One would expect that a carefully thought out economic analysis would have been undertaken and released to verify the need for the East West tunnel project and the need for large sums of taxpayers' money; however, this is not the case.
Illusory economic modeling
Media reports based on FOI and leaked information have indicated that such economic modelling that has been carried out has been based on false assumptions regarding petrol prices, incomes, car running costs and inner-city parking. Against that background, I welcome and congratulate the Victorian Labor opposition leader, Daniel Andrews, for his leadership on infrastructure issues. Back on 11 September he stated that the forthcoming election in November in Victoria will be a choice of either better public transport and local roads or the $8 billion dud East West Link road tunnel.
No certainty that any contracts for the East West Link are legally binding
Victorian Labor has obtained legal advice which states that any contract that is signed before an election for a project that is facing a Supreme Court challenge cannot be entered into safely. That legal advice was obtained by former Federal Court judge Ray Finkelstein, administrative law expert Richard Niall QC and contract law expert Siobhan Keating. Victorian Labor states that it will not be held responsible for a document that was recklessly devised in haste and error and that it does not believe that any contracts for the East West Link project can be validly entered into while a matter before the Supreme Court remains unresolved and there can be no certainty that any contracts for the East West Link are legally binding.
Victorian Labor has said if no legally binding contracts exist, then a Victorian Labor government will not proceed with the East West Link project.
Disgraceful haste to sign before elections
It is a disgrace that the Victorian Liberal Treasurer, Michael O'Brien, says the government is determined to sign the East West contracts before the onset of the pre-election caretaker period. I need to bring to the attention of the House that we need to recall that the Liberal Party said before the election that it would not build the East West Link. It did not take this issue to the voters. Now it is shamelessly trying to lock Victorian taxpayers into billions and billions of dollars on a freeway through Royal Park. This project is so big that it will eat up both Victoria's road budget and public transport budget for years. It kills off the legitimate aspirations of communities from all parts of Melbourne for improvements to their local roads, railway crossings and the like.
This fraud on the voters—trying to lock taxpayers into this lemon before an election can be held—comes from the same political party that talked up such a storm and became positively apoplectic over Julia Gillard's 'no carbon tax' pre-election statement. You have to wonder: where is that 'convoy of no confidence' when you need it? The East West tunnel project will cripple Victoria's finances for many years to come. It will crowd out the state's other core responsibilities in public transport, education and health. A proper, thorough and publicly transparent economic modelling case should be undertaken for this project. If we examine what is known in terms of economic analysis of the tunnel, then we can come to some understanding as to why this government is ducking and weaving to avoid undertaking one.
The government's business case relies totally on the assumption of what economists call an agglomeration effect in which population and economic clusters in cities lead to efficiencies and add to business productivity. The Linking Melbourne Authority, which provides information on road infrastructure projects conducted on behalf of the Victorian government, has referred to a book by the American writer Edward L Glaeser called Triumph of the City. Its main thesis is the agglomeration benefits that create cities. The Linking Melbourne Authority does not appear to have read the book, because the book does not argue that freeways are the path to create these benefits. In fact, it argues quite the opposite. Mr Glaeser argues that 'driving creates negative externalities that hamper urban economies' and he warns against highway building, calling it 'anti-urban'. He said For decades we have tried to solve the problem of too many cars on too few lanes by building more roads, but each new highway or bridge then attracts more traffic.
The Age commentator Kenneth Davidson has accurately pointed out in relation to the Royal Park freeway It will cripple the state's fiscal position for many years through massive payments to the public-private partnership consortium that will finance it.
The financial burden on the Victorian taxpayer will be so big that it will ''crowd out'' the state's core responsibilities for funding schools, hospitals, rail transport and even other roads for at least a generation.
Vic Gov Economic consultant says economic benefits wildly overstated
An email recently obtained through FOI illustrates that the Victorian government's own economic consultant, Chris Tehan of Evans and Peck, told the government that the business case 'had dramatically overestimated the wider economic benefits to get an artificial figure of a $1.40 return'. According to The Age … the methodology ''has not been used in any of [the Transport Department's] other public transport projects or program modelling to date''.
Financial case based on reverse of actual trends
The financial case for the East West Link hinges on a prediction that toll road use will jump over the next 30 years because of rising wealth and shrinking petrol and CBD parking price rises. The business case makes the controversial assumption that: first, a driver's willingness to use toll roads will increase by 1.4 per cent per annum due to rising incomes; second, the rate of increase in the cost of running a car will fall from the current two per cent per annum in real terms to half a per cent per annum by 2041; and, third, that the rate of increase in the cost of inner city parking, which is currently increasing at four per cent per annum in real terms, will fall to 0.5 per cent by 2041. I personally regard this as a remarkably heroic assumption given that the state government has decided to extend its congestion levy up from the City of Melbourne into the City of Moreland, up into my electorate, in recent times. This will of course lead to significant increases to the cost of inner city parking.
The Victorian government has been caught out manipulating modelling to produce a favourable result.
Why the public are cynical about "bigticket" infrastructure
The former Infrastructure Australia head Michael Deegan told a Senate committee that the government's unpublished business case provided an alternative estimate showing a cost-benefit ratio of just 0.8. Under this scenario, the project would return just 80c for every dollar spent, suggesting an economic loss if the stock standard analysis preferred by Infrastructure Australia is used. According to The Age, in a submission to a federal infrastructure inquiry, Infrastructure Australia outed Victoria for failing to submit a robust business case for the East West Link, singling out … the controversial $6 billion to $8 billion road as a key example of why the public are cynical about "bigticket"
infrastructure announcements.
Infrastructure Australia's 11-member council—which includes transport experts like Sir Rod Eddington and the former federal Treasury Secretary Martin Parkinson—is understood to broadly recommend only those projects with benefit-cost ratios of more than 1.5. And Michael Deegan warns that big-spending promises are being made without proper scrutiny. He said This is a particular problem during election periods where commitments are often made, although robust business cases have not been prepared, let alone independently reviewed … The freeway through Royal Park is a classic example of economic mutton dressed up as lamb.
According to traffic expert Stephen Pelosi, the traffic on the East West Link during the morning peak is expected to slow to 20 to 30 kilometres per hour by 2031 as worsening congestion pushes the road close to capacity just 12 years after it is due to open. The East West Link is forecast to carry 80,000 vehicles a day on opening in 2019, increasing to between 100,000 and 120,000 a day by 2031 according to this modelling.
Stephen Pelosi said If it's reaching 120,000 we're at a position where we're reaching capacity. Unless you intervene in some manner and manage the toll rate to influence demand, you get a situation where you're near capacity.
If it is good enough for the NBN, as the previous speaker suggested to the House, it should be good enough for this project too. Why is the government only too happy to undertake economic modelling on the NBN yet, when it comes to the largest infrastructure and transport project in Victoria's history—East West Link—it refuses to do so. If the age of entitlement is over, why isn't the private sector bankrolling East West Link? If we are in the midst of a budget emergency, why aren't the belts being tightened when it comes to major projects that do not make economic sense?
That is why the amendments to the bill which Labor has moved seek to assess projects first on their merits and fund them later, not the other way around. We also seek to strengthen transparency and public disclosure of project assessments. These are strong measures that will prevent money being wasted on potential white elephants like the East West Link. If this government were serious about fiscal responsibility, if it were serious about merit based infrastructure planning then the freeway through Royal Park in Melbourne would not proceed.
Lack of due diligence
Concern with the lack of due diligence behind the decision to proceed with this freeway is growing. It is acknowledged in the transport industry that adding road capacity through the freeway will bring in more vehicles more quickly and actually worsen congestion on Haddle Street, Flemington Road, Tullamarine Freeway and other roads that are currently at capacity.
Industry assessments are that the freeway will not fix congestion, because, as the 2008 Eddington report identified, less than 20 per cent of all vehicles travel through from the east to the west. What actually goes on is that 80 per cent of all vehicles exit to inner Melbourne to access jobs and services. They will continue to do that despite the Royal Park freeway and, with more vehicles reaching exits more quickly, the risk is that congestion will actually be worse.
There is no strategic justification for this project. This is a proposal which fails critical productivity tests and runs the risk of being negative for state product and GDP. When a poor public project is selected, the community loses twice. It loses because scarce capital is misapplied and because taxes and funds raised to finance that project distort behaviour in ways which have a significant cost.
For a profit, tolls would need to rise to $10.50 per return trip
Tolls on the planned freeway would have to be three times the current cost of an average trip on Citylink for the project's investors to make a profit, according to an international study led by University College London which analysed numerous transport megaprojects, including Australian road and rail projects. It found that, for investors to get a return on the freeway, motorists would have to be charged a minimum $10.50
Source: Speech by Mr KELVIN THOMSON (Wills) (19:34): Tuesday, 23 September 2014 HOUSE OF REPRESENTATIVES 78 CHAMBER