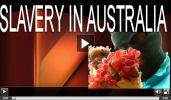 Republished from the Australian investigative program, 4Corners: Slaving Away By Caro Meldrum-Hanna and Ali Russell, a program about slavery in Australia today. Although the program focuses on the abuse of backpackers on 457 visas and tourists working illegally in the fruit picking and chicken meat packaging industry, this is just the tip of an iceberg of exploitation that has arisen in Australia with massive increases in immigration at the same time as our industrial law protection has been wrecked. At the same time, cheap imports have made it impossible for many honest and worthwhile businesses to survive, whilst the loss of industrial protection has created an opportunity for corporations to exploit people to the max. The program also reflects another effect of globalisation and mass immigration - the high cost of housing. The enslaved temporary or illegal immigrants in this documentary are usually packed into unsavory premises for which they pay rent. Some might argue that since these people are paid wages - albeit slave wages - they are not slaves. However when you do not actually get paid on time and are kept in debt to your employer for rent and other charges, and when you do not speak English and have no idea where you are, and so cannot begin to extricate yourself - this amounts not only to slavery, but to illegal detention. Apparently Australian authorities claimed that it was too difficult to find these abusive enterprises, yet 4Corners was easily able to uncover this frightening industry, with the cooperation of the exploited and trapped workers. It looks like government is complicit at all levels.
Updated May 4, 2015 22:47:00
Monday 4th May 2015
Slaving away: The dirty secrets behind Australia's fresh food.
It's in your fridge and on your table: the fresh food that we take for granted.
But there's a dirty secret behind it.
Much of it is picked and packed by a hidden army of migrant workers who are ruthlessly exploited.
"There is slave labour in this country." - Queensland grower
A Four Corners investigation has uncovered gangs of black market workers run by unscrupulous labour hire contractors operating on farms and in factories around the country.
The produce they supply ends up in our major supermarkets and fast food chains.
"Almost every fresh product that you pick up... will have passed through the hands of workers who have been fundamentally exploited." - Union official
These labour hire contractors prey upon highly vulnerable young foreigners, many with very limited English, who have come to Australia with dreams of working in a fair country.
They're subjected to brutal working hours, degrading living conditions and the massive underpayment of wages.
Reporter Caro Meldrum-Hanna has obtained undercover footage and on-camera accounts of this dark world. One migrant worker told her:
"I felt like we were going back in time... the way we were being treated was inhumane."
And another:
"It made me question Australia as a country."
Female workers are particularly at risk with women coming forward to make allegations of harassment and assault.
From farmers' fields to factory floors, the program tells the story of those workers who slave away to produce the food we buy and eat on a daily basis.
SLAVING AWAY, reported by Caro Meldrum-Hanna and presented by Kerry O'Brien, goes to air on Monday 4th May at 8.30pm. It is replayed on Tuesday 5th May at 10.00am and Wednesday 6th at midnight. It can also be seen on ABC News 24 on Saturday at 8.00pm, ABC iview and at abc.net.au/4corners.
Background Information
RESPONSES
ALDI Response [pdf]
Coles Response [pdf]
Costco Response [pdf]
Covino Response [pdf]
D'Vine Ripe Response [pdf]
KC Fresh Choice Response [pdf]
KFC Response [pdf]
Red Rooster Response [pdf]
Woolworths Response [pdf]
Akers Farm Response [pdf]
MEDIA
Four Corners investigation reveals exploitation and slave like conditions on farms supplying Aussie supermarkets | news.com.au | 4 May, 2015
Sex abuse, stolen wages and 'slave-like conditions' | Daily Mail Australia | 4 May, 2015
Labour exploitation, slave-like conditions found on farms supplying biggest supermarkets | ABC Radio Australia | 4 May, 2015
In Conversation: Australia's invisible migrant workers | SBS | 23 May, 2013
Casualties in the supermarket war | ABC Radio National | 24 March, 2013
Speech by Stephen Bennett, Member for Burnett, on abuses within the horticultural industry | 2013
MP wants action to prevent harvesting rorts | The Chronicle | 22 December, 2012
ASSISTANCE AND RELATED WEBSITES
Anti-Slavery Australia - Working to Abolish Slavery | +61 (02) 9514 9660 or email [email protected]
Visitor Programme statistics | Australian Government Department of Immigration and Border Protection
First posted