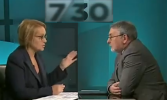 In her interview with the Russian ambassador to Australia, 7.30 Report 21 March 2023,  https://iview.abc.net.au/video/NC2301H041S00, I think that Sarah Ferguson failed to give her audience adequate information about the nature of the International Criminal Court, and the fact that neither the US nor Russia are signatories. The US has threatened members of the ICC in ways that would make them fearful of incurring US displeasure.[1] This makes the court unreliable in disputes involving the United States, which the Ukraine conflict clearly does. She also failed to explain how the United States is able to exert pressure on the UN, although this is clear in voting patterns during controversies, which reflect dependencies and fear. Sarah Ferguson did not give the credit due from a professional journalist to the Ukraine-Russia conflict having two sides. She seems to be engaged in a propaganda effort that aimed to consolidate Australia's support for US-NATO involvement in Ukraine.
Sarah Ferguson was the caricature of an authoritarian headmistress dealing with a pupil from the wrong side of town who had been reported as a bully by the child of wealthy and influential parents. Clearly the odious child was there to be quelled by an avalanche of accusations framed as insults, and to learn that no-one was interested in his side of the story.
Sarah: "For only the third time with the International Criminal Court, a serving president has been targeted by an arrest warrant. The ICC has found Russian President Vladimir Putin criminally responsible for war-crimes, specifically the deportation of Ukrainian children from occupied areas of Ukraine. Separately, a UN-backed inquiry did its own report today, detailing war-crimes by Russian troops during the war. Dr Alexi Palovski is the Kremlin's ambassador to Australia. I spoke to him before the arrest warrant was made public."
Sarah: Ambassador Pavlovski, welcome to 7.30.
Ambassador: "Good day."
Sara's first question takes the form of a ridiculous insult: "Ambassador, you're here in Australia, enjoying the benefits of a free and open society, how do you live with yourself, representing the repressive, dictatorial Putin regime?"
The ambassador laughs.
Sara notes, "You find that funny."
Ambassador: "What I find funny is your way to start an interview."
Sarah says, "Pretty straight question," with a self-satisfied grin on her face. [I'll teach you to stand up to the protegés of rich Americans, you execrable little slav!]
Ambassador: "I never had problems living in my country for 13 years before Australia. I never had the impression of living in an authoritarian – how did you put it? "
Sarah: "Repressive and dictatorial."
Sarah goes on to conflate the invasion of Ukraine with oppressive and dictatorial government: "Perhaps I should just give you some more ideas of what I meant … a regime that invaded its neighbour, a regime where protests are suppressed, where your media is muzzled, where dissenters are murdered or imprisoned, where the extent of your war casualties are hidden from the public … How would you describe this form of government, if not a dictatorship?"
[Reality check: Um… Sarah, you represent a country that was part of the coalition of the willing that committed war-crimes by invading and destroying Iraq based on lies by war-criminals, US President Bush and UK PM Tony Blair, both of whom still walk free, their countries non-signatories to the ICC whose work you trumpet in this interview. Australia followed the US example and instigated repressive terrorism laws. Australia's mainstream media repeat whatever US lies about war they are syndicated with on Afghanistan, Libya, Syria and, of course, Ukraine. Australia's media have not reported war protests here since the protests against the Iraq war, twenty years ago, although these protests have never gone away and have increased with our engagement in the Ukraine conflict, proposal for a US military base in North Australia, and nuclear warships; Prime Minister Howard left Australian David Hicks to be tortured for six years in the US's Guantanamo Prison on falsified charges, and only intervened on condition Hicks confess to those false charges which were later deemed unlawful in the US; For reporting on US war-crimes, Australian-born publisher Julian Assange remains illegally imprisoned in the UK and risks life-imprisonment in the US by people known to have plotted to murder him, and Australian whistleblower and army lawyer David McBride faces prison for reporting on murders by our military in Afghanistan … a free and open country? A free media? Australia??]
The ambassador protests that when he prepared for this interview, he did not expect to have to talk about Russia's style of government.
Sarah says that it is important for the audience to understand who you are and who you represent.
Ambassador: "I thought Russia's policy, role in the world, position on certain things …"
Sarah interrupts by stating that the ambassador was happy to dispense with diplomatic language when he accused Australians of being brainwashed into supporting Ukraine. She says that the Russian invasion of Ukraine was a criminal action and the Russian military has terrorised the people of Ukraine and you do not have to be brainwashed to understand that.
Ambassador: "What was in fact a brutal invasion and immoral action was in fact what happened twenty years ago, around March 20 …
Sarah interrupts before he can finish his sentence and say the word, 'Iraq.'
Sarah: "So, we are talking about the invasion of Ukraine one year ago.
Ambassador: "I'm talking about when we are talking about the public being brainwashed, it involves not being able to see events in a context, especially the context of national history…"
Sarah: "You can inject some context into this later,
Ambassador: "Alright."
Sarah: "Because I feel like a twenty-year history may take too long. We've got something concrete to go on. Today's UN report details wide-ranging crimes in Ukraine committed by the Russian army. [The Australian media never refers the public to UN live TV and podcasts of Russia's highly documented presentations to the UN Security Council on the Ukraine conflict, Ukrainian military war-crimes and Russia's response to war-crime accusations.]
Sarah then details numerous UN accusations and charges against the Russian army of rape, torture, execution of prisoners, the deportation of more than 1000 Ukrainian children to Russia, and the indiscriminate shelling of civilian infrastructure. Now, the International Criminal Court says it may amount to war-crimes.
[Reality Check: Neither the US nor Russia is a signatory to the ICC and the US has an aggressive law that means it gives itself the right to invade the ICC and seize any person accusing the US military of war-crimes. Ukraine gave the ICC jurisdiction over its territory, firstly from 21 November 2013 to 22 February 2014, and then on an open-ended basis to encompass ongoing alleged crimes committed throughout the territory of Ukraine from 20 February 2014 onwards. The Donbass region, however, is now Russian territory. Russia says people in the Donbass moved to the safety of Russia in the context of massive bombing of civil infrastructure by the Ukrainian government, which is well-documented but which the Australian public never sees if they only watch mainstream media. And finally, egregiously, the failure of the Australian ABC to cover Seymour Hersh's detailed report on the likely US responsibility for blowing up Nordstream 2.]
Sarah then asks, "How can you claim that this is a war to liberate Ukraine, which I think is the argument you were about to make?"
Ambassador: "Let me first ask you, are the reports or documents you are referring to, do they say anything about war-crimes committed by the Ukrainian side?"
Sarah does not answer his question. She says, "This is a report about the war-crimes committed by the Russian army in Ukraine, for which there is wide-ranging, vast amounts of evidence, already available to the public, of shocking accounts of what took place in Ukraine. The International Criminal Court is opening two crimes investigations," she concludes with a gleeful smile. Then, "let me ask you this: Will you cooperate with these investigations into alleged war-crimes – indeed, crimes against humanity in Ukraine?"
Ambassador: Sarah, first of all, I would like to see these reports. From what I have seen, so far, I gather that the bodies you are referring to are more than biased. They have tunnel vision. They choose not to notice the ample evidence of the war-crimes committed by the Ukrainian side. So, my point is any investigation should be unbiased."
Sarah: "Russia has caused the death of more than 8000 Ukrainian civilians since 2022, but in his speech to the Russian Federation last month, your president, President Putin, said, 'We are not at war with the Ukrainian people.' My question to you is: Then why are you killing them?"
Ambassador: First of all, let me address what you said about evidence, again. That's why I'm saying that the public is brainwashed, because it hears loud words about 'evidence,' about 'footage,' about anything – but they never have the opportunity to fact-check what they are presented with..."
Sarah: "I'm not accepting that assertion." [You rude boy, how dare you question what I say!] Let's go …
Ambassador: "Sarah, I understand…"
Sarah: " -- back to what President Putin said."
Ambassador: "You don't have to record every time you disagree with me. You are probably invited me –"
Sarah: "Yeah."
Ambassador: "—hear my opinion."
Sarah: "Absolutely."
Ambassador: "Alright."
Sarah: "So, I want to ask your opinion about this. I'll put it to you again: Russia's caused the death of more than 8000 Ukrainian civilians since February 2022, but in his speech to the Russian Federation, last month, President Putin said, 'We are not at war with the people of Ukraine.' My question was: Then why are you killing them?"
Ambassador: "I would say that this tragedy of Ukraine started when the west sponsored a coup in Kiev and brought to power ultra-nationalistic, xenophobic government, and that was the government that, in fact, burned alive 50 plus people in Odessa –" [Reality Check: This is especially well-documented in film from several different angles where anti-Euromaidan Ukrainians sheltered in a Union building in Odessa, which was set fire by thugs including identified nazis, and when people jumped out of the building to escape the fire, they were set upon and beaten. Meanwhile authorities did nothing and fire brigades and police failed to arrive in a timely fashion.]
Sarah: Raises her hand in a stop sign: "I think actually --"
Ambassador: "Can I, can I finish?"
Sarah: "Actually, if you're just going to repeat Russian propaganda tropes from the past, I'll ask you to move on."
Ambassador: But, Sarah --
Sarah: "You're not going to answer that question. I'm going to move on."
Ambassador: "But Sarah, I'm listening to you repeat the western propaganda and, and, it's okay –"
Sarah: "Let's move on. Your own troops, in Ukraine, have called the battlefield a 'meat-grinder.' How many hundreds of thousands of casualties can Russia sustain without a public revolt?"
Ambassador: "I disagree with that. I don't see any signs of this."
Sarah: "Weakening of support for the war." She nods rythmically as if to make her implication stand.
Ambassador: "I don't see. Look, talking about Special Military Operation –"
Sarah: "It's a war, sir. It's a war." (Canting and smiling sanctimoniously.)
Ambassador: "Please, you can call it whatever you can."
Sarah: "Yes."
Ambassador: "Frankly I think it has turned into war. I mean a proxy war of NATO against Russia. That's what we witness, in fact."
Sarah: "Let's talk about the Australian involvement in this, because it is unusually large for a small country a long way away from Europe. Australia's given military equipment, including 90 Bushmasters to Ukraine. Has Mosco asked you to lobby Canberra against the supply of military equipment to Zelenskyy's government?" [Challenging stare and arched eyebrows.]
Ambassador: "Ahh, look, it's not a matter of lobbying. Australian government knows our position, and the position is  the formula is very straightforward: The more you give weapons to Ukraine, the longer this war is protracted, the more are the casualties and destructions of Ukraine."
Sarah: "Now your ally, Russia's ally, Xi Jinping, will travel to Russia shortly. His peace plan says that 'sovereignty, independence, and integrity of all countries must be upheld.' That would mean Russia pulling back to pre-invasion positions. Would Russia accept that in order to enable peace talks to take place?"
[Reality check: Sarah forgets, or maybe doesn't realise, or simply isn't telling, that former Ukrainian president Poreshenko, former French president, François Hollande, and former German Chancellor, Angela Merkel, who contracted the Minsk agreements where everyone was supposed to support the independence of the Donbass – have explicitly admitted recently that they undertook these peace talks and agreements solely for the purpose of buying time for Ukraine to build up military strength on Russia's borders. Although former President Viktor Yanukovych who fled the US-instigated Euromaidan coup in Ukraine in 2014 begged him to, President Putin has said that he did not invade Donbass because he believed that the peace negotiations were sincere and he hoped that the violence would stop. Furthermore, although this interview took place before this was clear, when China talked about upholding sovereignty, independence, and integrity of all countries, they did it in a context that recognises the territory that Russia has acquired in Crimea and Donbass according to referendums of their populations.]
Ambassador: "First of all, Sarah, China is not an ally. You should have done your homework. Neither Russia nor China describe their relations as an alliance. If we are talking about the peace plan, presented recently by China, our official position has been expressed. It's an important document. Our government's position is that any peace should take into consideration any – I mean, peace deal, peace negotiation, has to take into consideration the realities on the ground – and these realities, I hope you know – are that four new regions recently have joined Russia."
Sarah: "In breach of Ukrainian sovereignty. Let's move on. Your president has long claimed that Ukrainians and Russians are one people. Is the ultimate aim of this war the subjugation of the entire country?"
Ambassador: "Before we move on, let me react to your remark about sovereignty.
Sarah: "Um hum."
Ambassador: "That's a very important point. Sovereignty matters. But we cannot consider Ukraine, on the eve of Russian Special Military Operation—"
Sarah: "War. War."
Ambassador: "Okay. You don't have to repeat that."
Sarah: "I think I do."
Ambassador: "Really?"
Sarah: "Yes."
Ambassador: "So we don't, we cannot consider Ukraine, on the eve of the Russian Special Military Operation, a sovereign country because, in a sovereign country, the government thinks about the interests of its people –"
Sarah: "It's not the definition of sovereign."
Ambassador: "Ah …"
Sarah: "If your accepting. I think you're accepting that you breached Ukraine's sovereignty, which is the position of the United Nations and international law, that –" [Hand slotting pen firmly into its cap.]
Ambassador: "So, you say that sovereignty can include dismissing interests of own people. Probably. But it definitely does not include to be guided by the interests of foreign countries."
Sarah: "It seems that we're a long way from finding a resolution. Dr Alexi Pavelovski, thank you very much indeed for joining us."
Ambassador: "Thank you Sarah."
NOTES
[1] Source: "Q&A: The International Criminal Court and the United States," Human Rights Watch news, 2/9/2020. https://www.hrw.org/news/2020/09/02/qa-international-criminal-court-and-united-states#3
8. What is the US position now on the ICC?
Under President Donald Trump's administration, the US government has said that it will not cooperate with the ICC and has threatened retaliatory steps against ICC staff and member countries should the court investigate US or allied country citizens. Then National Security Adviser John Bolton first announced this approach in September 2018. Two weeks later, President Trump addressed the UN General Assembly stating that the "United States will provide no support or recognition to the International Criminal Court. As far as America is concerned the ICC has no jurisdiction, no legitimacy, and no authority."
On March 15, 2019, US Secretary of State Mike Pompeo announced that the US would impose visa bans on ICC officials involved in the court's potential investigation of US citizens for alleged crimes in Afghanistan. He indicated the same policy may be used to deter ICC efforts to investigate nationals of allied countries, including Israelis, and stated that the US would be prepared to take further actions, including economic sanctions, "if the ICC does not change its course." The Trump administration confirmed in early April 2019 that it had revoked ICC Prosecutor Fatou Bensouda's visa.
Pompeo publicly threatened two staff members of the ICC on March 17, 2020, naming them and stating that he was "considering what the United States' next steps ought to be with respect to these individuals and all those who are putting Americans at risk." Pompeo said he wanted to identify people responsible for the investigation – and their family members – and implied he could seek actions against them. 
On May 15, 2020, Pompeo vowed to "exact consequences" if the ICC "continues down its current course" – that is, if the court moves forward with a Palestine investigation.
Trump issued a sweeping executive order on June 11, 2020 authorizing asset freezes and family entry bans that could be imposed against certain ICC officials. The administration acted on September 2 to designate Fatou Bensouda, the ICC prosecutor, and Phakiso Mochochoko, the head of the Office of the Prosecutor's Jurisdiction, Complementarity, and Cooperation Division, for sanctions. The executive order also provides for the same sanctions with regard to those who assist certain court investigations, risking a broad chilling effect on cooperation with the ICC.