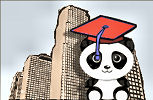 Larry Schlesinger, in the Financial Review (May 26, 2020) wrote a article entitled "Rental market rocked by insane student exodus." It pertained to the "grave" concerns that a clique of high-profile property developers in Melbourne have with the cessation of massive international student migration, due to COVID 19. Property sector denizens mentioned in it were, third on the Fin Review's "Young Rich List", Tim Gurner; Caroline Viney, previously of Grocon, currently the chief development officer of Vicinity Centres; and Shane Quinn, a partner with the commercial property group, Quintessential Equity. The Lord Mayor of Melbourne, Sally Capp, who was until recently the Victorian Executive Direct for the Property Council of Australia, added her angst.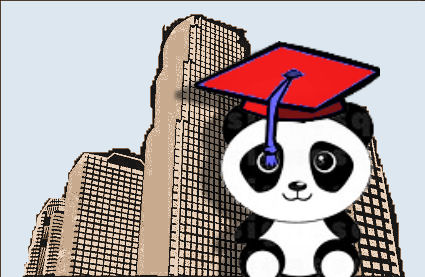 Tim Gurner apparently described the treatment of foreign students as, "The most insane thing," he had ever seen in his career.
The article reports that:

"An exodus of students drove a tripling of residential vacancy rates in the inner city of Melbourne in April."
Tim Gurner is quoted, saying,

"The rental market has taken a massive hit. It's my biggest concern."
We are also informed that these circumstances have led to rents falling between 10 to 30 per cent which, if sustained, would affect residential values.
Gurner related that his firm just completed a building with 140 apartments with 100 of them in the letting pool.
"We normally lease them all in two hours with one inspection. Tragically we've leased only half of them in six weeks. Clearly, that is a gross disparity."
The Lord Mayor of Melbourne then gets a run, saying,

"The city is the place where people come together. Our economy is based upon the city being a meeting and gathering place."
Such partisans of 'growth' have cooperated over the past decade, but particularly so since 2014, with making the international student sector a prime aspect of Victoria's economy. The foreign student population has ballooned in the CBD of Melbourne, in recent years, as part of the supposed $40 billion bonanza to Australia's economy.
Quite simply, these increasing numbers of international students, flooding into the CBD over the past few years, haven't, as some like to imagine, created a cultural and material nirvana. Foreign students and Australians have all suffered from the resulting rise in rents and associated costs. And now COVID-19 has placed students in shocking situations, without employment, not qualifying for welfare payments, and often unable to return home to their families.
Maybe the property development sector should give them all free accommodation, since it has been the primary driver and beneficiary of the situation that led to this disaster.
The covert cooperation of politicians and property developers has culminated in a mass migration program that has enriched a small group of focused beneficiaries, but, in the process, has caused the world's highest property and rental prices, with utilities, energy, and education, following suit. These skyrocketing basic costs affect employees and employers, reducing profit margins and placing pressure on salaries, whilst enriching corporate mortgage-lenders. Furthermore, this situation has made COVID-19 so much more costly than it ever needed to be. Government has had to provide income support to cover extortionate property prices, often costing the taxpayer-funded welfare sector more in rental support than in income payments, ironically whilst compensating the property industry that caused the problem in the first place.
It would be fitting if the property development sector were required to give free accommodation to Australia's homeless and unemployed.
Developer desire to profit, combined with population pressure, has also compromised planning laws and courts, permitting high rise slum prototypes in the urban areas, and mean little lots in new rural slums, as people accept ever lower standards of accommodation.
So, predictably, we have Tim Gurner, Caroline Viney, Shane Quinn, and Sally Capp, along with the collective of property groups (like the Australia Israel Chamber of Commerce and the Australian Business Council), vigorously attempting to re-establish affairs as they were, prior to COVID 19 undermining their game. They want the rental demand in the CBD of Melbourne once more from foreign students; who will occupy the real estate that they control.
How in the world did Victoria end up with being dependent upon selling education and renting property to foreigners as its most important revenue source?
Why have all of the State governments colluded with the Federal government to implement this agenda to make educating foreigners, not just Victoria's largest export industry, but the country's too?
The international student sector is touted as a great economic boon for Australia, when, in reality, it has put Australians in competition with high-fee-paying foreign students, for higher education - a precious national resource, with limited capacity. The crass monetisation of this sector has depressed academic standards in order to lower the admission bar, and more and more of us, foreign and locally-born, are becoming slum-dwellers. How much lower can the property sector drag us?
NOTES
*This article was developed around an edited comment from "Mary" - who did not leave her contact details, so we could not get in touch with her. We now know her as Mary Defoe.