Gunn's chairman John Gay abandoned triple bottom line principles for a means to achieve ends strategy.
John Gay's departure was of his own making. He ignored stakeholders - ordinary Tasmanians who value their forests. He labelled them conveniently 'Greens', directed unlimited company resources to try to legally intimidate them.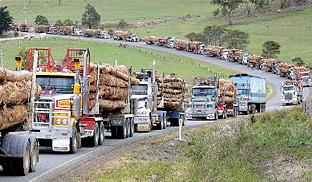 In January 2009, Gunns was distracted suing Tasmanians protesting at its Triabunna woodchip mill trying defend Tasmania's old growth forests.
During the rest of 2009, the GFC and other factors such as its key export markets declining hadn't helped Gunns' share price. On 20th November 2009 Gunns announced its plans to acquire Great Southern. This sent an optimistic signal that Gunns was consistently profitable investor in its 'big player' role in forestry, pulpwood and plywood.
But in December 2009 Gay unloaded 3.4 million shares at an average price of more than 90 cents each. Then in February, Gunns stunned the market when it announced a first-half profit of only $400,000, dramatically below what had been expected.
IMF has commenced a class action against Gunns alleging Gunns has engaged in misleading or deceptive conduct and breached its continuous disclose obligations between August 31 and February 22, 2009.
Now Gay claims it was all the fault the Greens. Sounds like Gay is trying to keep the logger faith, even though many have shares in Gunns.
The collapse of Great Southern and Timbercorp were because they were dodgy tax avoidance schemes caught by the tax office as such. Timbercorp was always a poor investment because it was predicated on promises of misleading gains from tax deductions. Investors were spruiked to borrow to invest on the assumption the interest rate on the borrowings would be offset by after-tax returns. Timbercorp was about profit on false pretenses. It was nothing about long term investment in sustainable forestry plantations. But it has given plantations a bad name.
Great Southern was similarly based upon investors seeking a tax break investing in blue gum plantations on the promise that when the trees grow they will make money and also get a tax break. Poor investment regulation and poor management have also been blamed.
Former Gunns chairman John Gay and former Premier and Gunns board member Robin Gray are leaders of a colonial prejudiced Taswegian culture that has exploited Tasmania at the expense of ecological, social and economic consequences. Such a backward culture deserves to be pulped.



Gunns has not only lost its pulp mill business, it is selling off its original hardware business to Woolworths' owned Danks for $40 million (24th May 2010). Under the agreement, Danks will acquire Becks Timber & Hardware business and five Gunns stores, one timber joinery centre, a truss manufacturing plant and a support office.
Gunn's tyrannical empire is crumbling.