Wildlife carers always advocate 'euthanasia' for adult kangaroos on the grounds that they cannot be rehabilitated. Since kangaroos suffer and die from stress myopathy, containing them in an area and exposing them to humans (arch enemy of kangaroos) is cruel and prolongs their suffering - it is argued.
Meet two wildlife carers who disagree and whose experience is contrary to the generally accepted opinion.
Professor Steve Garlick, and his wife Dr Rosemary Garlick, PhD, FAUCEA & Rosemary Austen PhD, MBBS, FRACGP, are veteran wildlife carers who specialise in kangaroo rescue, rehabilitation and relocation. With the assistance of Wildlife specialist vet Dr Howard Ralph, they take on any native animal in need of help with a very good success rate.
In June 2010, Steve presented a paper to the National Wildlife Rehabilitation conference in Adelaide in which he documented a 97% relocation success rate, with relocated kangaroos (including adults) being monitored over a 24 month period.
Rosemary and Steve produced this paper in response to the well known 2008 herding and brutal slaughter of at least 514 kangaroos in Belconnen, Canberra. The A.C.T. government argued that these kangaroos could not be relocated because up to 40% may die in the process. Apparently they preferred a 100% fatality rate to a RSPCA estimated 40% fatality rate.
The Garlicks' paper demonstrated that, with thorough planning and control, orphaned and wild large Eastern Grey Kangaroos can be successfully translocated with a high success rate and there is indeed no valid excuse to 'cull' healthy kangaroos who are deemed to be in need of moving.
This is what he had to say about a recent case of an 20 year old kangaroo named Thelma:-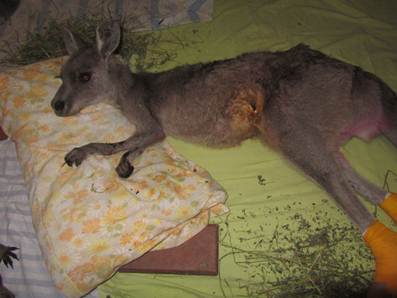 Thelma soon after she arrived at Steve's
"We are always rehabilitating severely injured adults. That's what we mostly do because they are the ones that mostly are injured.
"On a 37 degree day in late December we rescued old Thelma. We could smell her 40m metres away she was so debilitated and infected. Just skin and bones. Her pouch was torn to pieces and completely infested with maggots as was her mouth. She couldn't move and probably would have died within hours of us arriving.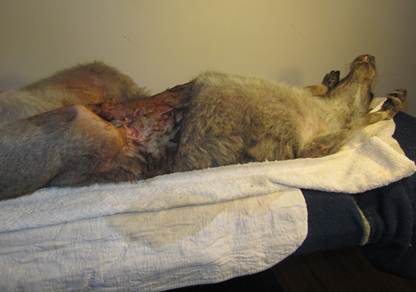 Thelma sedated on the treatment table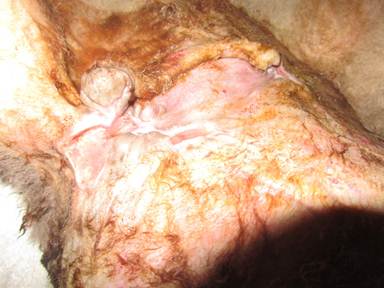 Close up of her pouch injury
"She was very old with her teeth well-worn down. Probably everyone else would have killed her, but we have rehabilitated her completely and now she is living on a one acre house yard and enjoying the rest of her life.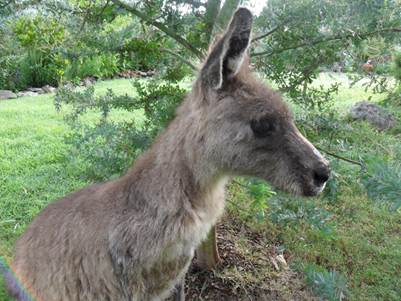 Thelma today, completely healed
"Thelma today has fully recovered, is putting on lots of weight and is enjoying her new home where she has her own shelter and plenty of grass and bush. She is a dear old girl and the owners of the property where she now lives are very happy to have her.
"She may live another five years, as kangaroos can live up to 25 years in the wild. Unfortunately in the wild when the teeth wear out there is little they can do and they generally die from under nourishment. Thelma is still eating grass but is also given some high protein supplement.
"We have many stories about animals just like Thelma. Just as with humans, it's the old animals that are forgotten about. However, the old ones have the best stories to tell!"
*****
Thank you Steve and Rosemary for leading the way forward to a more hopeful future for injured kangaroos and for inspiring wildlife carers everywhere.