Adapted from PressTV article Russia to supply Saudis with Iskander missile complexes (4/7/15)

In recent years, particularly since 2011, Russia has, been an obstacle to the plans by the United States and its allies, including Saudi Arabia, to re-establish global hegemony through further bloody wars of aggression such as those fought against the people of Iraq and Libya.
However, the surprise visit to Russia by the ruler of Saudi Arabia earlier this year after it had launched a war of aggression against neighbouring Yemen and whilst it continued to arm and fund the hordes of terrorists who had been attempting to invade Syria since 2011, would have been of concern to anti-war activists across the globe.
On 4 July, as Saudi Arabia's war continued, it was reported in the in the Iranian PressTV article republished below, that Russia is supplying to the kingdom of Saudi Arabia its Iskander ballistic missile systems.
If the sale proceeds, it will be hard to continue to see Russia in 2015 as that much morally superior to the Tsarist Empire that helped start the First World War in 2014 or the police state of Josef Stalin.
Russia has announced its readiness to provide Saudi Arabia with Iskander tactical missile systems, a Russian official says.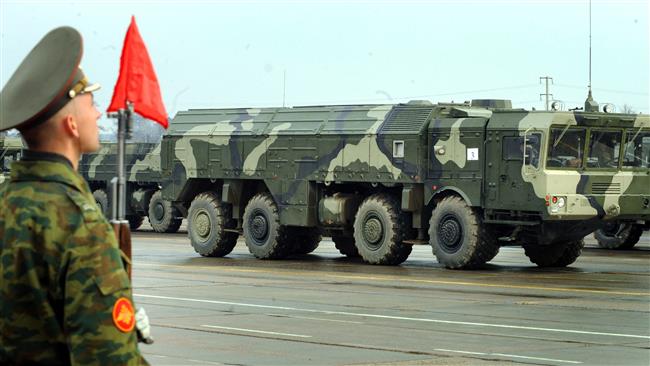 This file photo shows a Russian Iskander ballistic missile launcher rolling
during a rehearsal of a military parade in Alabino outside of Moscow. (AFP)
"If we, let's say, begin the talks today they will certainly take some time," Tass news agency quoted Igor Sevastyanov, a deputy director general of Russia's state weaponry trading corporation Rosoboronexport, as saying on Friday.
"I think if Saudi Arabia wants buying [sic] this equipment, Russia will supply it," he added.
Sevastyanov added that a number of procedures must be carried out for the process of delivery of such a weapon to begin.
A Saudi delegation has also been presented with coastal guard ships and patrol vessels at the International Maritime Defense Show IMDS-2015 underway in the city of St. Petersburg.
The development comes amid Riyadh's incessant aggression against Yemen, which has killed and injured hundreds of people over the past weeks.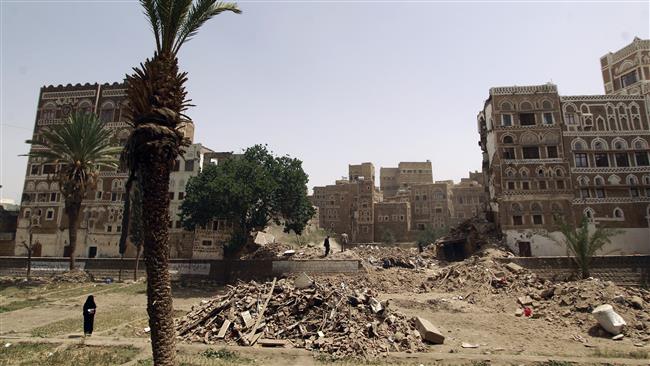 This photo taken on June 15, 2015 shows a view of the destruction caused by Saudi air-
strikes in the UNESCO-listed heritage site in the old city of the Yemeni capital, Sana'a.
Saudi Arabia has been attacking different areas in Yemen since late March, without any authorization from the United Nations and heedless of international calls for the cessation of its deadly campaign against the Arabian Peninsula country.
In an unprecedented move, Russia and Saudi Arabia also on June 18 signed an agreement on cooperation in the field of nuclear energy.
The deal was signed after Russian President Vladimir Putin met with Saudi Arabia's Defense Minister Mohammed bin Salman in St. Petersburg on the same day.
Saudi Arabia recently signed a slew of deals with France worth billions of dollars to buy patrol ships, border guard helicopters and planes from the European country.
MR/HSN/HMV