Is Australia governed by morons? Australia preaches about the Asian Century but behaves like the 18th Century British colonists who originally invaded Terra Australis. If Australia understood what it means to be Asian it would realize that most Asian countries have predominantly indigenous populations. For example, Indonesia, China, Japan, Korea, Myanmar, Thailand and the Philippines to name but a few.
None of these countries run mass migration programs like Australia's. Australia leads the world in this category. Asian countries are not selling off their assets and housing to foreigners like Australia does; while crying crocodile tears about carbon emissions as they rapidly expand their fossil fuel exports to pay for population growth that the country cannot afford. With one of the highest costs of living of any country the annual growth of the Federal Budget combined with growing Government debt far exceeds the capacity of the growing economy to finance.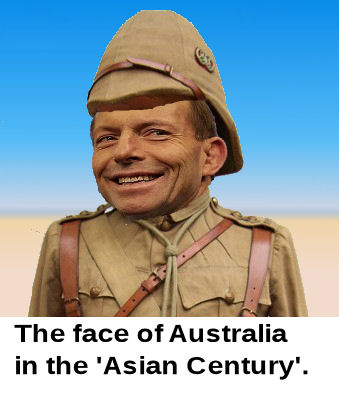 Asian populations grow at varying rates, depending on the level of development and the rates of natural births and deaths. None of these countries subject their people to mass migration as a tool to drive GDP growth in irrational contempt for the social, environmental and economic consequences.
If China used mass migration at the same rate as Australia's, it would be flooding the country with over 16 million migrants per year. China's reported population growth rate is 0.6% per annum. Australia's deliberately engineered population growth rate is 1.8% per annum.
Australia is a dishonest, hypocritical country built on a lie that government media fully supports while it preaches about humanity and the environment.
The death cult of Migration Assured Destruction is alive and well in Australia. Even the US example of how to screw up a country is not enough to educate Australia's ruling class. This is a unique recipe for a cock up.
The argument that population growth is inevitable is as defeatist as the argument that the human race must destroy itself together with the environment that supports it.
The 20th century saw the developed world set the example of fossil fuel consumption for the developing world to follow. Now, in the 21st century, Australia insists on continuing to set the example of ridiculous and unsustainable, migration-based population growth as an example of how underdeveloped countries should behave once they have developed?
The premise of most demographic gurus is that population growth will slow as developing countries become wealthy. If that is true, then why does Australia deliberately drive population growth rates as high as those of some of the most underdeveloped areas of Africa and roughly 4 times the OECD country average? It certainly isn't about prioritising refugee intake.
Australia is an insult to the intelligence of most Australians. The primary responsibility for this reckless stupidity lies with both Government and its tool the ABC; both of whom are beyond the control of the Australian people.
There is no democracy in Australia when it comes to open public policy debate of population growth management and maximising Australia's potential to act humanely and sustainably both at home and abroad. It's just not up for discussion; and that is the essence of what Australia's autocratic "death cult" is all about. Cut philanthropic aid at home and abroad and destroy the environment; all in the name of profit - otherwise misdescribed as "economic growth".