These photographs of a mass-burial pit in Canberra for kangaroos gunned down by the government was sent to me by 'Friends of AnimalArmy' with the message, "We cannot find an investigative journalist anywhere who will expose the corruption and the lies." I cannot understand why not. Don't we want to know the truth?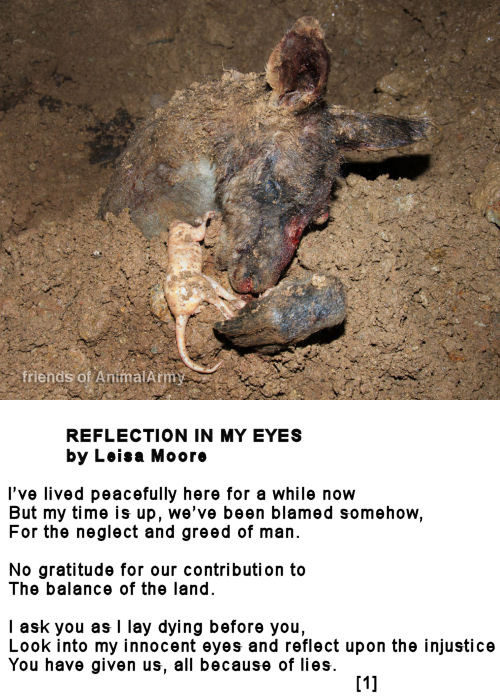 Do we want to know the truth?
I think that Australians do want to know the truth, but it seems that the mass media is letting us all down.
This infinitely sad photograph of the dead kangaroo with bent head and hand placed around the body of a hairless joey might remind some of you of pictures of Mary and the infant Jesus, and others of bodies in a pit in Auchwitz. The point is that the photograph documents a deeply tragic mistake on the part of the ACT government, that taints it as brutal and dishonest. This is one of several remarkable photographs that came to me via "Friends of AnimalArmy," with the message,

"We cannot find an investigative journalist anywhere who will expose the corruption and the lies."

"They are shooting 20 metres off major 4 laned highways during peak hour in full view of all traffic, being the ACT Govt they are untouchable and do not answer to anyone."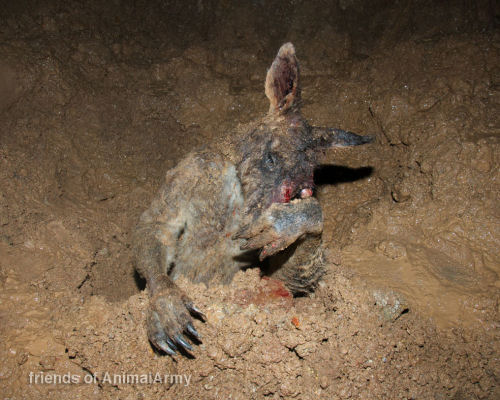 In the early hours of Sunday morning 3 June 2012, activists uncovered a large mass burial pit at the Kama nature reserve. It contained up to an estimated 300+ slain kangaroo bodies. Evidence was discovered amidst a slurry of mud and blood illustrating unethical and illegal practices including throat shots, partially severed joeys and mature kangaroos with smashed heads. The large kangaroo among the small and tiny ones is a big mature male.
These images were taken of an unearthed pit where hundreds of kangaroos have been buried during this 2012 cull. The images are graphic and may be distressing but think how the kangaroos felt. Can any of us imagine? It is most important to share these truths around to friends, families, colleagues, media, and politicians. Blow the lid off the dodgy 'wildlife management' that goes on in the ACT and blow the lid off the mainstream media conspiracy to hide the facts from Australians.
Click here on Animal Liberation ACT's new website for further information on what you can do to help!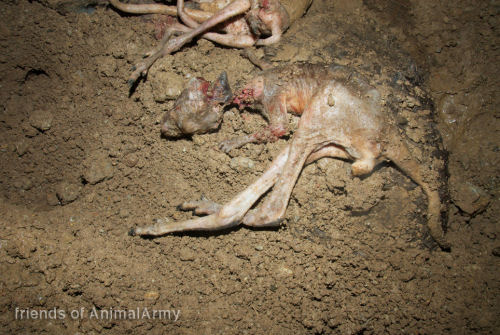 When I received these pictures from friends of 'AnimalArmy', I wondered where to begin to describe what I can see is happening. Leisa's poem (above) sums it up. Leisa has said to me that the longer she knows kangaroos, and she has worked intimately with them for 25 years, the more impressed she is by their intelligence and their capacity to love - "not just their own species, but humans as well." She also says, "When I look into a kangaroo's eyes I see a capacity to analyse."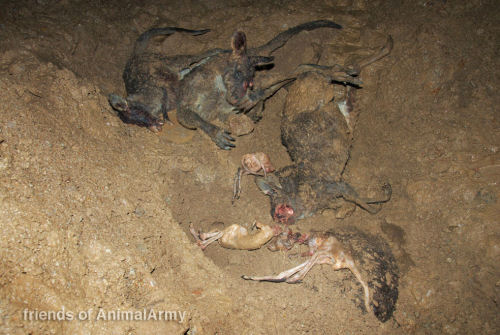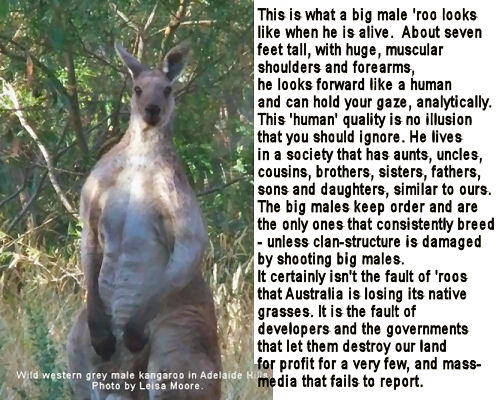 In contrast to the Canberra male half-buried in mud, the picture at the bottom of this article is of a healthy South Australian animal interacting with a friendly photographer.
NOTES
[1] This poem by Leisa Moore, a kangaroo rescuer in South Australia was originally written in memory of 453 Belconnen Kangaroos Killed by the A.C.T. Government in a Kangaroo Management Cull, 2009. Leisa called it, "Message from a Belconnen Kangaroo, 'Reflection In My Eyes'.