Contents: #OFarrellPilloried">O'Farrell pilloried, #DebateIgnored">Parliamentary debate ignored, #EarlierMisreporting">Earlier misreporting: Iemma exhorted to ignore Labor conference, public will, #WhatCanBeDone">What can be done about this?.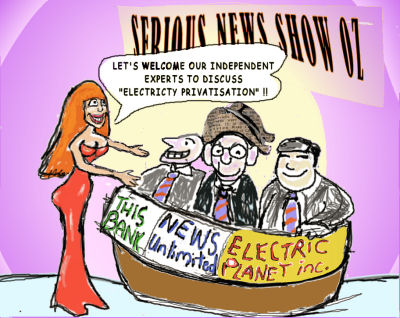 Analysis of the reporting of electricity privatisation initiatives in New South Wales brings disturbing confirmation that the major Australian newsmedia does not accurately report essential facts on issues of vital concern to us. Indeed, it often acts as a conduit for propaganda against our best interest.
Throughout NSW's struggle against a push to privatise electricity, barely any of the newsmedia paid regard to the fact that the NSW Government had no mandate whatsoever to sell electricity assets. Facts acknowledged in hardly any of the reports included:
In the face of relentless propaganda in favour of privatisation, opposition to privatisation stood at between 79% and 86% according to opinion polls.
Morris Iemma had explicitly promised not to privatise prior to the March 2007 elections.
In the 1999 state elections NSW electors voted against the Liberal/National Opposition which stood for full privatisation.
#OFarrellPilloried" id="OFarrellPilloried">O'Farrell pilloried
On 27 August, the day before the privatisation legislation was to be put before the NSW Upper House The Australian's Imre Saluzinsky shared with his readers his high expectations of NSW state parliamentary Liberal Party and leader of the state Opposition Barry O'Farrell in his article of 27 August "O'Farrell won't do a Debnam". There were, of course, those in the Liberal party opposed to privatisation, who were described by Saluzinsky, incredibly, as, at once, both "machiavellian" and "conspiracy buffs to the bitter end" who apparently had paranoid delusions that Labor would use the proceeds of the sale to pork-barrel their way back into office in 2011. Nevertheless, he predicted that O'Farrell and the Opposition would come good:
O'Farrell can either outsmart himself with such conspiratorial thinking, or demonstrate the Coalition is ready to govern. On previous form, he'll choose the latter path.
In response to this article, one reader responded:
Where does political morality lie in your equation, Imre? Both major parties ruled out power privatisation before the last election, and merely months later it becomes a 'must do'? Through their mismanagement Iemma and Costa need the money from the power sell-off for their political survival. Handing them the keys to the vault by aiding and abetting their political fraud will only prolong an inept Labor government. That is the reality facing the entire business community in NSW.
Saluzinsky did not answer.
When Barry O'Farrell failed to follow Saluzinsky's script, two days later Saluzinsky turned on him with a vengeance. On Friday 29 August in "O'Farrell's shame worse than Iemma's", He wrote:
The collapse of the latest reform push is a condemnation of the political class in NSW.

It shows the nation's largest state - over a third of the national economy - in the grip of reform paralysis. And it leaves the credibility of both Iemma and NSW Opposition Leader Barry O'Farrell in tatters.

... O'Farrell shifted ground. He sought independent advice, which backed the sale strategy, then he ignored it, preferring to maintain a united front with the Nationals rather than securing the state's electricity supply.
The Australian's editorial "NSW Labor and Libs are unfit for power" appeared critical of both the Government and the Opposition, however the latter was the main recipient of its venom. It began:
NSW Opposition Leader Barry O'Farrell has just done the unthinkable. By scuttling Labor Premier Morris Iemma's push to privatise the NSW electricity sector, he has raised the serious question of whether the Liberal and National parties can ever be fit to run the nation's largest state. After 13 years of do-nothing and scandal-soaked government from Labor, it is truly remarkable that the Coalition can't bring itself to support the one positive item on the Iemma agenda.
Here, the editorial writer is hardly being fair to the state Labor Government. Former Premier Bob Carr tried earnestly to foist electricity privatisation on the Labor Party in 1998 only to have it rejected by the Labor Party conference. In 2006 the Iemma Government attempted to lead the Federal and Victorian governments to privatise the Snowy Hydro scheme. Iemma could hardly be held to blame if the Howard Government, faced with a public outcry and the late Federal Independent MP Peter Andren's determined opposition, decided to pull out the rug from under privatisation. Clearly, in terms of The Australian's own world view, the Carr and Iemma governments had attempted to do other 'positive' things, which The Australian should have acknowledged.
This year, Iemma went one step further than Carr was prepared to go. He ignored the Labor Party conference vote. He also ignored public opinion and his own 2007 election commitment. What else, short of declaring martial law and jailing NSW upper house members opposed to privatisation, would the The Australian have had Iemma and Costa do?
The editorial goes on to ask, "And for what?"
Anyone placing their trust in the judgement and good will of the editorial writer would have gained the impression that O'Farrell had not provided any justification for his actions. In fact, he had supplied justification in a media release that day. Upper House leaders Michael Gallacher (Liberal Party) and Duncan Gay (National Party) both also provided reasoned and detailed arguments against the privatisation legislation in the Parliamentary debate before it was abruptly closed by an embarrassed Government.
Whilst the editorial was prepared to trust a Government it had itself labelled as 'inept', O'Farrell was not. In his media release, he wrote:
Furthermore, the Iemma Labor Government has an appalling record of dealing with the private sector ? it has failed the public in deals ranging from the Cross City Tunnel to the building of the new Bathurst Hospital.

Given their record of incompetence, Morris Iemma and Labor can?t be trusted to deliver a good result for taxpayers and consumers.
To many, these would seem reasonable concerns. In addition O'Farrell pointed out that there was uncertainty about the implications of the Federal Government's carbon trading scheme and that privatisation had not been put by Iemma to the NSW electors in 2007.
The editorial then moved on to stronger ground:
It is not even clear that Mr O'Farrell's obstruction passes the cynic's test.
Indeed, it had not. That test was being passed with flying colours by the editorial writer himself. The majority of the state Labor Party Parliamentary caucus, which had resolved to ram through the privatisation legislation in defiance of popular opinion, and the state Labor Party conference, has also performed exceedingly well in this regard.
In one small sense, the Opposition's stance may have been due to its instincts for self-preservation, if only because of the Murdoch press's own record of unprincipled opportunism. Had privatisation proceeded, it is hard to imagine that The Australian would not have quietly forgotten the Iemma Government's legendary incompetence and, instead, have begun to sing its praises once more.
The editorial writer then assailed the reader with facts and statistics that would have left him/her in no doubt that O'Farrell, or anyone else who may have wanted to hesitate for longer than five minutes before allowing privatisation to proceed, was stark raving mad.
[Because O'Farrell] "continues to ignore economics 101 ... the Australian would be unable to recommend a vote for a change of government in NSW."
This begs a number of obvious questions: If sound economic practice really required electricity privatisation, why couldn't the policy simply have been put to the electorate in March 2007? Why had it proven so hard to make the public, the trade unions and the NSW state Labor Party see this? Why had the public rejected privatisation in 1999 and remained adamantly opposed to it all along? Clearly neither The Australian nor Iemma deserved the public they had been stuck with.
Murdoch's Daily Telegraph editorialised on 31 August :
Mr O'Farrell ... also has a huge question mark hanging over his head after his performance last week.

...

Mr O'Farrell could not resist the lure of a cheap political victory to wound his opponent when NSW was crying out for some far-sighted leadership.
Presumably by 'NSW', the editorialist meant the small shrill chorus of bankers and investors.
O'Farrell and the NSW state Opposition received additional drubbings in reporting over the following days: "How the people of NSW were sold out" (SMH, 30 Aug) an opinion piece by Premier Morris Iemma. (A google search listed the story with a more provocative title: "How the power of one treacherous leader sold out the people of NSW". Clearly an editor somewhere thought better of that title), "O'Farrell backflip on power sell-off" (The Australian, 1 Sep)."Hopelessly devoted to self-interest" (Sun-Herald, 31 Aug), "O'Farrell's shame worse than Iemma's" by Imre Saluzinksy (The Australian, 29 Aug), "Luddite Liberals" (The Australian, Aug) by John Durie, "Barry O'Farrell misses a chance on electricity" (Sunday Telegraph, Aug. 08)
In Murdoch's Melbourne Herald Sun newspaper, one article, which seems to have since disappeared from the web, even referred to Barry O'Farrell as "O'Fool".
Against this torrent of condemnation O'Farrell was able to write an opinion piece on 1 September in defence of himself in the (Fairfax press) Sydney Morning Herald.
#DebateIgnored" id="DebateIgnored">Parliamentary debate ignored
Astonishingly, even the debate in Parliament which had been recalled at a cost of $500,000 to the NSW taxpayer was ignored by electricity privatisation reporting. Facts revealed in the debate, but unreported in the media, included:
Prior to the March 2007 elections "the Iemma Government issued emphatic denials that any such sale would take place". On 20 February 2007 Michael Costa stated "There are no plans to sell our retail electricity businesses". (Upper House Opposition leader Gallacher's speech)
On 9 May 2007 Premier Morris Iemma, when referring to the Owen Review, ruled out any "sale of electricity generation, transmission or distribution."(Gallacher)
In a Sydney Morning Herald article dated 25 May 2007 Iemma was reported as stating in a letter to Unions NSW that "The privatisation of the State Government-owned energy companies is not on our agenda".(Gallacher)
On 23 November 2006 Michael Costa stated "There is no energy crisis in New South Wales - In fact, New South Wales has surplus energy."(Gallacher)
Treasurer Michael Costa, as Secretary of the NSW Labor Council, had in 1998 and 1999 moved motions in opposition to former Premier Bob Carr's privatisation legislation(Gallacher)
For 13 years up until the 2007 elections Treasure Costa and his predecessor Egan had boasted that NSW had healthy budget surpluses due to their sound financial management. "Treasurer Michael Costa told New South Wales taxpayers before the last election that they had nothing to worry about." (Gay)
The Owen Inquiry report, which is the Government's principle justification for privatisation, has never been debated in the NSW Upper House. (Kaye)
In this light, why had the media not turned on Iemma and Costa, if it was truly concerned with reporting the truth?
#EarlierMisreporting" id="EarlierMisreporting">Earlier misreporting: Iemma exhorted to ignore Labor conference, public will
Monday 5 May, 2008: The Australian's editorial "Rudd has a stake in NSW power sell-off", published after the NSW state conference voted 702 to 107 against privatisation, urges the NSW Parliamentary Labor Party to ignore the conference.
"Kevin Rudd has a lot riding on NSW Premier Morris Iemma's having the courage to defy Labor's state council and push ahead with the $10 billion privatisation of the state's electricity industry. To his credit, Mr Iemma says he is standing firm. ...

If electricity privatisation can be defeated because unions representing a few thousand electricity workers don't like it, how difficult would it be to stare down union interests to overhaul health and education?

...

The electricity debate is a classic example of the labour movement attempting to bully the government into making a decision that is not for the greater good. Mr Iemma must demonstrate that he is prepared to govern for all people and ignore the demands of state conference."
The editorial writer did not seem to have a problem with fact that 79%-86% of "all people" on whose behalf Iemma and Costa were supposedly governing, happened to agree with the "unions representing a few thousand electricity workers" and state conference.
7 May 2008: Murdoch's Sydney Daily Telegraph gloated at the Labor Parliamentary caucus's defiance of NSW public opinion in "Iemma's grin of victory over power industry sale":
"The rare record of an exceptional political victory came after Morris Iemma emerged from a post-conference meeting yesterday with the backing of his entire caucus for his plans to privatise the NSW power industry.

The Premier was so impressed by his coup - rendered by endorsements from even his rebel MPs as they filed out of the marathon meeting - that he celebrated by updating his Facebook site with the glowing new images.

'I'm very happy,' he said after giving a rare post-caucus briefing. 'There was nothing to vote on.'

An emboldened Mr Iemma then strode into Question Time and accused Opposition Leader Barry O'Farrell of being 'dumb', 'stupid', 'gutless' and having his head 'up his backside'".
Wednesday, 7 May: In a report "Iemma's caucus triumph" by Imre Saluzinsky and Andrew Faulkner, it was noted that Premier Morris Iemma's approval rating had dropped to 28%. Nevertheless the article confidently predicted:
"However, he is likely to receive a bounce in the polls from his display of strength in recent days."
In other words, the NSW public, would respect the 'strength' of a Government that had blatantly defied its will on the question of privatisation more than it would respect those who were intent on forcing Iemma to respect that will. This bizarre prediction was not realised and was quietly forgotten.
#WhatCanBeDone" id="WhatCanBeDone">What can be done about this?
The material described and quoted above represents only a small fraction of many months of misreporting. Luckily the public weren't fooled this time. Luckily, a majority of their elected representatives also chose to represent their will in Parliament and to uphold basic principles of democracy and accountability, this time.
But it so easily could have turned out differently. More often than not such mass media misinformation campaigns have achieved their goals in the recent past.
It is in similar contexts that nearly all the other state governments in Australia have managed to privatise the people's electricity assets. It was in such a manner that Keating got away with privatising the Commonwealth Bank, despite a specific election promise not to. This is how all Australia's state-owned banks and insurance companies were privatised. This is how Howard got away with privatising Telstra. In the same way, Australia was dragged into the Iraq War, in spite of the most massive popular protests since the Vietnam War. This is how "Work Choices" was implemented and continues to dominate as law. That is how a slew of expensive, inappropriate and environmentally damaging infrastructure projects have been imposed against heated community objections in almost every part of this country. This is how successive governments have been able to impose high immigration levels on an uninformed and unwilling public. This is the way that local governments have been forcibly amalgamated in Queensland, NSW and Victoria.
It is time we challenged the right of newsmedia proprietors to act so blatantly against our interests.
If the newsmedia continue to serve the public so poorly, it must, itself, become the focus of popular protests, and progressive pro-democratic political parties must pledge to legislate to prevent the newsmedia from continuing to abuse their powers in this way.
You can help by distributing this article.