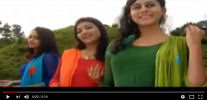 This song is sung in Bengali, which is a language from Bangladesh. It was a theme song for World Population Day 2013. I liked the tune and found the singers appealing. I wondered what the words were and obtained a translation through a friend in India. See inside.
"We are in adolesence and early marriage leads to death during pregnancy and child birth.
Now is the time to lead a happy and care free life
My life belongs only to me and I have to take care of my education and also protect my dreams and fulfill them.
People may say many things but I don't mind.. I have my independent goals...
I have to fly like a free bird in the sky"
(Repeat)