The Electrical Trades Union has slammed a recent report by the Grattan Institute as little more than an opportunistic call to sell-off Australia's essential electricity assets to its corporate mates. ETU National Secretary Allen Hicks described the report as lacking integrity and avoiding the real cost drivers in Australia's energy system. He also drew attention to the numerous fires started by electrical infrastructure faults. This is a matter that preoccupies us at candobetter.net as we see more and more bush cleared, wildlife lose habitat, and all the while most fires are started by humans and electrical faults. The Victorian Bushfire Commission has institutionalised this cruel absurdity.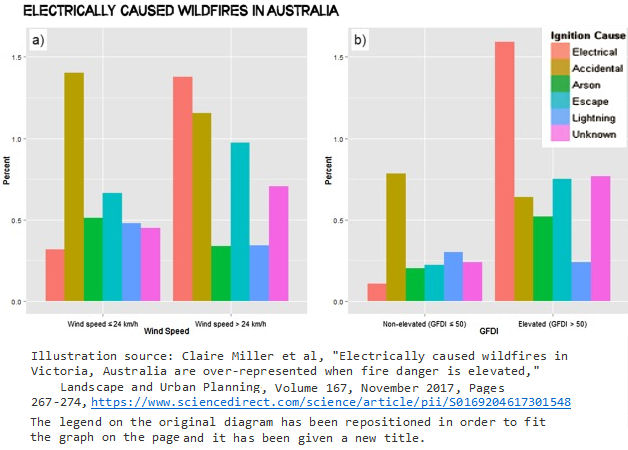 "When it comes to issues with price and reliability, Australia's broken energy laws coupled with decades of privatisation are the real culprits," Mr Hicks said. "This cherry-picked report fails to critically assess the role these two issues have played in driving up Australians' power bills."
The Grattan Institute's assessment that states should dramatically write-down the value of their electrical networks or privatise the remaining state-owned assets is riddled with inaccuracies, Mr Hicks added.
"The Grattan Institute is living in an academic dystopia, claiming our poles and wires are rolled in solid gold while consumers live through the reality of maintenance cuts, meaning more frequent and longer power outages," he said.

"A lack of federal leadership has meant we are constantly seeing our broader energy network fail under immense strain. Victorians watch nervously, hoping there won't be repeat of Black Saturday. In NSW farmers see rotten poles collapsing and sparking blazes. And the people of Darwin suffer as staffing cuts see their restoration times grow ever longer.

"Barely 12 months ago, the Grattan Institute released a report condemning the privatised energy retailers' role in driving prices up. Now they can't decide if privatisation is the failure or the saviour."
In the wake of another devastating bushfire on the NSW South Coast town of Tathra last week – that appears to have been sparked by an electrical fault – suggesting that networks are overvalued is complete nonsense.
"The Grattan report suggests Victoria set the standard for network privatisation but the dangerous degradation of poles and wires in that state proves otherwise," Mr Hicks said.

"We're now nine years on from Victoria's devastating Black Saturday bushfire that claimed 173 lives, left more than 400 people injured and destroyed 2029 homes. That fire came 13 years after privatisation. But nearly a decade on from Black Saturday, a recent report from Energy Safe Victoria shows many of the royal commission's recommendations to prevent a repeat of the blaze are yet to be addressed.

"The poles and wires across the state of Victoria are plagued with dangerous problems. In a period from October 2015 to July 2017 faults in poles and wires were found to be the cause of 252 fires. That's about 11 blazes sparked each month by ailing infrastructure that is supposed to be maintained by private operators.

"The Electrical Trades Union firmly believes power can and should be cheaper. History has proven it won't come through privatisation and it cannot come from cutting costs on network investment and maintenance."
Research: Electrically caused wildfires in Victoria, Australia are over-represented when fire danger is elevated
In Claire Miller et al, "Electrically caused wildfires in Victoria, Australia are over-represented when fire danger is elevated, Landscape and Urban Planning, Volume 167, November 2017, Pages 267-274, " the research:
• Compares occurrence of fires in elevated fire danger conditions from different causes across the state of Victoria, Australia.
• Fires caused by faults in electricity distribution infrastructure are more prevalent at elevated fire dangers.
• Fires caused by electricity infrastructure burn larger areas, on average, than those from all other causes, except lightning.
Abstract
Electricity distribution infrastructure causes fewer wildfires than most other sources of ignition. However, these fires have been associated with more severe consequences than those from other causes. This paper examines whether fires caused by faults in electricity distribution infrastructure occur more often during periods of elevated fire danger, thereby increasing their consequence. The occurrence of wildfires caused by electricity distribution infrastructure were compared to those attributed to other causes during periods of elevated fire danger across the State of Victoria, Australia, where historically such fires have had significant impact on lives and assets of value. The results provided strong evidence that fires caused by electrical faults are more prevalent during elevated fire danger conditions and that they burn larger areas than fires ignited by most other causes. As a result the consequences of fires caused by electricity infrastructure are worse than fires from other causes. This knowledge highlights the importance of mitigating ignition-causing faults in the electricity network, particularly on days of elevated fire danger.