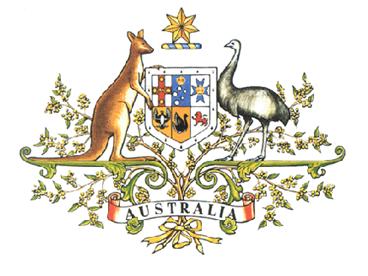 The Red Kangaroo and Emu that support the shield are the official animal emblems of the nation. They owe this recognition to the fact that they are native Australian fauna (found only on this continent).
...and then we go and massacre them.


The 2008 Belconnen Massacre - lest we forget
We are reminded of the brutal belconnen massacre of 500 kangaroos yesterday two years ago on 19th May 2008, followed shortly afterwards with another 4000 or so kangaroos massacred at the Majura Army training area. "Kevin Rudd or Environment Minister Peter Garrett declined to stop the killings. It was supported by the RSPCA's Micheal Linke." ['Two years since the shameful Belconnen slaughter in Canberra']
Then around this time last year Australia's Defence Minister, Joel Fitzgibbon MP, approved a similar kangaroo massacre at the same place on Saturday, 9th May 2009. [Fitzgibbon's Massacre - 9th May 2009]
These wildlife massacres reflect a prevaling backward colonial attitude by our government towards native animals. Native animals were regarded as vermin by early colonists. This attitude prevails.

---
Labor's Big Ecological Lie
At the time, outright propaganda lies were told by government officials and politicians that the kangaroos were starving and the kangaroos threatening native grassland and three threatened species on the site, the striped legless lizards, golden sun moths and Ginninderra peppercress. Read More
Such propaganda is right out of Joseph Goebbles "Big Lie" technique based on the principle that a lie, if audacious enough and repeated enough times, will be believed by the masses. Goebbles' propaganda attacks on the Jewish population culminated in the Kristallnacht assault of 1938, an open and unrestrained pogrom unleashed by the Nazis all across Germany, in which scores of synagogues were burned and hundreds of Jews were assaulted and murdered. [Source]
The truth at Belconnen is that the government wanted new housing estates to go up where the kangaroos lived, so they slaughtered the kangaroos. Simple and brutal as that.
The Truth about the 2008 Belconnen Massacre

---
Colonist Australia - a history of slaughtering native Australians
The truth across all of Australia through its colonial history right up to recent times, is the government wanted the land where Aborigines lived, so they slaughtered the Aborigines. Simple and brutal as that. Today's 21st century official slaughter of Australian native animals is no different to the official slaughter of Australian native people by European colonists, who treated Aboriginal people as vermin.
The following massacres are shocking testament. Such truths of Australian history remains excluded from the Australian school curriculum. Such truths of Australian ecological present remain excluded from the Australian school curriculum.


[List_of_massacres_of_Indigenous_Australians]
1790 Botany Bay Genocide In December, Governor Arthur Phillip issued an order for "a party...of two captains, two subalterns and forty privates, with a proper number of non-commissioned officers from the garrison...to bring in six of those natives who reside near the head of Botany Bay; or, if that number shall be found impracticable, to put that number to death".
1824 Bathurst Massacre Following the killing of seven Europeans by Aboriginal people around Bathurst, New South Wales, martial law was declared and many Aboriginal people were killed.
1828 Cape Grim Massacre On 10th February in the North west of Van Diemen's Land, now known as Tasmania, four shepherds with musket guns ambushed over 30 Tasmanian Aborigines from the Pennemukeer band from Cape Grim, killing 30 and throwing their bodies over a 60 metre cliff into the sea.
1830 Fremantle Punishment Raid The first official 'punishment raid' on Aboriginal people in Western Australia, led by Captain Irwin took place in May 1830. A detachment of soldiers led by Irwin attacked an Aboriginal encampment north of Fremantle in the belief that it contained men who had 'broken into and plundered the house of a man called Paton' and killed some poultry. Paton had called together a number of settlers who, armed with muskets, set after the Aborigines and came upon them not far from the home. 'The tall savage who appeared the Chief showed unequivocal gestures of defiance and contempt' and was accordingly shot. Irwin stated, "This daring and hostile conduct of the natives induced me to seize the opportunity to make them sensible to our superiority, by showing how severely we could retaliate their aggression." In actions that followed over the next few days, more Aborigines were killed and wounded.
1833-34 Convincing Ground Massacre of Gunditjmara On the shore near Portland, Victoria was one of the largest recorded massacres in Victoria. Whalers and the local Kilcarer Gunditjmara people disputed rights to a beached whale carcass.
1834: Battle of Pinjarra In Pinjarra Western Australia, official records state 14 Aboriginal people were killed, but other accounts put the figure much higher.
1838 Myall Creek Massacre 10 June: 28 people killed at Myall Creek near Inverell, New South Wales. This was the first Aboriginal massacre for which European settlers were successfully convicted. Several colonists had previously been found not guilty by juries despite the weight of evidence and one colonist found guilty had been pardoned when his case was referred to Britain for sentencing. Eleven men were charged with murder but were initially acquitted by a jury. On the orders of the Governor, a new trial was held using the same evidence and seven of the eleven men were found guilty of the murder of one Aboriginal child and hanged. The successful prosecutions resulted in pacts of silence becoming a common practice to avoid sufficient evidence becoming available for future prosecutions. Many large scale massacres were to go unpunished due to this practice.
1838 Waterloo Creek Massacre A Sydney mounted police detachment attacked an encampment of Kamilaroi people at a place called Waterloo Creek in remote bushland.
1838 Faithfull Massacre Benalla -In April of that year a party of some 18 men, in the employ of George Faithful and William Faithfull, were searching out new land to the south of Wangaratta. Then, in the vicinity of, or possibly on, the present townsite of Benalla, it is alleged that a large number of Aborigines attacked the party's camp. At least one Koori and somewhere between eight and thirteen Europeans died in what became known as the Faithfull Massacre. Local reprisals lasted a number of years, resulting in the deaths of up to 100 Aborigines. The reason for the attack is unclear although some sources claim that the men took shots at local Aborigines and generally provoked them.[15] It also seems they were camping on a hunting ground
Additional murders of these people occurred at Warangaratta on the Ovens River, at Murchison (led by the native police under Dana and in the company of the young Edward Curr, who could not bring himself to discuss what he witnessed there other than to say he took issue with the official reports) Other incidents were recorded Mitchelton and Toolamba.
This "hunting ground" would have been a ceremonial ground probably called a 'Kangaroo ground'. Hunting grounds were all over so not something that would instigate an attack. The colonial government decided to "open up" the lands south of Yass after the Faithful Massacre and bring them under British rule. This was as much to try and protect the Aboriginal people from reprisals as to open up new lands for the colonists. The Aboriginal people were (supposedly) protected under British law.
1839 Campaspe Plains Massacre At Campaspe Creek, Central Victoria in May-June saw the genocidal slaughter of the Daung Wurrung and Dja Dja Wurrung people.
Mid 1839 Murdering Gully Massacre Near Camperdown, Victoria saw the genocidal "wiping out" of the Tarnbeere Gundidj clan of the Djargurd Wurrung people.
1830s—1840s Wiradjuri Wars Clashes between European settlers and Wiradjuri were very violent, particularly around the Murrumbidgee. The loss of fishing grounds and significant sites and the killing of Aboriginal people was retaliated through attacks with spears on cattle and stockmen. In the 1850s there were still corroborees around Mudgee but there were fewer clashes. Known ceremony continued at the Murrumbidgee into the 1890s. European settlement had taken hold and the Aboriginal population was in temporary decline.
1865 The La Grange Expedition was a search expedition carried out in the vicinity of La Grange Bay in the Kimberley region of Western Australia led by Maitland Brown that led to the death of up to 20 Aboriginal people. The expedition has been celebrated with the Explorers' Monument in Fremantle, Western Australia.
1868 Flying Foam Massacre - Dampier Archipelago, Western Australia. Following the killing of two police and two settlers by local Yaburara people, two parties of settlers from the Roebourne area, led by prominent pastoralists Alexander McRae and John Withnell, killed an unknown number of Yaburara. Estimates of the number of dead range from 20 to 150.
1874 Barrow Creek Massacre - February (NT): Mounted Constable Samuel Gason arrived at Barrow Creek and a police station was opened. Eight days later a group of Kaytetye men attacked the station, either in retaliation for treatment of Kaytetye women, the closing off of their only water source, or both. Two white men were killed and one wounded. Samuel Gason mounted a large police hunt against the Kaytetye resulting in the killing of many Aboriginal men, women and children - some say up to 90. Skull Creek takes its name from the bleached bones found there long after.
1876 Goulbolba Hill Massacre In Central Queensland thre was a large massacre involving men, women and children. This was the result of settlers pushing Aboriginal people out of their hunting grounds and the Aboriginals being forced to hunt livestock for food. A party of Native Police was sent to "disperse" this group of Aboriginals. This led to the deaths of over 200 Aboriginal people including all the women and children.
1880s-90s Florida Station Massacre In Arnhem Land a series of skirmishes and "wars" between Yolngu and whites occurred. There were several reported massacres at Florida Station. Richard Trudgen also writes of several massacres in this area, including an incident where Yolngu were fed poisoned horsemeat after they killed and ate some cattle (under their law, it was their land and they had an inalienable right to eat animals on their land). Many people died as a result of that incident. Trudgen also talks of a massacre ten years later after some Yolngu took a small amount of barbed wire from a huge roll to build fishing spears. Men, women and children were chased by mounted police and men from the Eastern and African Cold Storage Company and shot.
1884 Battle Mountain Massacre 200 Kalkadoon people killed near Mount Isa, Queensland after a Chinese shepherd had been murdered.
1887 Halls Creek Genocides In the Kimberly, colonist Mary Durack suggests there was a conspiracy of silence about the massacres of Djara, Konejandi and Walmadjari peoples about attacks on Aborigines by white gold-miners, Aboriginal reprisals and consequent massacres at this time. John Durack was speared, which led to a local massacre in the Kimberley.
1890 Speewah Massacre In Queensland early settler, John Atherton, took revenge on the Djabugay by sending in native troopers to avenge the killing of a bullock. Other unconfirmed reports of similar atrocities occurred locally.
1890-1920 'The Killing Times' - East Kimberleys: About half of the Kimberley Aboriginal people massacred as a result of a number of reprisals for cattle spearing, and payback killings of European settlers.
1906-7 Canning Stock Route Massacre : an unrecorded number of Aboriginal men and women were raped and massacred when Mardu people were captured and tortured to serve as 'guides' and reveal the sources of water in the area after being 'run down' by men on horseback, restrained by heavy chains 24 hours a day, and tied to trees at night. In retaliation for this treatment, plus the party's interference with traditional wells, and the theft of cultural artefacts, Aborigines destroyed some of Canning's wells, and stole from and occasionally killed white travellers. A Royal Commission in 1908, exonerated Canning, after an appearance by Kimberley Explorer and Lord Mayor of Perth, Alexander Forrest claimed that all explorers had acted in such a fashion.
1915 Mistake Creek Masacre Seven Kija people were alleged to have been killed by men under the control of a Constable Rhatigan, at Mistake Creek, East Kimberley. The massacre is supposed to be in reprisal for allegedly killing Rhatigan's cow, however the cow is claimed to have been found alive after the massacre had already taken place. Rhatigan was arrested for wilful murder apparently due to the fact that the killers were riding horses which belonged to him, but the charges were dropped, for lack of evidence that he was personally involved.
1918 Bentinck Island Massacre In 1918 part of the Mornington Island group, Bentinck Island was home to the Kaiadilt clan of just over 100 people. In 1911 a man by the name of McKenzie (other names unknown) was given a government lease for nearby Sweers Island that also covered the eastern portion of the much larger Bentinck Island. Arriving on Bentinck with an Aboriginal woman and a flock of sheep, he built a hut near the Kurumbali estuary. Although the Kaiadilt avoided contact and refrained from approaching McKenzie's property he is alleged to have often explored the island, shooting any males he found while raping the women.
In 1918 McKenzie organised a hunt with an unknown number of settlers from the mainland and beginning from the northern tip of the island herded the Indigenous inhabitants to the beach on its southern shore. The majority of the Kaiadilt fled into the sea where those that were not shot from the shore drowned. Those that tried to escape along the beach were hunted down and shot with the exception of a small number who reached nearby mangroves where the settlers horses could not follow. Several young women were raped on the beach, then held prisoner in McKenzie's hut for three days before being released.
1924 Bedford Downs Massacre a group of Kija or Gija men were jailed for spearing a bullock. On release from jail they had to walk the 200 kilometres back to Bedford Downs, where they were set to work to cut the wood that was later used to burn their bodies. Once the work was finished they were fed Strychnine, and the bodies were burned.
1926 Forrest River Massacre In the East Kimberleys in May 1926, Fred Hay, a pastoralist, was speared and killed by an Aboriginal man, Lumbia. A police patrol led by Constables James St Jack and Denis Regan left Wyndham on June 1, to hunt for the killer, and in the first week of July, Lumbia, the accused man, was brought into Wyndham. In the months that followed rumours circulated of a massacre by the police party. The Rev. Ernest Gribble of Forrest River Mission (later Oombulgurri) alleged that 30 people had been killed by the police party. A Royal Commission, conducted by G. T. Wood sent an evidence-gathering party and heard evidence regarding Gribble's allegations. The Royal Commission found that 11 people had been massacred and the bodies burned.
1928 Coniston Massacre - A WW1 veteran shot 32 Aborigines at Coniston in the Northern Territory after a white dingo trapper and station owner were attacked by Aborigines.
Lest we forget.