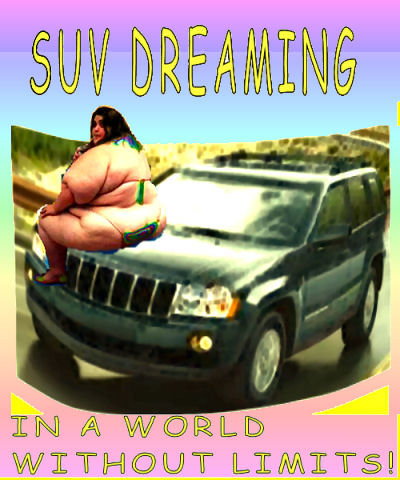 The only thing we have to fear is fear itself
Have you seen the latest TV commercials promoting the new Jeep Grand Cherokee for 2011? The theme is summarized with the slogan, "The Things We Make, Make Us". The 'manifesto' video ad, 1:01 minutes long, makes an unanabashed appeal to American pride and patriotism. Poignant scenes are punctuated by proud declarations.
"This once was a country that made things, beautiful things, and so it is again." "It was a country of colts (with the image of colts galloping across the screen) that made Colt revolvers, and Jeeps (pictures of a stream of Army Jeeps presumably poised for the Normandy invasion, then liberating the streets of European towns in the Second World War).... These things make us who we are."
The American industrial heartland will surely rise again, given the inspirational lead that Chrysler beckons us to follow. The fact that the non-renewable resources critical to this heroic enterprise will not be affordably available to sustain it is just one of life's tiny, inconvenient details that are best swept under the carpet. Pessimism, not the reality of limited resources, is our real enemy you know. What did Obama say? He repeated FDR. "The only fear we have is fear itself." God, is that all. And here I thought I had to worry about Peak Everything and the prospect of a thermo-nuclear exchange that might follow the desperate scramble for scarce resources. Or the strong possibility of biological and chemical war, but then, here I go being pessimistic again. Maybe I should look on the bright side of life, the life that these SUV ads promise me.
The reality of urban gridlock vs. the fantasy of wilderness escape
It is interesting that the product Chrysler is pitching an SUV whose production involved the expenditure of a least 400 barrels of oil per vehicle--or its equivalent--and tons of metals and minerals first mined, then transported, then smelted, then shipped to a factory to rendevous with rubber harvested thousands of miles away and fashioned into a vehicle by hundreds of employees who demand a range of products and services as recompense for their beautiful craftsmnship. Employees who fought two hours of traffic driving their Jeep to work, only to repeat the ordeal after their shift. But hey, they are Americans, like the can-do Americans we once knew, who get the job done! And once it is done, this same vehicle then is marketed as an off-road machine that is seen dashing through lush forests, across unpolluted rivers and over the vast and seemingly pristine Moab desert of Utah."Go where regrets can't follow" is the motto that subtitles the scene. Cameras don't show the getting there, however. You know, the Jeep Grand Cherokee stuck in bumper-to-bumper freeway traffic on a Friday afternoon as its driver tries to make it to his weekend gettaway, cursing and honking in a vehicle built for speed but trapped in a nation of gridlock. But alas, the promised land of galloping colts, lush forests and pristine deserts, the America of our fantasies, the one advertisers play on, surely awaits us. It is quite the juxtaposition. The nasty, noisy and smoky process of primary and secondary industrial activity that heralds the resurgence of proud American manufacturing, co-existing with an apparently vast and uncluttered American hinterland.
There are more than 254 million registered passenger vehicles in America and more than 100 million are SUVs and trucks, with over 8 million of that category sold in 2008 alone. Few of them apparently know or care to know that it takes 98 tons of dead plants and animals buried for eons at seabed, lake and river bottoms to produce one gallon of gas for a nation that consumes one quarter of the world's crude oil. America isn't a country of colts but a country of dolts. How sad it is to see so many fat-ass Crocodile Dundee wanabees and redneck "chicks with dicks" lay down $40,000 US to feed a self-image manufactured by Madison Avenue when their SUV spends most of its life outside a shopping mall or in the drive-in queue of MacDonalds? How many ever see the wilderness? And of those who do, how, one wonders, do they all manage to find it---where are these huge pristine expanses in a nation bursting with 308 going on 508 million people? The answer can be found in the last line of the commercial that has dominated the airways recently:
"The Jeep Grand Cherokee---built for a world without limits"
That just about says it all. American car manufacturers and their ad agencies--- and those who fall for their pitch---really don't have a goddam clue. The phrase "Peak Oil" is notably absent from all of videos and from all the reviews. Instead, we read about "fuel economy". We are supposed to be impressed that the new Jeep Grand Cherokee can allegedly travel 500 miles on a full 24.6 gallon tank. "That's 16 miles in the city and 22 miles on the highway!". Wow. That means that when gas is $20/gallon as analysts like Christopher Steiner predict it will be, it will cost you about a dollar per mile---that is if hyperinflation doesn't overtake us. Auto journalists, like the consuming public who read their columns, are like deer transfixed by the headlights. They see all the bells and whistles and all of the specs but are blinded by the same infatuation with these toys that Americans of three generations ago had for the Model T Ford. The internal combustion engine is as inefficient as it ever was. But maybe that's a good thing, otherwise there would be more drivers driving more cars. You have to feel sorry for American capitalism, it just can't defeat those efficiency paradoxes. Especially when it encourages runaway populaton growth to grow the pool of cheap labour and delusional, manipulated consumers.
I must agree. The Jeep Grand Cherokee for 2011 really is built for a world without limits. Unfortunately, that world is not the one we live in.
Tim Murray
October 15/2010