Big Green waved a wand and presto, the "P" disappeared from IPAT.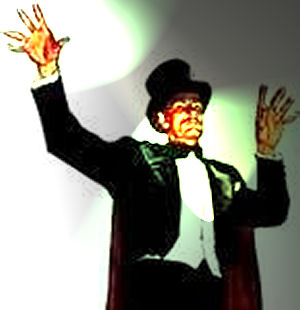 Abra-kadabra, make millions of consumers disappear from the environmental conversation!
"I disagree with Mr. Suzuki on a lot of things. But I also think we owe him a lot. Forty miles from Toronto, an American hedge fund is trying to develop a mega-quarry that would destroy thousands of acres of prime farmland and damage the watershed for miles around. He's fighting to stop them. So are thousands of other concerned people, including, in a small way, me. Sure, we have our differences. But one way or another, we're all environmentalists now." Margaret Wente, Globe and Mail  http://www.theglobeandmail.com/commentary/the-agony-of-david-suzuki/article4100247/
This is a classic example of eco-blindness. So David Suzuki is worried about the destruction of thousands of acres of prime farmland 40 miles from Toronto. Then why hasn't he been outspoken against mass immigration? Why hasn't he, and his comrades-in-arms, spoke out against a policy which was largely responsible for the loss of 600,000 acres of prime Ontario farmland between 1996 and 2006 alone? (cf. Ontario Farmlands Trust).  It seems that one must never mention the ugly "I" word.  If the damage is being done by a "mega-quarry', well that is another matter. Make a fuss about it.
The Canadian environmental movement should be charged with criminal negligence.
But then again, you have to hand it to them. Since the Kyoto accord, the policy of mass immigration has increased the number of consumers in Canada by 26% (5 million immigrants plus their children). Yet, the ENTIRE environmental conversation today is about the two pipelines, the oil sands and climate change---which, we are told, is caused by human activity, though apparently the number of humans has nothing to do with human activity. Moreover, population growth has nothing to do with economic growth, and in turn, economic growth--- with the magic of yet unfound 'renewable technology', can be "de-coupled" from environmental consequences. Bottom line---for the environmental movement, that extra 7 million people are invisible. "People", after all, are not the issue. No, it's their "behaviour" you see. Of course, any mention of their procreative behaviour is out-of-bounds. That's another critical variable that escapes notice.
Think about it. Think again about what the Green Pharisees are telling us. Seven million people are of no ecological consequence. Invisible. Made to disappear by ideological sophistry. And these are the people who constantly whine about "denial".
Seven million people. Not even a magician like James Randi or David Copperfield could make something that big disappear from public notice.
Good work Green Inc.
Tim Murray
June 24/2012