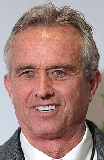 (See also RFK Junior Twitter posts (4/5/23) and US Action 4 Assange) In stark contrast to the Australian government and all but a handful of MPs and Senators, Robert F Kennedy Junior, son of Senator Robert F Kennedy (3/1/1925 - 6/6/1988), has, since he announced, on 19 April 2023, that he was seeking the nomination to be the Democratic Party's candidate for President of the United States, repeatedly condemned both current President Joe Biden and former President Donald Trump for their efforts to illegally extradite Julian Assange from London to the United States. In the US, Assange will almost certainly be made to face 175 years in prison in solitary confinement. This penalty is for Assange's supposed breach of the US 1917 Espionage Act when he is not even a US citizen!
The Presidential elections are to be held on 5 November 2024 and, if RFK Junior is victorious, he will be inaugurated on 20 January 2025. Of course this is much too long to wait to end the illegal imprisonment of Julian Assange. Nonetheless, the more successful RFK Junior is in his campaign to become President, the greater the likelihood that President Biden can be made to free Assange in the meantime. See also
@RobertKennedyJr
),
RFK Jr for President
(
@RfkForPOTUS
).