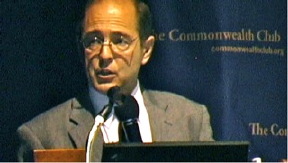 Richard Gage, American Institute of Architects (AIA), founder and CEO of the non-profit Architects & Engineers for 9/11 Truth (AE911Truth), presented a 40-minute version of the two-hour presentation 9/11: Blueprint for Truth to a sold-out crowd at the prestigious Commonwealth Club of California in San Francisco on Tuesday, September 8th, which was also live-streamed on AE911Truth's website. This event kicked off a very full week of engagements for the 8th anniversary of 9/11.
John Sutter, a member of the Commonwealth Club and an AE911Truth petition signatory, worked tirelessly behind the scenes to negotiate this strategic and opportune breakthrough. After the event was initially canceled due to its controversy, he worked diligently to restore this event, and after an internal battle at the club, he fortunately prevailed. The standing ovation received after Gage's presentation confirmed his instincts that the event would be well-received.
Founded in 1903, The Commonwealth Club of California has played host to a diverse and distinguished array of speakers, from Teddy Roosevelt in 1911 to Erin Brockovich in 2001. Along the way, Martin Luther King, Ronald Reagan, Bill Clinton and Bill Gates have all given landmark speeches there. Outside the Bay Area, The Club's weekly radio broadcast — the oldest in the U.S., dating back to 1924 — is carried across the nation on public radio stations.
The Commonwealth Club is the oldest speaking club in the United States, and has had such eminent speakers as David Ray Griffin, Christopher Hitchens, Patty Duke, Reza Aslan, P.J. O'Rourke, George Shultz, Madeleine K. Albright, Arnold Schwarzenegger, Meg Whitman and Ted Turner recently, and in years prior, Cecil B. DeMille, Dwight D. Eisenhower, Edward Teller, Nelson A. Rockefeller, Robert F. Kennedy, Benjamin Spock, Katherine Graham, Jesse Jackson, Queen Noor al Hussein of Jordan, Carl Sagan, Desmond Tutu, and Gore Vidal.
The event was preceded by the haunting melodies of internationally acclaimed musician Alan Tower on the huaca, a double-chambered, clay-fired flute. Tower is a 9/11 skeptic who used his exceptional talent to soothe what possibly was an uneasy audience, a little fearful that they were about to be confronted with information that would make them uncomfortable. They could not have anticipated the extent to which their preconceptions were about to be shattered by Gage's solid evidence.
Twenty-one people believed fire alone brought down the buildings, and 41 were unsure. Only two people still believed the fire hypothesis, and 15 remained unsure. While nearly one-third of the audience began the evening skeptical of AE911Truth's conclusion, more than 90% were convinced beyond a doubt that the buildings were brought down by controlled demolition, once they heard and saw even this abbreviated version of the evidence.
This success rate has been consistent in every venue, and in many cases there is a 100% conversion rate. This proves that logic, facts and scientific evidence can win over most skeptics who previously clung to the official story, which was inculcated through the mainstream media moments after the planes hit the towers.
Coming up: See Richard Gage and Dr. Steven Jones at The Hard Evidence, Down Under Tour. Tour dates: Sydney: Sat-Sun 14-15 Nov, Melbourne: Tue 17 Nov, Brisbane: Thu 19 Nov, Wellington, NZ, Sat 21 Nov. See thehardevidence.com for further information.
This article is an excerpt from "AE911Truth: From the Golden Gate to Ground Zero for the 8th Anniversary of 9/11" of 3 Sep 09.
See also: ae911truth.org, stj911.org,911truth.org, truthaction.org.au.