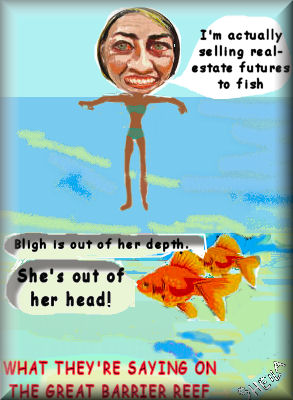 In the Australian's story "Great Barrier Reef summit today" of 24 Oct 08 reported:
"The Reef Water Quality Summit, which will be held at Parliament House in Brisbane, prompted a damning report on the health of the reef released earlier this month. According to the report, 6.6 million tonnes of sediment had been discharged into the reef in 2007 - four times higher than estimated pre-European settlement levels. The Federal Government has set a target of reducing nutrient and chemical discharge from land to the reef by 25 per cent by 2010."
Queensland Premier Anna Bligh is quoted:
"We have had a lot of effort put in over the last five years, but recent scientific reports indicate that that effort has not been enough and it has not been happening fast enough," Ms Bligh said.

"So I want to hear from all those groups who are using the reef and who are concerned about it, ideas to accelerate the work that we are doing to improve water quality."
The response of Queensland State MP, who recently defected from the Labor Party to join the Greens, follows:
State Government hypocrisy on the Reef: Greens
Greens MP Ronan Lee today described the State Government's recent statements on protecting the Great Barrier Reef from run-off as hypocritical.
The Greens have revealed that the government was seriously considering withdrawing funding from monthly estuarine water quality monitoring between the Noosa River and Far North Queensland and had cut the same program from Townsville and Cairns in 1999.
"Here we have a situation where the premier is talking tough on regulating agricultural run-off which is degrading the Reef while at the same time, making it impossible for the EPA to measure the water quality in those river mouths that are pushing sediment out to sea," Mr Lee said.
"This is an outrageous situation and I'm calling on the premier to immediately restore all water quality monitoring programs along the Queensland coastline.
The Premier gave a non-committal response in parliament yesterday to Mr Lee about restoring these programs.
Comment: Ronan Lee might have also pointed out that Queensland's plans to triple its already massive rate of coal exports by 2030 is also unlikely to improve the health of The Great Barrier Reef. - JS
Further comment: Ronan Lee might also have pointed out that Queensland's plans to continue to grow its population and greatly intensify development are sure to damage the health of the Great Barrier Reef. - SMN
For further information: phone Ronan Lee's office on 07 3878 1928, phone Drew Hutton on 0428 487 110, visit www.ronanleemp.com.
See also: "Queensland Government cracks down on farmers near Barrier Reef" on the ABC of 27 Oct 08, "Qld may regulate farms to save Reef" in SMH of 24 Oct 08, "Great Barrier Reef summit today" in The Australian of 24 Oct 08.