Is Portsea preparing for invasion? Yes, by sea. Much of the beach has disappeared and the overhang has been sandbagged to prevent businesses from following it. Where did that $38m given to Parks Victoria go? This article also looks at Ted Baillieu's plans to continue development plans (cost $9.4b?) where Brumby left off, plus some comments from the Ex-Ports Minister, Tim Pallas.
The Department of Sustainability (DSE) and the Office of Environmental Monitor (OEM) probably had hoped their problem of disappearing iconic Portsea beach might have gone away. Well their problem hasn't gone, but the beach has!
Disappearing beach
Sadly for them and thousands of holiday makers who once loved Portsea, the $millions of taxpayers' funds thrown at months of beach works at Portsea have done nothing to solve the problem of the disappearing beach. In fact the supposed solutions - the sandbag wall and huge rockwall are already failing, with the sandbags nearest the pier breaking apart and slumping into the water. The DSE and OEM have been left to defend the channel deepening project long after the disappearance of its champion Mr. Brumby -who is a distant memory – leaving some unwanted legacies such as at Portsea with its sad and near useless beach and a massive sign erected by the Brumby regime spruiking how their plan to build a massive sand bag wall and dump some rocks near the pier would restore the beach.

Portsea Beach 2011, view from pier to beach looking south east. Once there was sand and trees. Fossickers with metal detectors were the only Portsea beach goers on this 2011 Summers day.
Damage obvious, say local papers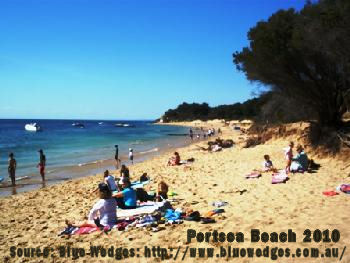 Local papers report that the damage is obvious.
Portsea businesses, including the Portsea Hotel owned juice bar claim that their takings are down 50% since the Entrance was deepened and the beach started to disappear. See: http://www.abc.net.au/rn/science/earth/stories/s939575.htm
Divers report marked increase in tides, currents and swells
Dive businesses too continue to report that tides and current speed have increased markedly whilst ocean swell now regularly pounds the beach and pier – making boat operations extremely difficult. (We recently were swamped trying to land a dingy on Portsea beach on an otherwise calm day but with a massive swell – it was like riding the rapids. Ed)
Ted Baillieu taking over where Brumby left off
It seems electing Mr. Baillieu in the hope of a fresh approach on environmental matters might be a dismal failure. He's been silent on the damage to Portsea – in spite of his connections to the area, and within weeks of being elected, it's more of the same for Port expansion plans with the new Mr. B announcing that he would fast track the development of the Port of Hastings within the next 10 years … …..That's even faster than Mr. Brumby was intending! Sadly it seems our elected representatives are merging into a coalescence of business as usual dinosaurs when what we really need is some serious planning for a very different future.
Ex Ports Minister, Tim Pallas, now in opposition, changes tune, warns of $9.4 billion costs for Hastings Port development
We were amazed this week to hear Tim Pallas (previously the Minister for Ports and now Opposition spokesperson for Ports) sounding the alarm on how costly it might be to develop the Port of Hastings. See: http://www.theage.com.au/victoria/cost-of-hastings-container-port-put-at-94bn-20110227-1ba1l.html
Mr. Pallas warns us it would cost $9.4 billion to develop Hastings Port, suggesting that it may not be money well spent……..Mind you he was singing from a different song book when as Minister for Ports he visited Hastings in 2009 to launch his Port Strategy – we were there - to hear his "vision" for a "green" port ….whatever that is. See: http://archive.premier.vic.gov.au/newsroom/7997.html and although he didn't actually name a $ amount for his vision back then, it involved about the same amount of road, rail and portside works as he is now warning would be a $9.4 billion folly.
Projected huge container loads
The plan for Hastings Port[1] involves it handling almost 4 million containers some time in the not so distant future….that's TWICE the current throughput of the Port of Melbourne. At the same time it is envisaged that the Port of Melbourne would be handling up to 8 million containers by 2030….QUADRUPLING it's current throughput. Yes- that's almost 12 million containers per year through Victoria compared with our present approx. 2 million per year. Hastings would look, feel, sound and smell like Port Melbourne.
And don't forget coal...
Note also new proposals for brown coal being mined in future from around Mirboo North.[2] Presumably that would be shipped out through Westernport!
Oil depletion will dramatise the insanity of planned expansion of Hastings Port
Where would we put all that stuff and how could we possibly afford it? Perhaps our only saviour might be skyrocketing production, shipping and trucking costs in future as oil runs out, demanding a re-think on what's essential and what past follies can be done away with. We've been feeding the machine at the expense of our natural systems for way too long just to keep the creaking old system on the rails for longer than it should have been.
Auditor General's report on failure to protect marine environments: Where did the $38m go?
Anyway – a voice of reason was heard in the Victorian Auditor General's Report "Environmental Management of Marine Protected Areas" tabled yesterday (March 2nd) in Parliament. The audit reveals just how ineffectively marine protected areas have been managed to protect biodiversity. It assessed the roles of Parks Victoria and the Departments of Sustainability and Environment and Primary Industries, finding that Parks Victoria could not show that marine biodiversity is being protected. Only 10% of the $38 million allocated to protection of marine biodiversity could be shown to have been appropriately discharged.
Just what was the rest of the money spent on then? Certainly not in protecting Port Phillip Bay from the damage we see to the Portsea coastline or protecting it from the massive unregulated toxic dump we now have in the middle of the Bay compliments of the Port of Melbourne!
The Auditor's report can be downloaded from: http://www.audit.vic.gov.au/reports__publications/reports_by_year/2010-11/20110302_marine_parks.aspx
The report also warns that Government is failing to protect coastal waters from invasive pests and diseases, and recommends the development of a marine pest biosecurity plan. Now that's an issue which shipping and ports have a LOT to answer for.
400 invasive pests in Port Phillip and growing
Port Phillip Bay with its thousands of ship visits per year currently has over 400 invasive pest species and growing, whilst Westernport Bay with its approx 200 ship visits per year has only a very small number of invasive pests – around 10 when we last checked. Ships ballast water and the hulls of ships are the main vectors for invasive marine species, but the shipping industry isn't very interested in spending the money to address the issue. So, Mr. Baillieu's port expansion plans would likely mean an explosion in marine pests in Westernport.
A very interesting and alarming report on ballast water is at ABC Science Show: http://www.abc.net.au/rn/science/ss/stories/s1232619.htm and how trade facilitates the movement and impacts of invasive species at in this 2003 Earthbeat transcript at: http://www.abc.net.au/rn/science/earth/stories/s939575.htm
"A staggering 120 million tons of foreign ballast water is dumped into Australian ports each year - that's a quarter of the volume of water in Sydney's famous harbour. Professor Gustaaf Hallegraeff believes it's crucial that something be done, because the discharged ballast water can - and does - transport bacteria from one part of the world to another.

"[Professor Gustaaf Hallegraeff] [...] tracked the spread of nasty micro organisms around the world. Dinoflagellates, which poison shellfish, weeds, even cholera, would you believe, carried in the ballast water of shipping. The story and its implications are really incredible."
[...]
"Gustaaf Hallegraeff: There would not be a ballast water problem if for example a Japanese ship that comes now to Hobart to pick up woodchips, if that ship would for example deliver Japanese cars. Then it comes to Hobart, it picks up woodchips, changes the cargo and it takes the woodchips back. If a ship always carries cargo there is no problems, but somehow dedicated ships became designed that only pick a particular types of cargo and therefore they travel in one direction without a cargo, and that is where they need to fill up the whole tanks - sometimes up to 100,000 tonnes of seawater."
NOTES
[1] Sources: PoMC's Port Development Plan 2006-2035 and PoH Land Use and Transport Strategy 2009
[2] Royce Millar, "Baillieu coal export push," 3 Mar 2011, http://www.theage.com.au/victoria/baillieu-coal-export-push-20110302-1bexa.html