Media Release: Less hooves = more food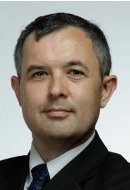 Senate candidates from the Animal Justice Party (AJP) will take their 'less hooves equals more food' initiative to Canberra this week, to promote a sustainable approach to global food security issues.
The party wants Australia to realise its potential as a food bowl for the world in a sustainable, ethical manner by decreasing animal agriculture and increasing plant-based food production.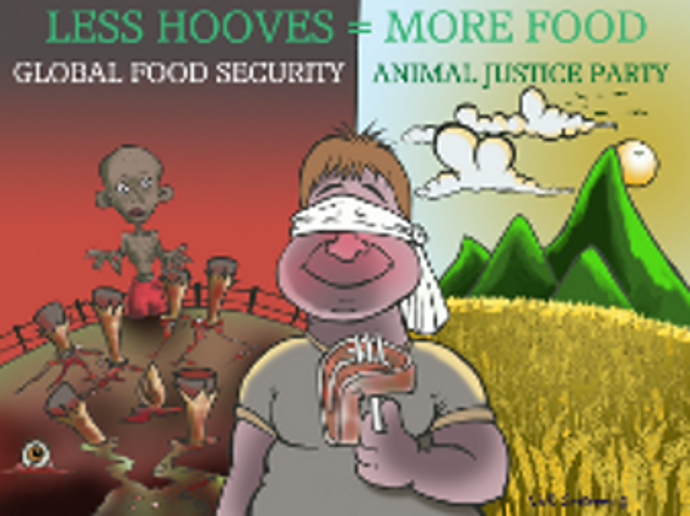 The AJP's lead candidate for the senate in Victoria, Bruce Poon said with the world's population currently about 7 billion and growing, and production being negatively impacted by climate change, a new approach was desperately needed to future proof the world's food supply.
"Animal agriculture must be scaled back if we are to stabilise the climate and avoid run-away and catastrophic climate change," said Mr Poon.
"One of the most pressing drivers of poverty and hunger is that the poor are being out-bid by the rich for grains that wind up feeding livestock instead of people.
"Globally, we feed enough grain to cattle to feed 8.7 billion people each day.
"Even in Australia, where cattle spend most of their time on pasture, they still consume more than twice the grain in any time period that all the people in Australia do.
"Factory-farmed animals such as pigs and chickens also consume large amounts of grain while such intensive farming practices produce other issues such as waste, disease and anti-biotic resistance.
"Put simply, 'less hooves equals more food' – for everyone."
The AJP position is based on the science from several reputable reports authored by the United Nations Food and Agriculture Organisation (FAO) and Environment Program (UNEP).
Published between 2006 and 2010 these reports identify animal agriculture as a major contributor to green house gas emissions and species extinction due to loss of biodiversity from clearing.
Mr Poon said animal agriculture was responsible for 92 per cent of all land degradation in Australia, and had caused loss of habitat, species extinction and contributed to climate change.
"Animal agriculture also uses the bulk of fresh water in Australia, for example the Victorian dairy industry uses over half of the state's available fresh water.
"Australia must demonstrate leadership and commitment to address global food security in an environmentally sustainable way, and we need to do it now," he said.
Queensland AJP candidate Chris O'Brien said Australian farmers were highly productive and well equipped to turn Australia into the food bowl of the world, but were held back by outdated ideas, practices and misdirected government incentives.
"As part of the global community – and as a wealthy food producing country – Australia has a ethical responsibility to increase sustainable production of plant based food and decrease reliance on animal agriculture," said Mr O'Brien.
"Our government needs to get serious about reducing land use and environmental degradation caused by animal agriculture.
"Boosting the production of grains, fruits and vegetables for human consumption is a more sustainable way to feed the world that will benefit human health, the environment and reduce the immense animal suffering that is systemic in the production of animals for food.
"Additionally, we need to develop storage and processing industries to value-add to raw product to better meet the demands of the enormous markets on our doorstep."
The AJP representatives will be meeting with Ambassadors from countries within our region this week to discuss food security issues and how Australia can transform its food production to sustainably meet the growing demand of a hungry world.
ENDS….
Background
Ruminants like sheep and cattle produce substantial methane through the digestion of food. Methane is recognized as one of the most harmful greenhouse emissions (much more so than carbon).
Land is cleared for grazing to grow crops for factory animal farms. Producing animals for food is far less efficient than plant based protein in terms of land, water and emissions.
Cleared land in many areas (like Australia's top end) is burned regularly to keep it from reverting to forest. Keeping land cleared for animals means it can't be reforested to draw down CO2.
Transporting feed to animals and animals to slaughter produces CO2. The necessary refrigeration required to prevent the otherwise speedy decomposition of meat between slaughter and cooking is also heavy CO2 producer (commercially and domestically).
Australia's livestock produce more than twice the CO2 contributions of our coal-fired power stations.
Contacts:
Bruce Poon: AJP lead candidate for the Victorian Senate – 0400 248 226
Chris O'Brien: AJP candidate for the Queensland Senate – 0426 396 715
Professor Steve Garlick: AJP National President – 0428 880 564