Back in 2002 the Australian Government owned Australian Broadcasting Corporation (ABC) surprisingly placed itself in the forefront of efforts to steamroll the public into acceptance of the Howard Government's plans to privatise Telstra.
In 2012, 10 years later, the same ABC Radio National Breakfast Show, but with a different presenter, is again at the forefront of another propaganda drive to impose yet more privatisation against the will of the overwhelming majority of Australians.
This article also marks James Sinnamon's relaunching of public asset defending website, "Citizensagainstsellingtelstra.net"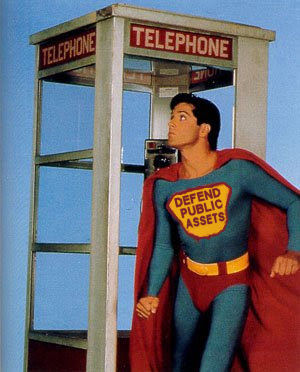 Recent history of major privatisation politics in Australia
Dick Estens was conducting the Regional Telecommunications Review and the vast majority of public submissions were opposed to privatisation when ABC Radio National's Breakfast Show presenter, Vivian Schenker, pronounced that the debate about privatisation was over. Schenker told audiences that it was no longer about if and when Telstra would be fully privatised, but rather how the proceeds coming from the sale would be spent.
In fact, public opposition to the sale was so overwhelming that it took three more years of manoeuvring, deceit and subterfuge on the part of the Howard Government and its corporate media and ABC propagandists to get the legislation to privatise Telstra passed by both houses of Parliament in 2005. Even then it was only possible because Liberal/National Party representatives such as Senator Barnaby Joyce broke election promises to vote against privatisation.
2012: ABC continues new wave of undemocratic privatisation spin
On 4 July, almost 10 years after Vivian Schenker pronounced the debate about Telstra privatisation 'over', The Radio National Breakfast Show placed itself at the forefront of a new propaganda push to gain public acceptance of a new wave of privatisation, this time of shipping ports still in public hands. The report commenced with the following hysterical pronouncement by reporter Will Ockendon:
"The first quarter of this year saw the biggest retreat in spending on non-mining and resource related infrastructure since early 2006. Roads, rail and other core transport works are just not being built to keep up with demand - that's the finding of a new market indicator created by Infrastructure Partnerships Australia, which represents private and public sector interest groups. And even when new infrastructure is authorised, it is sometimes incompatible with existing infrastructure."
Tunnels
Then Tony Eastley, who, in 2012, is filling Vivian Schenker's shoes as Breakfast Show presenter chimed in:
"If you're stuck in traffic this morning, you can only hope that transport planners are doing the best job possible.

When the New South Wales Coalition won government its biggest promise was to build vital rail links to Sydney's booming north-western suburbs.

The tunnels are yet to be built but the state's Labor opposition says the specifications sent out for tender are too small to fit Sydney's old carriages and may limit what style of trains can be bought in the future."
In the ensuing discussion, the various 'experts' agreed with each other that it logically followed that the only possible way to solve the crisis in transport infrastructure was to sell off yet more publicly-owned assets, this time shipping ports to raise the necessary funds. Of course, no one who represented Australians opposed to privatisation was given the chance to put his/her point of view.
Please support my efforts to defend public assets
I have therefore begun to raise the profile of this matter by republishing "Citizensagainstsellingtelstra.net" and starting up a new campaign to defend public assets against privatisation. For some two years I have been unable to carry this campaign forward due to my necessary participation in major rehabilitation after a severe head injury which left me comatose for nearly two months and from which I am only just beginning to recover some ability to participate in political activities. I ask for your support.