I knew it was my lucky day. Returning home from a walk this afternoon I removed the clutter of advertising material from my letter box. A rather subdued, tasteful card caught my eye as I shuffled through the assortment of catalogues and lost kitten notices. I noted the heading on a sage green coloured card - "Halcyon Close" - featuring a double storey, apparently newly built, modern styled townhouse complex. The verso showed the interior and outdoor living areas of one of these hallowed retreats, the living room suffused with light through floor- to -ceiling windows, onto neutral-coloured walls and soft furnishings, the outdoor living area dappled with sunlight, through a hint of greenery, on a neutral-tiled patio and beige outdoor furniture.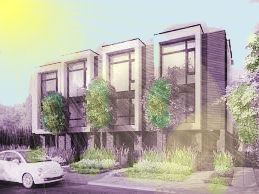 Oh, Halcyon days in the heart of Sorrey Hills, that could be mine for as little as $1.5 million!! I need never mow another lawn, never water another plant, or pull out another weed. I could close the door and temporarily forget "Halcyon," if, for some unexpected reason, I wanted to leave it for a short time.
At Halcyon Close I would feel as though I had died and gone to Heaven. Is this subdued green card in my letter box my ticket to eternal peace?
But oh, no, I can see complications at Halcyon Close! I think I will actually have to die to attain eternal peace after all.
Halcyon Close will have problems that are not evident from the controlled mood of the brochure. Alas, they have not mentioned the ceiling level windows that will be impossible to keep clean. There is no mention of the vexatious woman next door who complains about cooking odours, or the low frequency boom of the sound system in number 8, seeping through the poorly insulated walls. The details of the troublesome, high fee body corporate with its interminable meetings is not touched on. There is no hint of the cracks that will appear in the basement car park, putting the whole structure in jeopardy. The Saturday night hoons, doing donuts in the nearby cul de sac, do not feature, nor the planning permit for a nearby sixteen-storey apartment block, ready to cast an eternal shadow over Halcyon Close and its neighbours.
The cool headed accountant in me foresees that I might manage to salvage $200,000 from the transactions and fees, after selling house and garden to buy into "Halcyon's" tidy concrete time-saving confines. But this would soon be dissipated in lawyers fees, trying to get compensation for the structural nightmare in which I would now find myself!
In present day Melbourne, "Halcyon" is only an illusion.
A piece of clever advertising was placed in my letter box, transporting me to Heaven .... but only for five minutes.