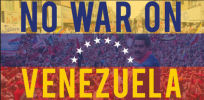 Below is a list of only some signatures from international organisations and individuals endorsing the campaign No War on Venezuela. Full list on web page. Action plan for Melbourne organised by the Australian-Venezuelan Solidarity coalition on Saturday 23 February, 11am at Trades Hall.
40+ Cities Plan Activities During #23Feb
Weekend of International Actions

#ffffff">
#1f497d" align="center">

#ffffff">
#ffffff" align="center"> Send in your action plans or use our guide


to plan an event in your area



#ffffff">
#1f497d" align="center">

#ffffff">
#ffffff" align="center"> *Please share widely across lists, networks, and on social media*

#ffffff">

#ffffff" align="center">
#ffffff">
#ffffff" align="center">

#ffffff">

If you're in a city where nothing has been planned yet, but you still want to show solidarity - don't worry! We can help.

Every action held during the weekend of February 23 - no matter the size or scale - will have an impact.

Consider a smaller-scale action to raise awareness:
Link up with a few like-minded allies to print our fact sheets on Venezuela and pass them out in public places, such as a mall or public transit station
Consider a banner-drop, a picket, or holding signs and distributing fact sheets near a busy intersection or overpass. Get slogans or pre-made placards from our resource page
Wear red with your friends and take a photo while holding pro-Venezuela messages and tag them on social media as #HandsOffVenezuela or #23feb
Picket your local gas station with messages that convey: NOT ANOTHER WAR FOR OIL!
Screen Venezuela: La lucha sigue, The Revolution Will Not Be Televised, or other films that tell the truth about the Bolivarian Revolution at a public space or in your home. Invite like-minded activists to link up and begin to plan the next day of action in support of Venezuela.
You can also use our
Facebook page
to link up with like-minded allies, post a message on Twitter and
tag our account
, or
send an email
to our international organizers. We will be glad to assist you in planning an action in your area and connecting with others in your area.
#ffffff">
#ffffff" align="center">

#ffffff">
International Actions On the Weekend of February 23

Join the South Florida anti-war community as we demand: No U.S War on Venezuela! Stop the Coup! End the Sanctions! Self Determination for the Venezuelan people!
In South Florida, we have a particular obligation to stand against US interference in Venezuela. Miami is home to US Southern Command in Doral, FL– the base for all US military operations in Latin America, particularly Venezuela at the moment. US SOUTHCOM is a nefarious entity whose track-record includes toppling governments throughout Central and South America and the Caribbean, propping up right-wing governments and dictators, arming death-squads throughout the hemisphere, and committing troops to countries within the region.
1:30 pm – Anti-war visibility at nearby busy corners
2:00 pm Closing rally
Sponsoring groups: Global Afrikan Congress, Group for Research & Initiative for the Liberation of Africa (GRILA), Common Frontiers, Caribbean Solidarity Network, Students Against Israeli Apartheid, Latin American and Caribbean Solidarity Network – LACSN, Hugo Chavez Front, Justice 4 Migrant Workers, Jamhoor, Venezuela Solidarity Committee
Endorsed by: Mobilization Against War and Occupation (MAWO), Vancouver Communities in Solidarity with Cuba (VCSC), Iranian Community Against War
#ffffff">
#ffffff" align="center">

#ffffff">
#ffffff" align="center">
#ffffff">
#ffffff" align="center">

#ffffff">
Partial List of Signers on No War on Venezuela Statement

For a full list of over 2,000 individuals and 180+ organizations, see here
Organizations
International Action Center





Alberto Lovera Bolivarian Circle New York





Alliance for Global Justice





ANTICONQUISTA





BAYAN USA





Black Alliance for Peace





Fight for Im/migrants and Refugees Everywhere (FIRE)





Freedom Road Socialist Organization (FRSO)





Haïti Liberté