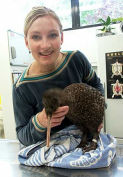 New Zealand's native and threatened flightless birds - the Great Spotted Kiwi or Roroa (Apteryx haastii), the North Island Brown Kiwi, the Okarito Brown Kiwi or Rowi and the Haast Tokoeka (Apteryx australis) are not about to be culled for down for sleeping bag export.
The much very smaller Little Spotted Kiwi (Apteryx owenii) has become locally extinct on the New Zealand mainland due to decades of unchecked predation by introduced pigs, stoats and cats. Less than 1500 remain in the wild on New Zealand's Kapiti Island.
Maori value Kiwis for spiritual reasons as part of natural respect for native forests. The culling of Kiwis for their feathers would be abhorent to Maori and most colonist descendant New Zealanders, especially to the famous South Canterbury Battalion and the Hastings Rifle Volunteers, which borrowed the kiwi as their respective mascots.
No-one is suggesting that a new wildlife industry be setup to slaughter a native bird for sleeping bag down or for any other profiteering.
Yet a commercial profiteer based in Dunedin in the South Island is actively promoting culling the Australian Brushtail Possum for commercial yarn. The company is Merino Possum Consortium located at 47 Craigleith St, Dunedin, New Zealand. It's website is at www.possumnz.com
No such profiteer exists in Australia either for possum fur or kiwi down.
Merino Possum Consortium justification for what it does reads as follows:
Supreme Possum Merino "Nature's Wonder"
Supreme Possum Merino Yarn
"Supreme Possum Merino's unique New Zealand yarn provides garments that are light, soft and very warm. It has taken 7 years of research to perfect the process of blending Merino wool with possum fur.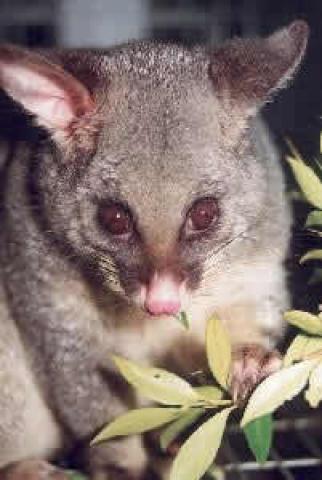 The possum fur is hollow and, when spun with merino wool, produces a hardwearing yarn with superior heat retaining qualities. And while other similar fibres contain only 15 - 30% possum fibre, Supreme Possum Merino yarn has a 40% fur content.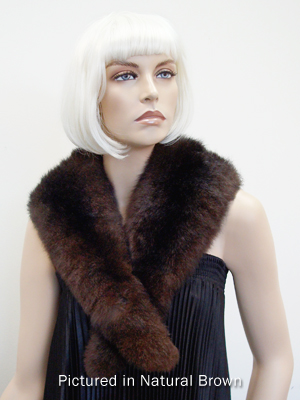 In knitwear, possum fur, unlike angora, resists pilling and is a lot fluffier. Has minimal or no skin irritation.
Yarn Structure
Supreme Possum Merino yarn structure and attributes remain intact because the possum fur is painstakingly hand-plucked - machine plucking breaks down the hollow fibres, resulting in a fibre with less quality and length.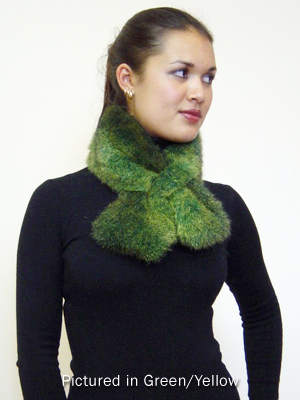 The combination of possum fibre with merino wool followed research in the 1990s and a possum fur market that had been in decline.
Possum – National Pest (justification)
Introduced one hundred and fifty years ago to provide the basis of a New Zealand fur industry and declared a national pest in 1936; possums now inhabit all areas of native forest where they cause extensive damage.
Key Justification: Purchase of Supreme Possum Merino yarn is another step in the conservation of New Zealand, as 5% of every sale goes into the preservation of New Zealand environment.
The company offers the following justification for its commercial culling for yarn programme:
"The brushtail possum is an introduced species released in NZ in 1837 to establish a fur industry.
As demand for fur fell and its value dropped to uneconomic levels the numbers of possums dramatically increased. They have now reached epidemic proportions with well over 70 million possums munching their way through 21,300 tonnes of vegetation nightly, decimating New Zealand's native bush and birdlife.
With no predators, New Zealand's bush is defenceless against possums. Possums are a serious threat that has spread to 92% of New Zealand's three main islands and, with their habitat destroyed by the possum, many native trees, plants and birdlife, including the kiwi, are under threat of extinction.
The only way that we can get the possum numbers down to manageable levels is by marketing possum products worldwide and getting people who care about the environment to purchase these products. Only then, will it become financially viable for hunters to trap the possum, reduce their numbers, and help save New Zealand's environment.
NZ possum fur blended with merino is luxurious, warm & soft, anti static and a luxury that nearly everyone can afford. By purchasing our products not only are you helping to protect our environment, you are also buying a truly versatile and extremely warm natural fibre that will last years.
[Author's comment: a superior aim ought to be to humanely remove all possums from New Zealand. Profiteering from animal slaughter is immoral. If Merino Possum Consortium is ecologically genuine, I challenge it to post NZ Dept of Conservation [DOC] assessments of the company's possum control activities on a quarterly basis. I also challenge Merino Possum Consortium to post its annual financial results on its website to reveal the true extent of how the business owners are financially benefiting from slaughtering these animals.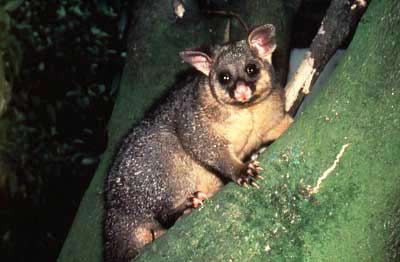 But let's consider a different perspective and ask New Zealanders and Maori if they would accept such treatment of their Kiwi birds. It is no different.
Questioning Ethical Fur - by Animal Liberation
"So it seems that possum fur has been labeled as the 'ethical fur' for the animal welfare and environmentally aware consumer. However, there is no such thing as ethical fur and Auckland Animal Action is in firm opposition to the possum fur trade. To enable the trade to remain profitable, it will have to rely on continued possum numbers and as such has no conservation value. To wear a dead animal's skin is disrespectful to the animal. Many people consider criminals to be 'bad' yet we do not shoot them and wear their skins. The promotion of possum fur will also lead to demand for other factory farmed furs, and in the worst case, could lead to the introduction of possum factory farming. To be ethical, do not wear fur. To kill for ones own vanity is disgusting and unnecessary in today's world.
IMPACT OF POSSUMS - A RURAL LEGEND!
The myth of possums destroying our environment is one that fashion designers often refer to in order to back up their bloody trade. However, MAF has admitted the actual number of possums in NZ is about 1/3 of what is sometimes claimed. If we were to destroy the creatures most responsible for the destruction of our native forests, we should look no further than ourselves. New Zealanders taste for meat has left most of our land barren and razed for intensive and unnecessary farming. If these people are serious about saving our forests they should go vegan right away!
Possums eat about 21,000 tonnes of vegetation per day (300 g wet weight per possum x 70 million possums). This oft-quoted figure is frequently used to depict possum as a rapacious consumer of all things green, but that implication ignores the daily foliage production of perhaps 300,000 tonnes for forests alone (7.5 million ha x 15 tonnes wet weight of foliage/ha/yr).
These rough calculations are backed up by a study at Waihaha, West Taupo, which showed that possums there ate only a small percentage ( [Source - Landcare Research NZ]
THE FUR INDUSTRYS' SICK SECRET REVEALED!
Brushtail possums were among the earliest animals introduced into New Zealand by European settlers. They were first brought from Australia in 1837 to establish a fur industry.
By 1922, 36 batches of possums had been imported, mostly from Tasmania where possums were larger and had the black fur preferred by furriers. These possums and their descendants were liberated at more than 450 places around New Zealand by 1930. [Source - Landcare Research NZ]
WILDLIFE ETHICS
Possums were brought to New Zealand over a century ago in the hopes of introducing a bloody fur trade. The fur trade itself is responsible for bringing the possums here. How can we expect this industry to treat its own mistakes with care and ethics?!
It is our responsibility to treat these animals fairly and humanely. No animal is a 'pest'. It is humans alone that categorise animals such, reflecting our anthropocentric philosophies. Possums can feel just as much pain as a dog or a cat. They are highly social animals and loving parents.
It is our own fault possums are here in the first place therefore it is our duty to possums to find ways of controlling their numbers that are humane. Barbaric hunting and trapping, is not the answer, not to mention the horrendous 1080, which is a bigger problem to our natural environment than the possums themselves!
1080 completely dehydrates all the cells in the body. 1080 causes convulsions, internal bleeding and continual vomiting. It is simply a long painful inhumane death.
Leg hold traps cause immense pain and trauma to possums caught in them again the animal can suffer a slow languishing death. Such traps are indiscriminate and often catch non-target animals. Kiwis have been reported as caught in traps meant for possums!
In the 1980's several experimental intensive possum fur and meat farms were set up. All failed as the possums experienced high mortality rates due to stress at confinement. Why were such farms ever attempted when our bush land is apparently over-run with possums?
SUMMARY OF OUR CASE AGAINST THE POSSUM FUR TRADE
The damage possums are causing to Native bush is overstated, as are their numbers. Possums were brought to NZ by humans in the hopes of making money from their fur.
Perpetuating an industry that relies on slaughtering introduced animals is not going to solve the introduced animal problem. If anything, profiteering and building a market for pssum fur will only perpetuate the problem.
It is defeatist and convenient for the New Zealand government to proclaim 'the possum will never be eradicated in New Zealand'. What a easy cop out! And what will that management avoidance strategy do to the New Zealand natural environment? The NZ government approach to possum control is to apply 1080 poison in the wild and spends $80 million p.a. of taxpayers money in the process. The 1080 poison is banned in many first world countries because it causes a cruel agonising death. The New Zealand Government is unethical in using it.
[SOURCE: http://www.debandada.com/About+Possum+Fur/Possum+History.html]
What about controls on introduced stoats and weasels that are a serious predation threat to indigenous Kiwi birds?
TIGERQUOLL RECOMMENDATION: Repatriate all possums safely back to Australia.
New Zealand colonists owe the Maoris and New Zealand itself 170 odd years of introducing animals like the Australia native Brushtailed possum, rabbits, stoats and weasels into the New Zealand wild for misguided reasons and its subsequent breeding and environmental damage. The introduction (or species invasion) was not by the possum, but by New Zealand colonists.
The full cost of recovery and rehabilitation and redress for the 172 years of environment damage caused to New Zealand and its flora and fauna, ethically must be borne jointly by the Australian and New Zealand governments. Colonial crimes against the environment must be brought to account.
If it costs a billion dollars to repatriate possums out of New Zealand back to Australia so be it. May be Australia's Prime Minister Kevin Rudd will realise that he is squandering Australian taxpayer money on his pet personal projects that Australia can't afford, such as his splurging of $750 million topping up F35 joint strike fighter extravagance to appease US-Australian political agenda. May be New Zealand's Prime Minister John Key will stop wasting $1.5 billion on duplicating a regional fibre-to-the-home broadband plan.
The problem is not one of resources in either country; it is one of lack of political will and skewed priorities.