Not only does the avenue of Elms in University Square provide an irreplaceable oasis amidst the busy, traffic-ridden surrounding streets, the trees are also home to countless Microbats, Rainbow Lorikeets and Possums, native species whose survival depends on using hollows and trunks for habitat. There is nowhere within the precinct to re-locate these animals who will surely perish under the planned chainsaw massacre foreshadowed by Melbourne City Council's University Square Master Plan. The proposed removal of University Square's elms adds to the devastating effect of around 900 established trees to be sacrificed to the metro rail tunnel with unimaginable impact on native animals across inner Melbourne.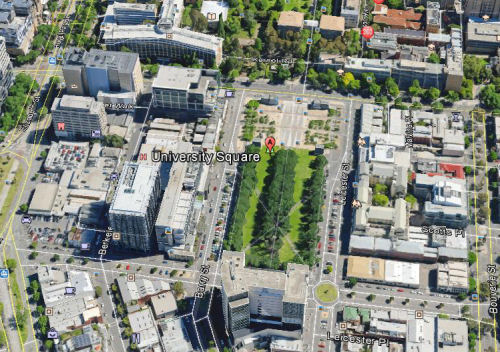 Between 8.30 and 9 pm one evening this week a friend and I counted 30 possums emerging from tree dens, after watching with delight countless rainbow lorikeets returning to their breeding hollows, in the very trees designated for initial removal.
We are currently in discussion with project coordinators to develop a plan to rescue and relocate the native creatures that now call University Square home,whilst knowing well that the level of disruption this process will involve is potentially life threatening. No rescue plan will fully protect the animals who have lived and bred in this habitat for generations and,together with the old trees, enhance and vitalise an otherwise sterile environment.
Considering that under current law relocation of possums must take place within a 50 metres radius of their original habitat there are no suitable trees outside of University Square itself where relocation can take place.. When the Lorikeets return to their nesting hollows next year, as they do annually, the trees will be gone. Possums will be cast adrift to die on the busy roads bordering the park.
It would be wisdom, especially in the face of gathering public disapproval of the proposed plan, to renew park flora gradually by planting new trees between the old so that they will grow and replace each dying tree incrementally over time.Wooden nesting boxes can be installed in remaining trees providing new homes for displaced possums within their familiar habitat.
The wanton destruction of trees that continue to fulfil a multiplicity of critical roles in our climate-challenged environment is unjustifiable given alternative approaches can be applied that save the trees while meeting urban planning goals.
NOTE There is still time to modify the University Square Master Plan. Become familiar with the proposed plan at: www.melbourne.vic.gov.au/universitysquare and lodge objections and suggestions to Steve Perumal, Email: [email protected]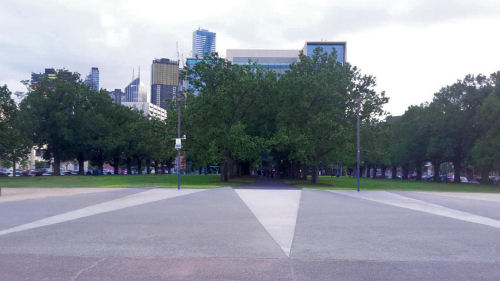 For more details on the perils faced by Melbourne's elms see article " Melbourne's elms are under threat" recently published in The Age:
http://www.theage.com.au/comment/melbournes-elms-are-under-threat-20161216-gtchi1.html