See also: Mark Latham, who opposed "Your Rights at Work" campaign and supported Howard in 2007, says Albanese shouldn't be Labor leader of 9 Oct 2013; Labor Leadership Contenders' Views on East West Link - Albo opposes it! of 6 Oct 2013.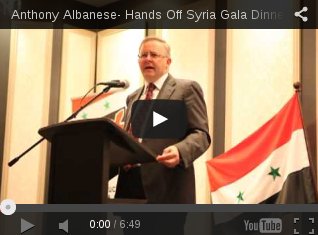 Update, 28 Nov 2013: No mention was made of Syria by Albanese, Shorten or the audience in the leadership debate of 24 September. (Whilst this could have been because of time constraints, it seems a surprising omission.)
On 20 April, 2013, Anthony Albanese, a candidate for the national leadership of the Labor Party by membership ballot,1 expressed 2 his support for Syria3. This is contrary to how much of the senior leadership of the Labor Party has acted. 4 For two and a half years they supported the United States as Syria has tried to defend itself against invasion by proxy terrorists armed, paid for and supplied by the United States. This war has, so far, since March 2011, cost 100,000 lives.
Although Labor is no longer in Government following its defeat at the elections of 7 September 2013, Anthony Albanese's support for Syria is a welcome change to the collusion of senior members of the previous Labor Government with the United States in its war against Libya and the proxy terrorist war Syria. Kevin Rudd, as "roving" Australia Foreign Minister in the Middle East in March 2011, colluded with the United States to help create the international environment that enabled the U.S and its NATO allies to bomb and invade Libya in 2012. Since then, both Kevin Rudd and former Foreign Minister Bob Carr have colluded to help facilitate the terrorist war against Syria by the United States.
The above video is cause to hope that Labor may to return to its past tradition of opposing unjust wars as exemplified by the withdrawal of Australia from the Vietnam War by the newly elected Labor Prime Minister Gough Whitlam in December 1972. Had Labor as a whole so vocally opposed the war against Syria, the level of the political discussion during the election campaign would have been raised and the outcome of the 7 September elections may well have been different.
Footnote[s]
#fn3465_1" id="fn3465_1">1. #txtSubj1">↑ Nominations for the ballot of Labor Party members for the National leadership closed on 20 September, according to an ABC report.
#fn3465_2" id="fn3465_2">2. #txtSubj2">↑ The included Youtube broadcast was embedded in the Crikey article of 2  2013 by Andrew Crook, Support for Syrian missile strike could test Labor unity.
#fn3465_3" id="fn3465_3">3. #txtSubj3">↑ As appears to be mandatory, Anthony Albanese also expressed his support for 'multi-culturalism'. Whilst Syria can rightly be held up as an example of different cultures living in harmony alongside each other for centuries, most notably, between Christians and Muslims, the same cannot be said for Australia, where multiculturalism has been used since the 1970's as a smokescreen to enable governments to impose high immigration.
As a consequence, native Australian workers have had their working conditions reduced or have been replaced altogether. The most infamous example is Section 457 visas by which employers are able to import workers with the supposed skills they claim to need in preference to properly training their own workforce, with on-the-job training or apprenticeships. 'Temporary' backpacker workers are employed in industries such as fruit-picking where that work was once available to low-skilled native workers or university students on summer vacation.
An equivalent process has occurred in the United Kingdom as documented by Tony Gosling in Labour's surrender monkeys dare not criticize Britain's conscript economy of 16 August 2013 in Russia Today.
Another effect of high immigration, welcomed by by landlords and property speculators, is to ensure a scarcity of housing stock, thus driving up the prices that can be demanded of tenants and home-buyers.
#fn3465_4" id="fn3465_4">4. #txtSubj4">↑ how this was dealt with in the Federal Labor Parliamentary Caucus, would be very interesting to know, as much of Bob Carr's most explicit and determined encouragement of U.S. military aggression against Syria followed Anthony Albanese's speech.
Perhaps Bob Carr's sudden resignation from the Senate is not such a mystery given the failure of President Obama, John Kerry, himself, Kevin Rudd and their international allies to win international diplomatic support for their war plans.
Sadly, Kevin Rudd has not resigned from Parliament and it can't be completely ruled out that he will again attempt to contest the national leadership. However, Bob Carr has vanished completely from public view. Nothing more has been posted to his web-site Thoughtlines with Bob Carr since 2 Sep 2013.