Republished, with embedded 25 minute Video, from Assange extradition court ruling (11/1/21) |PressTV. This is the most recent edition of Richard Medhurst's (pictured) weekly Communiqué broadcast.
See also: Melbourne Vigil to Free Julian Assange at Flinders Street Station this Friday at 7:30pm (10/1.21).
The 210K PDF file, from which the double-sided A5 flyer "Uphold the Rule of Law", about Julian Assange can be printed, can be downloaded from below.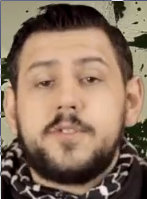 A British Judge has ruled on whether Australian journalist Julian Assange will be extradited to the United States. The WikiLeaks founder is wanted on espionage and computer hacking charges and faces up to 175 years in prison.