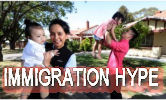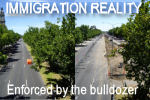 St Kilda Road and Hoddle Street widening to accommodate larger volumes of road traffic in Melbourne means bulldozing hundreds of beautiful, mature trees, cultivated in a time when people appreciated the importance of natural shade and beauty. This vandalism is caused by willful promotion of overpopulation by the Victorian State government. Furtively supported by an equally venal Opposition, invited economic mass immigration-caused population growth marches on like an invasion preceded by bulldozers, jack hammers and all manner of violence towards our environment and display of might by state governments. Australia grew by over half a million people between July 2016 and July 2017, although natural increase actually declined, almost certainly due to rising costs affecting Australia's fertility opportunity.[1]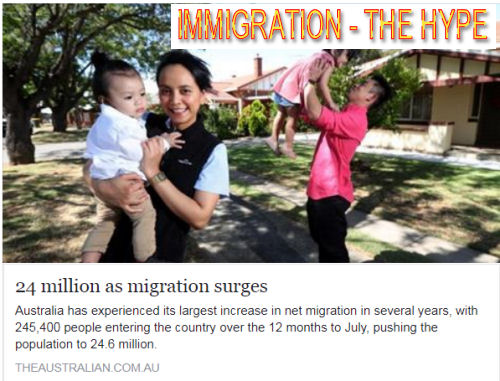 Swamped by the numbers
Excuse me, but it seems that Pauline Hanson was right, at least on the numbers: We are being 'swamped' - at a rate of Overseas immigrants 63.0 : Australian citizens and residents 36.8 - by the numbers - wherever they come from. These latest growth figures were due 63% to overseas immigration; only 36.8% from natural increase between July 2016 and July 2017. (See the latest ABS graph and details below.) It doesn't matter where they come from; the point is that accommodating these numbers is overwhelming our native animal habitat, our infrastructure, our social organisation, our legal and planning system (which is changing to remove public consultation over expansion and which simply does not enforce wildlife protection laws) and our democracy - because government is more interested in feathering the pockets of the growth lobby than serving the electorate, keeping housing prices down, providing education to young people and helping local business.
We are also being swamped by hype
The cause of the growth is Australian state governments' constant invitations to overseas immigrants to come and settle here, greatly magnified by internet reach since the late 1990s. Immigration marketing is typified by the illustration we have labelled "Immigration Hype", which depicts a young couple with a baby in a leafy suburb. The reality, of course, is that both young couples with babies and leafy suburbs are declining - due to incredibly high rates of immigration. Although population growth is the number one subject on radio, TV and print media, it is promoted slickly as 'vibrant', 'booming', 'bonanza', 'housing investment opportunity', and the constant citizen and resident protests [See /taxonomy/term/582 and /taxonomy/term/1193] are hardly ever even reported outside https://candobetter.net, thus many Australians feel alone in the midst of this onslaught.
Our governments don't listen to us, but they have even stopped talking normally to us. Instead they repetitively sloganize us about how 'livable' our cities are, like crass advertisers, backed solidly by the growth lobby mouthpiece of the mainstream press and the ABC. The latest boast that they are making is that Australia's population growth will move our economy up to 11th largest economy in the world. It's about as impressive as listening to teenagers boast about how much they can drink; we know it's going to end in a mess.
Plummeting standards of living and quality of life and environment
Our standards of living and quality of life are all plummeting, so we can only fear the future that our unrepresentative governments are socially engineering us towards. We have been a net-importer of petroleum for years. Our land is 30% hot desert and 40% non-arable rangeland. Our major inland river basin has been in ecological strife for more than a century and we are told that climate change will reduce rainfall. We face life-threatening increases in temperature and we are expanding into bigger and bigger heat-islands, called cities. Our non-consensual population increase policy will turn this land into a Mars. This land was wrested from a population that inhabited it sustainably for 60,000 years! And this is progress? Not!
Australians wary of having children in view of such poor economic outlook
Whilst immigration rates have gone up yet again, over the July 2016-2017 period, Australia's natural increase has actually declined. This decline can be explained by Virginia Abernethy's theory of the Fertility Opportunity,[1] where people see that the future looks dim, so they choose not to have children. This is surely the feeling young people must have as immigrants crowd in by the hundreds of thousands in an economic environment of ongoing deterioration in an already declining quality and standard of living for all but a tiny elite. See http://www.theaustralian.com.au/national-affairs/living-standards-in-decline-as-real-wage-growth-stagnates/news-story/a95f1b82064fd39e919deec3fd0a9a91
International comparison chart from the Australian Bureau of Statistics




For the 12 months ended 30 June 2017, Australia's population growth rate of 1.6% was above that of the world at 1.1%. Australia is growing at a faster rate than every selected country except for Papua New Guinea (2.1%). The Philippines and Singapore were the next fastest growing countries (both at 1.5%) followed by Malaysia (1.4%) and South Africa (1.3%).



According to figures from the United Nations, Department of Economics and Social Affairs, Australia's population ranked 53rd highest in the world in 2017 and is projected to rank 56th by 2050. By 2050, India is projected to have displaced China as the most populous country with 1.7 billion people compared with 1.4 billion in China.

POPULATION, GROWTH RATE AND RANK (a)(b), Summary

---

ESTIMATED RESIDENT POPULATION

PROJECTED POPULATION

RANK

2016

2017

Growth Rate

2050

2017

2050

Selected Countries

million

million

%

million

no.

no.

---

Australia

24

25

1.6

38

53

56

Canada

36

37

0.9

45

38

46

China (excl. SARs and Taiwan)

1 404

1 410

0.4

1 364

1

2

France

65

65

0.4

71

22

28

Greece

11

11

-0.2

10

82

98

Hong Kong (SAR of China)

7

7

0.8

8

104

111

India

1 324

1 339

1.1

1 659

2

1

Indonesia

261

264

1.1

322

4

5

Italy

59

59

-0.1

55

23

36

Japan

128

127

-0.2

109

11

17

Korea (South)

51

51

0.4

50

27

41

Malaysia

32

32

1.4

42

45

50

New Zealand

5

5

1.0

6

125

126

Papua New Guinea

8

8

2.1

14

101

86

Philippines

103

105

1.5

151

13

13

Singapore

6

6

1.5

7

115

120

South Africa

56

57

1.3

73

25

27

Sweden

10

10

0.7

12

89

93

United Kingdom

66

66

0.6

75

21

26

United States of America

322

324

0.7

390

3

4

Viet Nam

95

96

1.0

115

15

16

World

7 467

7 550

1.1

9 772

. .

. .

---

. . not applicable
(a) Selected countries include major OECD countries, the world's most populous countries, Australia's closest neighbours and trading partners.
(b) Selected country and world estimates and projections for 2016/2017 and 2050 are from United Nations World Population Prospects: The 2017 Revision (medium variant projections).
Source: Australian estimates - this issue of Australian Demographic Statistics (cat. no. 3101.0); Australian projections; Series B in Population Projections, Australia, 2012 (base) to 2101 (cat. no. 3222.0). Selected country and world estimates and projections - United Nations, Department of Economic and Social Affairs, Population Division (2017). World Population Prospects: the 2017 Revision, custom data acquired via website (medium variant projections).
Your reference for the graphs and quotations from the Australian Bureau of Statistics is: http://www.abs.gov.au/ausstats/[email protected]/Latestproducts/3101.0Main%20Features2Jun%202017?opendocument&tabname=Summary&prodno=3101.0&issue=Jun%202017&num=&view=: Annual Population Change, Year ending 30 June 2017.
NOTES
The Fertility Opportunity Theory: "The causal relationship between perceived opportunity and desired family size is described as the fertility opportunity hypothesis. The fertility opportunity hypothesis accounts for either rising or falling fertility rates.
Absolute level of poverty or affluence is not the primary factor driving decisions and action. Motivation derives from perception. Perceptions arise relative to past experiences or by comparison with a reference group. Thus, the fertility opportunity hypothesis applies in hunter-gatherer societies, agrarian societies, and both developing and industrialized countries. The belief that resources are ample, or not, develops against a specific society's baseline expectations.
Whereas some demographers still write as though modernization and prosperity are necessary preconditions for smaller family size, the fertility opportunity hypothesis documents a nearly opposite dynamic. People in all types of societies work to limit births when they perceive that resources are shrinking, margins are smaller, and competition has stiffened." Cited from Virginia Abernethy, "Fossil Fuel Energy and Fertility Rates," Vanderbilt University, 2004. https://media.eurekalert.org/aaasnewsroom/2004/2Abernethy-FossilFuel-Paper.doc