On February 12, Sheila Newman wrote a blog about Wildhaven which burnt to the ground in the horrific Black Saturday Victorian bushfires last year (see http://candobetter.org/node/1064 ).
Stella and Boof,
before the fires of Black Saturday
Both lost tragically in the fires last year.
Gone forever now.
Those of us who were privileged to have come to know her magical animals through her photos were devastated. It's heartbreaking to think of kangaroos like the following are now gone forever ... and even more heartbreaking to consider the terror they must have experienced while running for their lives and being burned to death.
And worst of all is the pain of Stella and Alan Reid from Wildhaven who must bear the grief for the rest of their lives. It is a tribute to their shining spirits that they chose to pick up and start over, from the ground up. From all around the world, people started sending them donations of money, food and clothing so that they could begin again. For most of the last year they have lived in one big tin shed with a few of the animals who miraculously did survive the fires.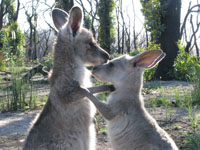 Cooper and Merlot,
an inseparable couple
Kangaroos such as precious Merlot and Cooper who hold each other affectionately most of the time.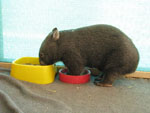 Hope, the baby wombat, 12K
Making sure she sort of doesn't share the food
Then there is Hope, the baby wombat, Hope, is around 12k, and sort of shares her food with the Wallabies, Kangaroos, maybe not. You can see from the photo on the right below that she has her feet in one bowl while eating from the next. This is one way of not sharing.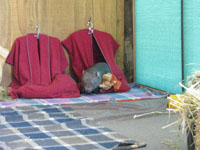 Hope steals the kangaroos' pouches
who have left giving him space!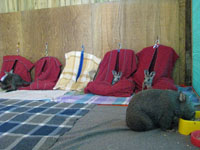 Hope, the wombat, yep, eating again
Cooper, Merlot, Nigel and Patch along the back
This is outside in the enclosures we have built, it is fenced by four and a half acres of 8 foot fencing. They can run free or stay in the small enclosure in their pouches.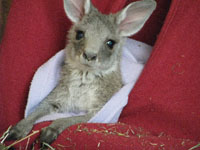 Patch in a perfect pose
One day he will be a big boy
Patch is so beautiful and is going to be a big Kangaroo tall and elegant. He is still only a baby and like to stay in his pouch but does spend time on the grass.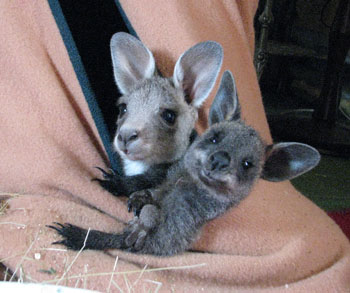 Nigel, when not in our bed,
smiles when he is in Patches' bed
They have 9 little ones on bottles, 3 - 4 times a day. The last bottle is 10pm and first at 6 am.
Says Stella: "It is nearly one year on since Black Saturday, this Sunday is a year. We are at peace here in our world again. For the rest of our lives we will care for the little ones, each year at this time the memories of one year ago will be so strong it breaks our hears as if it was yesterday. This we cannot change, It will be with us forever. To cry and remember is what humans do, it is ok to do this.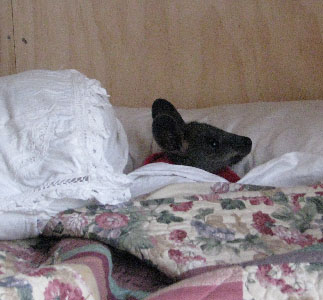 Nigel in our bed
When not in Patches' bed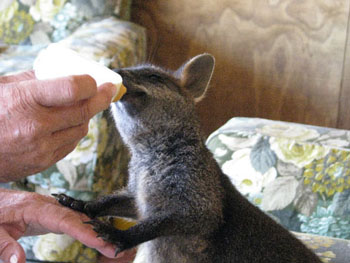 Alice having a bottle, talking and drinking simultaneously
She loves hugs and kisses and gives them back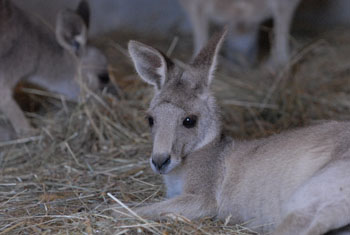 The Bunker
A safety net for the future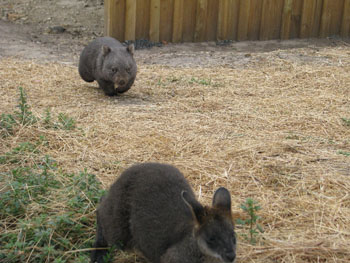 Hope chases Alice
They are good friends
The land is still so barren
But we have hope for the future when things will be lush and green again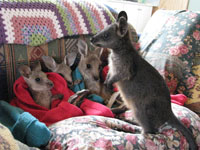 Spoiled rotten on the couch.
One happy family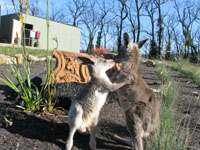 This is our new kangaroo enclosure
Merlot and Cooper fussing as usual
"We look in to the eyes and faces of the little ones in our care and we smile again. Wildhaven will be free and safe again for the little ones. This time many more people are watching, caring and loving we are not doing it alone, this is a good thing. Welcome to Wildhaven where our family and friends are the little creatures of the earth. I hope the years to come you too will enjoy our world as much as we feel privileged to be part of. It is an honor to be part of their world."
We built a fire bunker for our wildlife, and they have taken to the concert tank very easily, it will always be open to them. They come and go in the bunker as they wish. It is inside the enclosure for them. In making our world safe the little ones in our care will always come first. They will not be afraid to go in, when the next fires come.
Hope, the baby wombat, chasing Alice, they are good friends. Hope is a very fast runner, Alice has better eye sight.
Love from
Alan Stella and All at Wildhaven.
And it is an honour to know you too, Stella. Thank you for giving us a glimpse into the beauty and sweetness of Australia's native animals.
They still need help. Any contributions gratefully received at:-
Direct Bank Deposit to:
Stella & Alan Reid
BSB: 063 222
Account: 10262617
Or mail a cheque to:
Stella and Alan Reid, C/- St Andrews Post Office, 10 Caledonia Street, St Andrews Vic 3761, or PO Box 195, St Andrews Vic 3761
Overseas contributions can be paypalled to [email protected] with subject line 'For Wildhaven'.
BLACK SATURDAY POEM
HELL ON EARTH - by Christopher Levinson
(http://cjwriter.com/2009/02/14/hell-on-earth/)
Red sunrise burning
Wind howling amongst the trees:
Nature is unleashed
The beauty of fire:
An unstoppable fury
Dancing in the wind
Eucalypt forest:
Ancient trees of memory
Scorched by angry flames
Smoke clouding the sky:
Embers falling like raindrops
In the darkest light
Twenty years of life
Reduced to rubble and ash:
We have each other
A fallen tree trunk:
Cars abandoned by the road
Toys scattered inside
Amidst the burnt grass
A single flower remains:
A lone miracle
The sadness of night:
Survivors gather to pray
Tears fall down your face
A city of tents:
Shelter and home to many
Memories survive
Red sunset fading
Raindrops falling to the ground:
A young country mourns