An old age pensioner tells his heartbreaking story of Josie, the little possum joey who he and his wife lovingly raised but was unable to release due to human imprinting. After 6 years of being part of Raoul Harvey's family, suddenly the RSPCA tried to confiscate her and another possum they were rehabbing. That's when all hell broke loose! It's time some new laws were made in the best interests of the animal, not the law. Read what this courageous man did to outwit the system.
I wonder if our childrens' children will read about us as the ones who looked after the animals we used to have in the wild?
My first experience with "real" wildlife care started on 21/01/2003 when a female possum who used to stop by our door regularly for a handout came inside our house one night and would not leave despite gentle persuasion. We went to bed leaving the door open should "Mrs Possum" change her mind and leave.
In the morning she was dead on our loungeroom floor and in her pouch was a little pinky who became Josie and a unique and wonderful bond was forged that January morning. I rang around and the word was to tap her on the head, something I could not do because of the trust Josie's mother had in me looking after her baby. Talk about jumping in the deep end! I purchased every book, searched every site that mentioned possums and did everything possible to get this little charge through.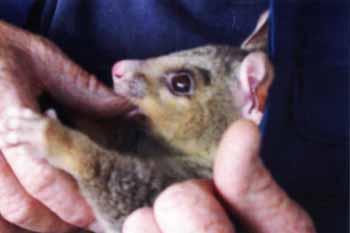 Most of our friends thought us mad when we would visit with our baby and I'm sure some thought we had early dementia but each day Josie became stronger and we became prouder with what we were seeing, our baby was going to make it. So like the proud parents we had become we built Josie a nice new home and when she was about 26 weeks of age we moved her in.
Well, what a disappointment! She wanted nothing to do with her sheepskin covered bed, her new shiny stainless food and water bowls and the two fans installed at each end of her house, all she wanted was to be in my shirt (I learnt very early to put a T shirt on first).
What to do? Being an experienced dad I knew exactly what was needed. I would sit in her cage with her until she nodded off and quietly sneak off. Well I forgot possums play at night and sleep all day. Josie thought it was wonderful that her dad had moved in with her and showed her happiness by jumping from the top of her box on to my head all night, each time she had a breather I crept out but each time she would see me gone and scream out until I returned.
This could not continue so I got in touch with a carer and it was suggested I put a child's teddy bear in her box. I dont know what Josie thought the toy was but it did the trick and a little sanity returned to our house.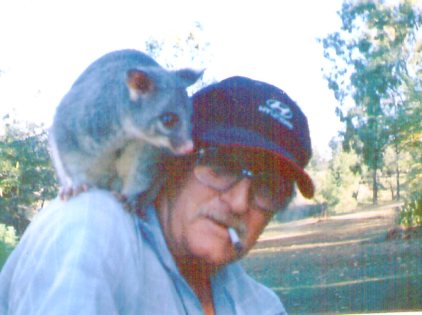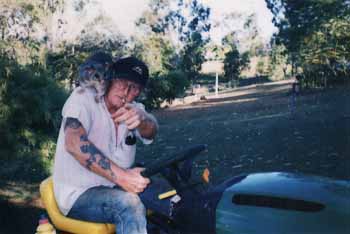 Next trick was to find what bush tucker she ate. Another bright idea, I put her in my shirt and we would ride around our 5 acres on the rideon mower and stop at every likely tree and shrub and find out what she liked and after a few days I had a fair idea but it seemed Josie liked the ride as much as jumping on my head and so began a ritual that lasted for 6 years and 190 days.
I should mention here that the reason I never went to QPWS or any other authority to ask about permits to have and keep Josie was that I was told that the law said she would have to be put down if she could not be released, so I gave them a miss.
We now had to reconsider our retirement plans which included a 4WD and caravan to hit the road but we thought travelling with a possum who thought she was a kid (so did we) might be a little hard in caravan parks so with a stroke of genius we decided an off-road camper trailer was the way to go. We became the proud owners of a Pioneer camper and did a few trips to secluded fishing and camping locations which Josie thought was magic. She would grab any smallish fish I caught and "protect" me from these flopping strange things. She would stand on the bow of our tinny like a pointer dog as we ran our crab pots. She really did enjoy our trips away.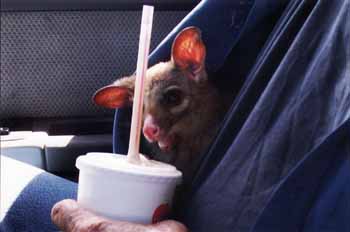 She would be in my shirt when we went to town, my wife did the shopping and we would stay in the car but when I had to buy "mans" stuff Josie would be in my shirt and if she was noticed she would revell in any attention, especially from kids. At times a quick dash in to buy a filter for the car turned into an hour. She really did know she was special and would pose for the camera and allow people to pat her, not once did she nip anyone but on occasions if I failed to heed her need for the toilet she would do her thing much to the delight of any kids who were present at the time.
When Josie was 2 years old a family member presented us with an orphaned male brushtail who was about 6 months old. This little bloke was very traumatised as his mother had been killed by dogs on a golf course. Talk about a special needs kid, Fred as we named him was very clingy for months and is still very timid.
I must mention here that up until Josie was 2 years old we tried 7 times to release her at varying times of her cycle but she would not have a bar of being a "real" possum. Fred has always been free to come and go but on the two occasions he left home he came back very hungry and sorry looking, the only time his cage is closed is when we know there are dingos in the area or we are away for the day.
Everything apart from my health was going well until Friday September 25 when we got a phone call from my mother in law telling us that acting on information (don't you just love it?) the RSPCA were taking Fred and I had 2 hours to surrender Josie. I will not repeat what I said but it included the fact that if not returned Fred would die from stress very quickly. Josie had already sensed my stress and was cuddling very close to me. Josie and I went into hiding but not before I contacted the local Rockhampton newspaper and met them in an isolated place, like a criminal. They did the story which was published on the Saturday generating unbelievable support from the public for Josie and myself (see links at end).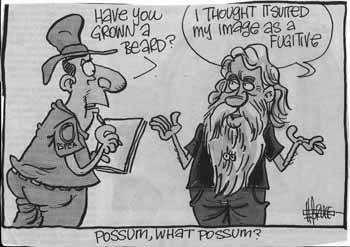 Friday night was spent up in the state forest as was Saturday and Sunday. Josie would not eat and I could not so it was a very uncomfortable weekend for us both. While we were in hiding, the local wildlife carers were busy letting NPWS and RSPCA know that their action would kill Fred and he should be returned immediately.
I got a call on my mobile on Monday morning from a wonderful lady telling me Fred was on his way home and Josie and I could come home. All carers will understand this next part of the saga, as my stress level fell and my tears eased my little Josie gave me a big wet kiss, cuddled even closer and went to sleep. The transformation was unreal, animal magic.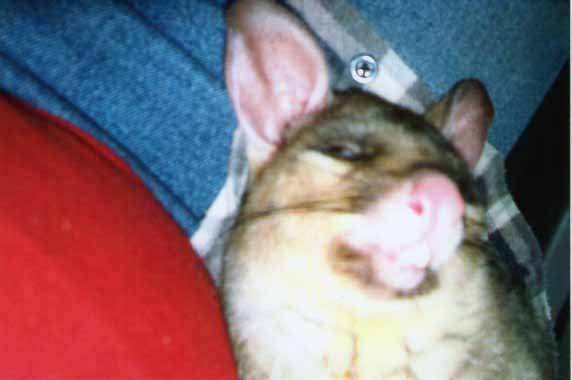 Unfortunately the ending of this story is not so happy as my beautiful little friend died at 1.30pm on Sunday 6th of December. Even though she calmed down after the terrible incident she and Fred went through she was never as calm as before this garbage happened. I have had wonderful support from the carers in the area and have joined one group. They all agree that the stress Josie went through was why she is no longer with me. Of course only an autopsy would prove the cause but I would not allow that to happen.
After Fred was returned I had to hand feed him and sat in his cage with him for hours letting him know he was okay. Hopefully things will turn out well for him.
To this day I still do not know the reason why the RSPCA was called or why NPWS became involved. These "public servants" would not know a feral pig from a bower bird and when confronted they have to be non commital for fear of being seen to actually make a comment off their own bat and therefore rock the good ship NPWS. Their efforts would be better directed toward the bird smugglers and the people trading off the misery of our wildlife instead of giving fair dinkum animal carers a hard time and wasting tax dollars on witch hunts.
On a happier note I now have 2 young possums about 9 months old, one an orphan and a little female who was burnt in the recent fires in our area. They are both doing well and will be released as soon as there is enough food out in the bush to sustain them.
In ending my story I would like to say that the time Josie and I had together was an absolute privilege, a relationship built on respect, trust and most of all LOVE.
Raoul
To get in touch with Raoul email him at rharvey [AT] cqnet.com.au
Please share your 'Josie' stories with us by commenting in the box below.
P.S. Check out the newspaper articles below - the comments of supportive people below the article show the true heart of where wildlife carers are coming from.
http://www.themorningbulletin.com.au/story/2009/09/26/raouls-possum-magic/
http://www.themorningbulletin.com.au/story/2009/09/28/josie-is-still-on-the-run/
http://www.themorningbulletin.com.au/story/2009/10/06/possum-carer-raoul-takes-on-his-new-charge
http://www.themorningbulletin.com.au/story/2009/09/29/beady-eyed-freds-back-now-for-josie/