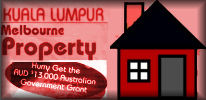 This advertisement from Kuala Lumpur shows how development companies are not only selling Australian houses in Asia but are offering Australian taxpayer-funded government grants to further entice Kuala-Lumpurans to buy here. These grants were intended to help young Australians get into the housing market but instead the developers are offering them to foreigners. The ad is for housing in the Whittlesea area of Victoria, but the reality is that the same thing is going on all over Australia.
How can politicians tell us we have a housing shortage? If we did, they could sell the houses here and not have to go to foreigners. Why is the government allowing this land way out of town to be built on at all and then sold to foreigners?
We are being taken for fools.
This ad has been sent to Matthew Guy, the Victorian Minister for Planning, and to a local federal mp. How about sending it to your MPs as well, if you feel it is wrong.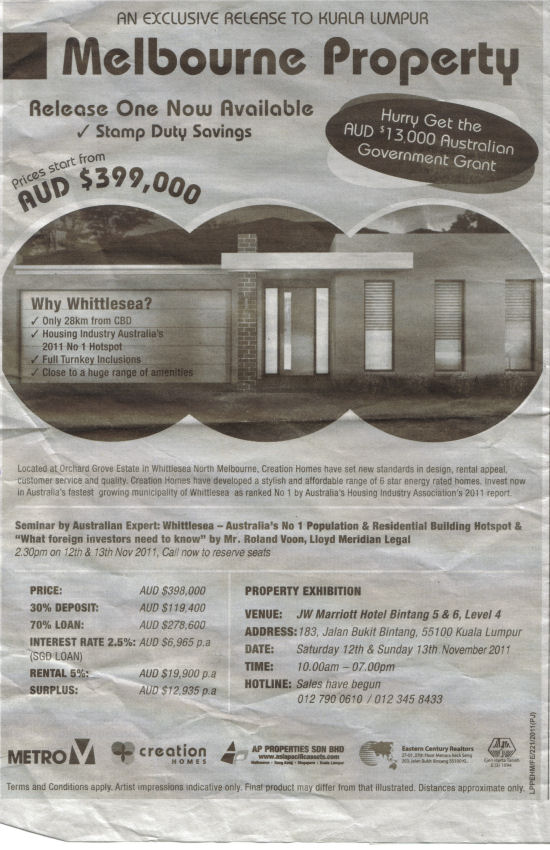 The advertisement says, "Hurry, get the AUD$13,000 Australian Government Grant." Foreign buyers can also save on stamp duty.
Whittlesea is just north of Mill Park, where wildlife activists and residents unsuccessfully tried to stop government slaughter of displaced kangaroos last year. To get to Plenty Road from the city you pass through some of the densest populations in the world, and then past endless suburbs, many of them only built within the last two to five years. Wildlife activists have deplored the fate of wildlife as the greedy developers and complicit state governments have turned a blind eye or aimed a gun. Residents have watched in horror as completely undemocratic decisions have been made to maim and mutilate the countryside, overpopulating it, rapidly increasing demand for services and resources, driving their prices beyond the reach of all but the well-off. At the same time, salaries are not increasing but job insecurity is increasing. Australians have little slack and nowhere to turn except to demand that their MPs start to represent them and stop this abuse of the system.
Whittlesea residents need to take out an ad in the Kuala Lumpur paper where this offensive ad for Whittlesea land and housing was run. The ad should politely inform Kuala Lumpurans of the situation and that Australians did not agree to have their taxes used to facilitate foreign investors making the situation worse for wildlife and for the homeless and the mortgage-burdened.
Contact your local MP and ask him/her what he is doing about this further pressure on the green wedges and on housing prices and this funelling of Australian taxes into foreign purses. Then write to candobetter.net as a comment to this article and tell us what your MP's answer was. We will publish it. Exert pressure. The situation is unacceptable. It is scandalous and has population impacts which may lead to ordinary Australians becoming destitute due to inflated power, land, and housing costs within the foreseeable future.