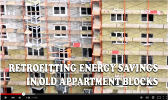 We get a lot of commercial press releases at candobetter.net and we don't use many. However this project which markets renovation for energy use reduction, rather than tearing buildings down and constructing new ones, is very interesting. The iNSPiRe project is a four year FP7 project that brings together 24 partners from the combined fields of research and development, industry, small business and not-for-profit organisations, to tackle the problem of high-energy consumption. The research will produce systemic renovation packages that can be applied to existing buildings to reduce primary energy consumption to lower than 50 kWh/m2/year.
iNSPiRe project begins testing of retrofit solutions for Europe's buildings
iNSPiRe, a project dedicated to creating effective and affordable retrofit kits for the buildings of Europe, has now begun testing its creations in three model buildings across Europe. The project is one of the leading forces pushing towards the European Union's ambitious energy-consumption reduction goals.
The European Union's targets for the reduction of energy consumption of buildings in Europe are ambitious to say the least. To achieve them, improvements to newly constructed buildings will not be enough alone; the renovation of existing buildings into near zero-energy buildings will be essential as well.
iNSPiRe is an EC-funded project that has been creating elegant solutions to this difficult problem. After carrying out a detailed evaluation of the existing residential and office buildings in Europe, it has put together a set of meticulously designed renovation kits that can be easily installed without having to evacuate the buildings of their owners. The range of kits covers all types of buildings and all climatic conditions found in Europe. Cost effectiveness, efficiency and reliability have been the cornerstones of the project, which has recognised that any solution in this area must be attractive and viable to the construction industry.
Each of the kits has been designed with the aim of reducing the primary energy consumption of buildings to lower than 50 kWh/m2/year – an 80 per cent reduction of the current average.
The kits, which consist of façades and roof kits with integrated heating, cooling, ventilation, lighting and energy-collecting devices, are now being demonstrated in a set of buildings across Europe. The first in Ludwigsburg is an example of 1970's social housing and is made up of four flats on four stories. Here, iNSPiRe is fitting a wooden façade and roof kit as well as a heating system. In Madrid, a multiple occupancy residential building of eight flats over four stories has had energy boxes fitted as well as new envelope solutions and solar collectors. Finally, iNSPiRe's office building solutions are being tested at a site in Verona. Here, the building is being renovated with metal-glass façade modules that combine solar collectors and sorption chillers, as well as ceiling panels that cater for heating, cooling and ventilation.
Monitoring is now taking place to assess the full impact in terms of the energy and cost savings they will create. Retrofit solutions such as those designed in the iNSPiRe project will be essential for ensuring that the Europe's building stock of the future is as energy efficient as possible.
In its latest far-reaching and ambitious Science and Policy Report, the Joint Research Centre (JRC) placed the idea of developing and implementing energy-efficient renovation kits at the heart of its message, citing it as the only feasible way to reach and then surpass the EC's 20-20-20 energy targets (20 per cent renewable energy and a 20 per cent improvement in energy efficiency by the year 2020).