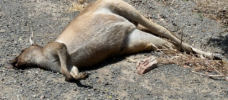 Update: See new article, "AWPC Wildlife Planning Officer says, "Don't cull roos; Plan wildlife corridors!"" A wildlife "consultant" has called for a radical new plan to cull kangaroos along Melbourne's urban fringe before there is any more housing development.  What's "radical" about this solution to wildlife?  Due to lack of vision, foresight and planning, it means killing them!
This new "plan" is about caving into the whims of property developers, and the plans of our State government to blow out our urban fringe for more growth-gluttony  and housing.
First published on Australian Wildlife Protection Council website here: http://awpc.org.au/kangaroos-must-be-culled-for-urban-sprawl/
Thanks to Melbourne's obesity, urban sprawl keeps stretching out north, causing problems for residents and wildlife. There are more fences, road and houses, causing chaos and causing kangaroos to become trapped in factories, rooftops and school yards.  Their habitat is being impinged upon and eaten away by infrastructure and choked by human population growth.
Instead of addressing the problem, and implementing any real plans for the city, the waist-line of Melbourne keeps expanding as 100,000 new people per year keep it engorged.
Wildlife Victoria has received about 6,500 emergency calls about kangaroos this year, double the number they received three years ago.
DELWP, the Department of Environment, Land, Water and Planning, is meant to administer the Wildlife Act, and enforce the protection of our native species, is also the State government department responsible for Planning! There are massive and blatant conflicts of interests here. 
According to DELWP's own website, they have control over our population growth!  By 2051, there will be a projected 10 million people in Victoria, a "natural increase" of 1.7 million, and a whopping 2.8 million due to net migration.
Wildlife Victoria spokeswoman Amy Amato said "It's definitely not an increase in the number of kangaroos in Melbourne….we're just seeing the number of incidents in human conflict with kangaroos rising."  In fact, our government does not know how many kangaroos there are in Victoria.


(image: The True Cost of Sprawl)
Victoria's Department of Environment has engaged independent wildlife management consultant Ian Temby to review the situation.  His solution is to kill the kangaroos before development goes ahead, arguing kangaroos are being slowly culled by cars anyway!  So, their deaths are inevitable, and shooters don't kill will be finished off by cars.   Then, the housing industry won't be hampered by obstructed by native animals.
Author Ian Temby, in the past, recommended learning to live humanely with wildlife.  Known to Wildlife Victoria members as a long time as wildlife advocate with over 30 years in the DSE.
He claimed that "action to resolve conflicts with wildlife does not have to be lethal. Exclusion, repellents, changing human practices and habitat modification are all examples of non-lethal actions".  And, "rather than killing wildlife, our real challenge is to develop and apply methods of problem resolution that are proactive, anticipating where problems may occur and taking action to prevent them from actually happening". 
Now, his solution is CULL, CULL, the easy and lazy way of removing the problem.
There are no interconnecting wildlife corridors in Victoria, so whatever "Planning" happens doesn't include the fate of our native species. [Candobetter.net Ed.: See here for concerted attempts to create such corridors by the AWPC: /taxonomy/term/73.]
For too long our capitalistic economy has gorged on "growth", and worshipped the real estate industry, caving into it's whims for resources.  Already our infrastructure is choked and overloaded, and congestion is impeding productivity.   We are falling into an abyss of infrastructure deficit.
What values are we promoting and what benefits are there from our city's explosive growth- except for property developers and real estate investors?
The high immigration that was beneficial in the 1950s, and 60s is now causing our cities to be over-crowded and overpopulated. Our governments are addicted to growth, and our economy is on thin ice if it depends on rising house prices and population growth.  It's admission of being bereft of ideas, innovation, and enlightenment. It's lazy economics, to just turn up the immigration tap to boost our economy, and expect the public to finance the retro-fitting of our city, endure a crumbling housing market, and all the deprivations of perpetual growth imposed on us!
The lack of innovation and diversity in our economy means that there's an over-reliance on housing and population growth.  It's a lethal and self-destructive Ponzi scheme, and will not only have a deadly impact on our wildlife, biodiversity and environment, but eventually cause impoverishment, deprivation, eroded living standards, congestion, and spiralling costs of living for human inhabitants.