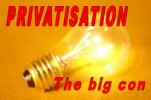 The report by past Federal Treasurer Peter Costello of his supposedly independent investigation into Queensland State finances on behalf of the Queensland Government Commission of Audit recommended the full privatisation of Queensland Government's electricity generators. Only last year, the Queensland public, outraged at the asset fire sale embarked upon by former Premier Anna Bligh without any electoral mandate whatsoever from the 2009 state elections, savagely punished Labor at the ballot box leaving only 7 sitting Labor members in a house of 89.
That, less than a year after, the new Government of Campbell Newman has contrived an excuse to continue with policies, that have been so resoundingly repudiated by Queenslanders, provoked outrage. An example of the outrage felt is a new opinion poll taken by news.com, which shows that Qld privatisation [is] opposed by 85%: poll.
Professor John Quiggin of the University of Queensland responded on 6 March with a post on his web site. That post included a link to a pdf report which, by examining the disastrous history of privatisation across Australia in recent decades, comprehensively demolishes the case for any privatisation.