On Saturday 11 August I attended the "Stop the Supertanker Protest National Day of Action" at St Kilda Beach in Melbourne Victoria. There was a large group of mostly young people, well prepared with signs and activities designed to convey their message visually.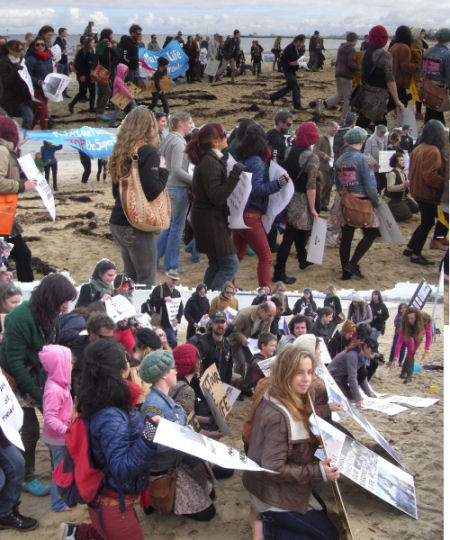 Today I attended the "Stop the Supertanker protest National Day of Action" at St. Kilda Beach being among the first to arrive just before 11.00a.m. Fairly quickly though a large group of mostly young people and some children gathered. They drew a large sign on the sand filling each letter with the plentiful debris found on the same beach: it read STOP THE SUPER TRAWLERS. While I was there –approximately 50 minutes - there were no speeches. The group was making a visible rather than audible statement and the protest was photographed by the media. It was great to see Kelvin Thomson MP at the rally expressing to me his deep concern about the absolutely qualitative difference in harvesting marine life between a super trawler and conventional fishing methods – the former leaving nothing in its wake.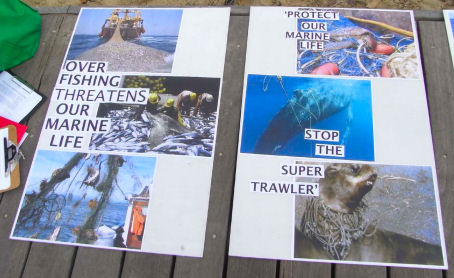 To me an activity like the supertrawler's seems, as well as being totally undesirable from so many points so of view, also unsustainable in its industrial methods and scale and complete disregard for the marine environment. It is yet another sign that humans are living beyond the capacity of the Earth and its biosphere to reasonably sustain its load of humanity. I guess the word that comes to mind to describe this activity is 'obscene'. It seems all the more unacceptable as the ship – the Margiris comes all the way from Europe to its damage!
Didn't make it to today's protest?
Sign the petition against this at http://www.communityrun.org/petitions/stop-giant-fishing-trawler-in-tasmania
See also: Supertrawler repudiated by public opinion, Super Trawlers sucking last fish-stock from sea of 11&nbap;August.