The issues facing kangaroos on the Peninsula, state and countrywide are serious and it is vital we get the word out to the public. We can offer a few ways for concerned citizens to get involved and express their opinions to be a voice for wildlife.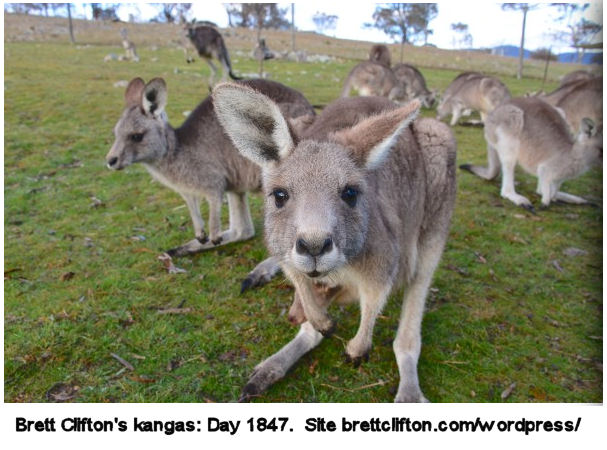 Firstly, the Authority to Control Wildlife (cull) permit system is currently under review. The Department of Environment, Land, Water and Planning (DELWP) have opened up submissions to the public, submissions close on June 29th 2018. The review discussion paper (https://engage.vic.gov.au/download_file/8625/1422 and https://engage.vic.gov.au/application/files/8315/2481/0498/ATCW_Review_Discussion_Paper-FINAL.pdf) is over 30 pages and may be overwhelming to some, especially if people feel they don't have sufficient background knowledge. The Australian Wildlife Protection Council (AWPC) and other wildlife interest groups have been working on 'cheat sheets', background information and a media release to help members of the public with their individual submissions and getting the word out about the review and other worrying proposals. The AWPC will have a finalised information document by Monday 11th June 2018, please contact the AWPC for a copy, it will help with your submissions.
1. We encourage everyone who cares about the plight of wildlife to make an individual submission. Submissions are made online here: https://engage.vic.gov.au/atcwreview
DELWP's 'Idea' to ban the rescue and rehab of 'over abundant species'
On page 31 of the ATCW review discussion paper it states the following regarding an idea 'someone in the community' had about banning the rescue and rehabilitation of 'over abundant' species:
'Not allowing the rehabilitation of Eastern Grey Kangaroos or other overabundant species.
Wildlife shelters and foster carers invest significant time and resources rehabilitating sick, injured and orphaned Eastern Grey Kangaroos. Given that the species is overabundant in many areas and is the species that the majority of ATCWs are issued for, some members of the community have suggested that the species should not be able to be rehabilitated under the wildlife shelter system. A restriction on rehabilitating Eastern Grey Kangaroos has been in place in the ACT for many years, as the species is overabundant in the territory and is subject to significant control activities to protect property and biodiversity values. While this is outside the scope of the ATCW review, it may be considered in future reviews of the wildlife shelter system, as it may save significant shelter resources and reduce the impact of the species on landholders. In this context, it may also be appropriate to consider whether the rehabilitation of unprotected wildlife, such as wombats, cockatoos or possums, should be disallowed or restricted to areas where such wildlife is not over-abundant (e.g. wombats found outside the parishes where the unprotection order applies)'
Whilst DELWP have distanced themselves from admitting they are seriously considering such a ban, they did publish the 'idea' on the discussion paper, they have mentioned such plans to wildlife shelters in the past and so it is very important that we express our strong outrage at such a prospect.
2. Wildlife groups have put together a press release to get the word out about the 'ban idea' in the media (attached), please feel free to use it and write letters to the editors, contact your local MPs, papers and make posts on social media.
The Truth about Funding
Not only is it untrue to say the money could be better spent elsewhere, it is misleading and suggests that wildlife rescue and rehab is funded by the state government. Wildlife shelters across the state share a measly $170,000 in grant funding in 2018. If wildlife shelter applicants are successful the grant is capped at $2000 per shelter per year, including a maximum of $1000 on food. So that is just $2000 per year to rescue, rehab and raise sick, injured and orphaned wildlife. The state government gives NO other funding to wildlife or wildlife volunteers. This includes looking after burnt animals from prescribed burns!
The grant program closed in Feb 2018 and we only heard back today (June 2018) whether we were successful or not. Not all shelters are given a yearly grant. Those who miss out continue to fully self fund or fundraise for their wildlife shelters.
This woefully inadequate amount of funding is further put into perspective when you consider the recent CSIRO research paper (attached) which estimates the true cost of rescue and rehab of wildlife to be $6 billion nationally. Also considering the Daniel Andrew's government is set to give the AFL $225 million to upgrade a football stadium, it is ridiculous to suggest that $170k shared to a lucky few statewide be better spent elsewhere!
Numbers of Kangaroos and 'Over abundant' Species
DELWP state that some species are 'over abundant' but have no real data on numbers. For e.g the yearly kangaroo count contracted out by DELWP ran for only 2 weeks and didn't count in all regions e.g. some areas of East Gippsland were not counted. They counted mainly from the air. We have attached an interesting article written by Peter Hylands (Creative Cowboy) that tells the truth about the government numbers.
It is also worth noting that the number of animals culled every year is published by DELWP (attached) the list of species and numbers are quite shocking. DELWP admit that they don't require ATCW (cull) permit holders to submit returns of the numbers of animals that are culled. We know that this means the actual numbers of wildlife being culled is probably many more than they are permitted to kill. So it begs the question of how accurate DELWP's 'data' is on numbers culled and whether this department is at all concerned about the accuracy of the data they publish. Why should be trust the kangaroo numbers from a 2 week aerial survey are correct when we know they publish incorrect cull numbers for the public to see?
3. Please share this information far and wide and feel free to contact the AWPC or other wildlife groups for more information. Contact the minister (lily.d'[email protected]) and the secretary of DELWP ([email protected]) and express your concerns, tell your friends and family, get it out to the media, discuss it with your local vet and get them on board.
Please have a voice on these important issues. If we don't protect habitat and wildlife we will damage the environment for the generations to come.
Kind regards,
Eve Kelly, Secretary
Australian Wildlife Protection Council Inc.