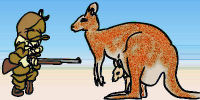 The following letter from the Australian Wildlife Protection Council Inc. to the Victorian Ombudsman urgently signals the failure of Victorian law to protect Victorian wildlife and the lack of standing for wildlife carers against ill-based and frequent cull permits to farmers in a situation where no-one actually counts the kangaroos or actual ferals, like rabbits. The situation is truly scandalous; Victoria's almost useless laws were conceived and are administered with utter cynicism.
Victorian Ombudsman
Level 1 North Tower
459 Collins Street
Melbourne VIC 3000
DX210174 Melbourne
(Headings inserted by Candobetter.net editor)
Dear Ombudsman's Officers,
Carlisle River Wildlife Shelter's Ron and Carola Anstis are heartbroken to learn animals they had spent years caring for were being shot dead thanks to approval from the State Government.
They are the only wildlife shelter in the area that cared for Eastern Grey Kangaroos, between Geelong and Warrnambool, and that's a big area. The Anstises take in pouch young we care for them for about two years and spend more than $1000 on each.
Ron Anstis said

"We just told the department we can't put that much into it only for them to allow someone else to kill it. This is the same department that issue us our wildlife licence."
So the same Government Department, (Department of Environment, Land, Water and Planning- DELWP), that issues wildlife licences, is the same department that issues killing permits.
Wildlife carers disempowered, given no standing at law
Ron and Carola have no ability to fight that permit whatsoever, and there is no appeals process to allow residents to dispute cull permits where required. These wildlife carers spend their own time to feed and nurture wildlife, only to have them threatened by a hostile neighbour with a permit to kill! What contradictory values are being fostered by our State government by their liberal distribution of AWTC permits. Without wildlife corridors in Victoria, we have a situation in which livestock farmers are next door to wildlife habitat areas, and there's no clear distinctions.
The government officer was satisfied that the landholder had explored available non-lethal management measures, such as maintenance and improvement to boundary fencing, prior to applying for the ATCW.

"The officer also confirmed that the kangaroos were causing damage to pasture from overgrazing…."
Wonder if they've assessed if it's been "overgrazed" from overstocking of livestock and/or feral animals?
" "Two rabbits eat the same amount as a kangaroo and a cow with a calf at foot will eat as much as 30 kangaroos; DELWP should be required to explain to the applicant the dietary differences between kangaroos and cattle so that the applicant can be properly informed about the amount of competition for pasture that actually exists,"
" Mr Anstis said.
Contradictory Victorian law forces wildlife carers to abandon rescued animals
The couple left a rescued joey at government office in protest over a kangaroo cull permit at their neighbour's property.
The Anstises were forced to leave eight-month-old joey, at the Department of Environment, Land, Water and Planning offices in Colac on Tuesday.
The Anstises had decided to stop rescuing and rehabilitating joeys and injured eastern grey kangaroos because of the contradictory action by DELWP of giving their neighbour permission to legally cull 60 roos! The neighbours want to improve their pastures, the cheap way.
Call for exclusion zones around wildlife shelters to prevent culling of wildlife
The couple, with 23 years of experience in wildlife care, is calling for state government change that would see exclusion zones around wildlife shelters to prevent the allocation of culling permits.
Victoria, the most cleared and damaged State has lost its balance, and has no place for Eastern Grey Kangaroos! Livestock, infrastructure, land clearing, roads, urbanisation and liberal distribution of ATCW Permits means these iconic kangaroos are doomed to be left to die, or if found as joeys, in the large area of Victoria that the Anstises served, to be rescued. They need our help and support!
We of the AWPC are making the following claims:
- There is NO appeals process for wildlife carers and other members of the public to challenge the application of ATCW permits
- there are no exclusion zones around wildlife carers, or wildlife corridors, and little regard to their workload and contribution to wildlife in Victoria
-"overgrazing" is assumed to be an excess of kangaroos, without assessment to overstock of livestock, or feral species
-Kangaroos are soft targets easy to shoot, instead of taking non-lethal strategies.
- There are clear conflicts of interests within our State government department DELWP, as they are responsible for protecting our native species, and at the same time are distributing ATCW permits! These conflicting duties should be separate, and independent of each other. There should be more processes involved in assessment, advice and consideration for neighbours and the community.
- DELWP admit that they do not know how many kangaroos there are, nor other more "common" native animals in Victoria, and rely on anecdotal evidence – including that from land holders and accident rates. This inhibits their ability to adequate response to killing permits.
-The liberal distribution of this ATCW permit is dividing this local community, and creating conflict of purposes and hostile neighbourhoods. If the neighbour wants to improve pastures, it should done in a consultative way, not contrary to the interests of their neighbours.
We will wait for your response, and we would like to lobby for an APPEALS PROCESS before more ATCWs are allocated.
Thank you
Kind regards
Maryland Wilson President
Vivienne Ortega Secretary
Australian Wildlife Protection Council (AWPC)
http://awpc.org.au
Ross House, level 3, Flinders Lane
Melbourne, 3000
Date: October 3, 2015