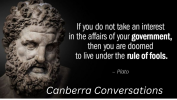 Canberra Conversations SUNDAY 19 March 2023 AT 3:30 PM – 5:30 PM Smith's Alternative, 76 Alinga Street, Canberra, ACT, Australia, Australian Capital Territory. 3 speakers plus forum.
Are we really living in a Democracy?
JOIN THE CONVERSATION
Come to our first ever Canberra Conversation to discuss with 3 expert speakers whether we do indeed live in a democracy and if not what we can do about it.