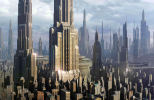 Saturday 4 July 2015, First Annual General Meeting: Guest Speaker is Professor Michael Buxton of the School of Global, Urban and Social Studies at RMIT University is a leading urban planning expert and will speak on "Melbourne Towards Eight Million: Are Skyscrapers the answer?"
Time:
1.45pm for a 2.00pm start. Stay for afternoon tea after meeting scheduled to close around 4.00pm.
Venue:
Flemington Community Centre, 25 Mt. Alexander Road, Flemington. Centre on Debneys Park.
Transport:
Tram along Flemington Road and Mt. Alexander Road;
Train station - Upfield Line - nearby; Capital City Trail
for cyclists next to Centre; carparking at front door
of Centre (drive in from Mt. Alexander Road.) Mel-
ways Map Reference 29 B12.
Topic: