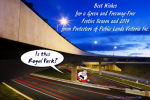 Protectors of Public Land Victoria Inc. wish their friends a Freeway Free Christmas. For this they need your support. They need your financial support. Seriously, this is serious. Their battle is ours and yours, but it needs funding. See inside for more detail.
Attached is PPLVic's message for the forthcoming "festive season" and for the New Year 2014.
Card by Rod Binnington
"Our wish for the New Year is that you contribute to our legal challenge to the East West Link. The Royal Park Protection Group Inc (RPPG) and Protectors of Public Lands Victoria Inc (PPL VIC) have engaged a legal team who made a submission and who will represent us at the hearing of the Comprehensive Impact Statement on the East West Link at the Assessment Planning Panel in February or March. (We are the only community groups so far with legal backup.)" writes Secretary Julianne Bell.
Protectors of Public Land Victoria are the only community group to have legal representation at the forthcoming planning panel hearings about East West Link. PPLVic is what stands between the East West link going ahead or dying on the planning table. They have the expert witnesses it takes to convince the panel -of which more will be revealed in March. It will in fact take a month to complete the hearings. The whole of March. PPLVic has one day to itself. If everyone who cared about this sent $10.00 - the equivalent of three cups of coffee cost - PPLVic will be able to fund its case. So, please give yourselves an enduring Christmas present and Fund PPLVics defense of Melbourne against this attack of the concrete barons.
Direct deposit of donations
Important: Direct deposit of donations can be made to Protectors of Public Lands Victoria Inc. at MECU BSB 313 140 Account No 23145714. or to the "Royal Park Protection Fighting Fund": MECU: BSB 313 140 Account no. 23145824. (Ring MECU for any queries on 132888)
Please distribute this request to your group. Its urgent - its DDay. PPL VIC and RPPG are putting up one of the last defences in the battle to stop the East West Link. We need your help

now
.