by Julianne Bell, President of Protectors of Public Lands

Protesters gathered in Royal Park today at the drill site for a proposed road link which would cut through the park.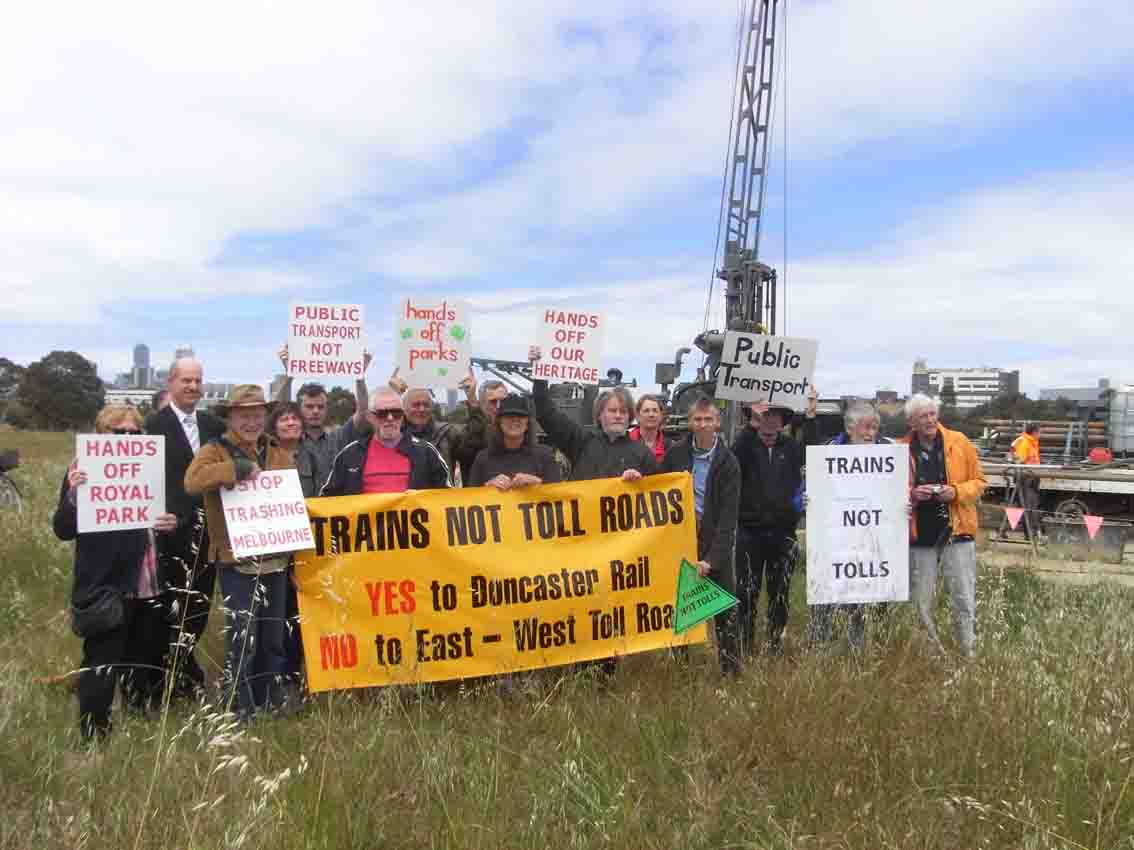 Protectors of Public Lands Victoria Inc. (PPL VIC)) and the Royal Park Protection Group Inc. called a protest today at the drill site on the grassland hill top - once an Aboriginal corroboree ground- in Royal Park to the north of the Royal Children's Hospital. The protest was over proposals by the Baillieu Government to route the 4 lane East West Link roadway/tollway through this part of Royal Park including the historic Aboriginal corroboree site. We regard drilling on a traditional aboriginal corroboree ground as sacrilege and the construction of the tollway through parkland as State-sanctioned vandalism.
Today a large crowd of protestors walked into the Park and gathered around the drilling rig on the grassland hill top which has magnificent views of the CBD skyline. In 1987 the City of Melbourne had a competition to draw up a Master Plan for Royal Park. The winning entry by landscape architects Brian Stafford and Ronald Jones expressed a philosophy that the character of the Park was inherent in its form – "a place where the earth swells, the dome of the sky soars overhead and the horizon beckons". A sense of the landscape at the time of Europeans' first encounter was to be evoked by planting indigenous species and enhancing the park's spacious quality. Removal of a sports pavilion and cricket pitch and extensive replanting of native grasses has transformed this part of Royal Park.
The Baillieu Government and Linking Melbourne Authority have minimised the historic connections of the Wurundjeri with the historic corroboree site. Records reveal that the Le Souef family, the first Directors of the Melbourne Zoo, left accounts and photos of "tribal dancing" in Royal Park. Also the Meaker family - Park Bailifs and Rangers - who lived in the Walmsley House on Gatehouse Street left extensive records of the Aboriginal tribes whose lands included Royal Park and the Moonee Ponds Creek. Today we welcomed Tony who is the greatgrandson of Frances Meaker and has valuable family momentos of their life in Royal Park from 1862 to 1932..
Contact: Julianne Bell Secretary PPL VIC jbell5 [ AT ] bigpond.com or 0408022408