Previously published (18/9/15) by Free Syrian Press. Includes embedded video (2:15min).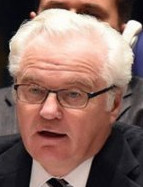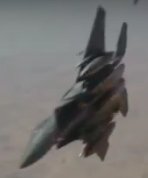 The air strikes carried out by the international alliance against the Islamic State in Iraq and Syria "ISIS" terrorist organization in Syria contradict with the international law and don't affect the capability of the terrorist organization, Russia's Permanent Representative to the UN Vitaly Churkin said.
What our western partners are doing in Syria is considered a flagrant violation of the international law as they justify their steps by the Article 51 of the UN Charter on the right to self-defense, Churkin said in a press conference in New York Wednesday, adding that they carry out strikes in the territories of a sovereign country without the approval of its government.
Hailing Syrian government constructive cooperation with the experts of the Organization for the Prohibition of Chemical Weapons (OPCW), Churkin indicated that a Russian proposal for the formation of an international alliance for fighting ISIS terrorist organization will be deliberated in the framework of the UN General Assembly.
Syria says Britain, Australia and France have violated UN laws by taking military measures in Syria.
The Syrian Foreign Ministry has sent letters to the UN criticizing the violation of its sovereignty by the three countries.
The letters said the US-led military campaign in Syria grossly contravenes the UN Charter namely Article 51, which bans such interventions without the world body's authorization.
Britain, Australia and France are taking part in the US-led campaign against the ISIL in Syria.
The Syrian Foreign Ministry said their measures are being taken under the pretext of fighting terrorism without the approval of the Syrian government.
Damascus says the three countries should stop sending terrorists into Syria if they want to fight terrorism.